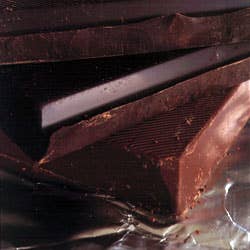 When you break a bar of chocolate, the sharp snap should produce only even-textured fissures, with no splinters or crumbs. The fragrance should be deep and heady. Put a morsel in your mouth: The best chocolate should melt smoothly on your tongue, with a rich, nutty, and slightly acidic flavor.
If properly stored, chocolate will last up to two years; keep in a cool (60°-72°), dry place, and wrap tightly to protect it against moisture and odors (which chocolate easily absorbs).
We polled some of America's top pastry chefs, and found they prefer dark and bittersweet varieties in baking. Valrhona dark chocolate, Callebaut bittersweet, Lindt Excellence dark, and Ghirardelli bittersweet ranked high for quality and availability.