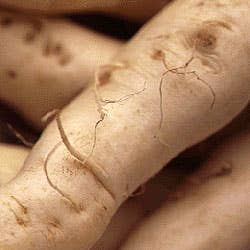 1. To pickle, combine julienned peeled daikon with shredded peeled carrots, toss with a mixture of equal parts rice wine vinegar and mirin (sweet cooking rice wine), and set aside overnight.
2. Mix grated peeled daikon with soy sauce; spread on grilled fish.
3. For a slaw, mix together shredded peeled daikon, shredded peeled carrots, and shredded cabbage. Dress with creme fraiche, thinned with white wine vinegar and seasoned with mustard seeds.
4. Braise peeled rounds of daikon in chicken stock, in water, or, as the Japanese do, in dashi.
5. Coarsely chop peeled daikon, boil until tender, then puree with butter and season with salt and freshly ground black pepper. Serve as is or mix with mashed potatoes.
6. Slice peeled daikon into half-moons, toss with vegetable oil and soy sauce, and roast in a 375° oven until tender.
7. Thinly slice peeled daikon into "chips", brush with melted butter, and toast in a 450° oven until crisp.