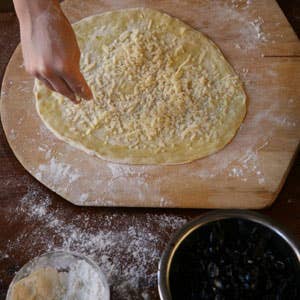 The key to making pizzeria-quality thin-crust pizza is a blazing-hot oven. We've found that the best way to replicate the intense heat of such an oven at home is by using a baking stone and cooking under the broiler. The stone absorbs and radiates heat, crisping the bottom of the pizza, while the broiler renders the toppings golden brown.
1. In a bowl, stir together one 1⁄4-oz. package active dry yeast, 1 tsp. honey, and 1⁄4 cup water that's been heated to 115˚. Let sit until foamy, about 10 minutes. Put 3 cups flour into a bowl; form a well in center. Pour in yeast mixture, 3⁄4 cup warm beer, 1 tbsp. extra-virgin olive oil, and 1 tsp. kosher salt. Stir with a wooden spoon to form a coarse mass.
2. Turn dough out onto a floured surface.
3. Knead dough until smooth, about 10 minutes.
4. Form dough into a ball.
5. Lightly flour dough; transfer to a bowl. Cover bowl with plastic wrap; let dough rise in a warm spot until doubled in size, 1 1⁄2-2 hours.
7. Cupping your hand and using a circular rolling motion, roll one of the dough quarters to form a smooth ball; repeat with remaining dough.
8. Lightly flour dough balls; transfer to a floured 9" x 13" baking pan; cover with plastic wrap. Let rise in warm spot until doubled in size, 1 1⁄2-2 hours. Meanwhile, place a baking stone on bottom rack of oven, about 13" from heating element; heat broiler and stone for at least 1 hour.
9. Put 1 piece dough on floured wooden pizza peel or thin wooden cutting board; flatten with your fingertips.
10. Pick up dough and, using your knuckles and backs of your hands, gently and evenly stretch out dough, working from center outward and rotating as you go in order to make a circle of dough.
11. Gently feed edges of dough between your thumbs and forefingers; let weight of dough stretch edges until circle of dough has reached a diameter of 12".
12. Sprinkle pizza peel with more flour; transfer dough to front edge of peel. Brush edges of dough with extra-virgin olive oil; sprinkle dough with 1⁄4 cup grated grana padano cheese, kosher salt, and freshly ground black pepper to taste. Add toppings (see Soppressata, Potato, Broccoli Rabe, or Prosciutto pizza recipes). Transfer pizza to baking stone by resting end of peel on far edge of stone, holding peel at an angle, and gently pulling it back so that lip of dough catches stone and dough slides onto it. Cook pizza, rotating every 2 minutes with a long metal spatula, until edges are golden, 6-8 minutes. Transfer to a board; slice and serve. Repeat with remaining dough. Makes four 12" pizzas.