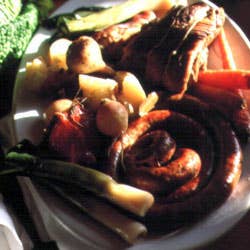 Simply, put, potee is a French meat and vegetable stew. Almost every region of France has its own recipe. Some call for white beans and duck confit; others include smoked sausages. But two essential ingredients for most authentic potees are salted pigs' ears and tails. If this degree of authenticity appeals to you, find these pig parts at a good butcher shop, then marinate them in herb salt, which flavors and tenderizes the meat.
1. Mix 1 cup coarse salt, 2 tsp. freshly ground black pepper, 2 tbsp. each minced fresh sage and thyme leaves, and 2 torn bay leaves.
2. Place the ears and tails in a large pan and sprinkle liberally with the salt mixture. Cover and marinate for 2 days, turning several times.
3. Rinse well, then place in a pot of cold water, bring to a boil, and cook for 3 minutes. Drain and rinse well in cold water and add in step 1 of the Potee recipe.