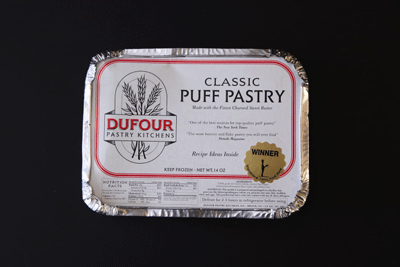 Frozen puff pastry is easy to use and makes a great base for tarts like our Tuscan-inspired herbed tomato tart. Thaw and chill the pastry first.
1. Dufour classic puff pastry is an excellent choice. (If you're using another brand, you may need more sheets of pastry to fill the baking pan.)
2. Line a 13" x 17 ¾" baking pan with parchment paper. Lay 2 sheets of dough (9" x 11" each) side by side on the pan.
3. Press the dough into the edges of the pan and press the center where the 2 sheets overlap to make an even surface.
4. Trim the edges of the dough with a paring knife.
5. Prick the bottom of the pastry with a fork.
6. Place a piece of parchment paper on top of the pastry and scatter dried beans over it, covering the parchment completely. Bake pastry according to recipe instructions.