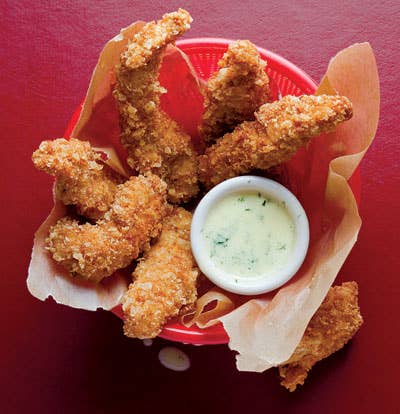 Travel
All Grown Up: Chicken Fingers for Adults
In Winnipeg, there's a chicken finger even adults can love
Though upscale versions of childhood comfort foods—peanut butter and jelly, corn dogs, s'mores—have colonized restaurant menus, there's one glaring exception. Chicken fingers, the ubiquitous kids' entree, get little respect.
Chicken fingers came about in the late 1970s, when American poultry processors began marketing the small, flat tender, or tenderloin, from the underside of the breast as a separate cut. A miniature breaded cutlet, the chicken finger—likely named for its shape, akin to human digits—became a popular way to use the new cut. Paired with a sugary sauce (honey mustard, barbecue, sweet and sour), they proved to be the perfect utensil-free food for picky children, and by the mid-1980s, it seemed, there wasn't a kids' menu that didn't feature them—as tenders, or worse, as nuggets, made from artificially bonded meat trimmings. According to market research from the Mintel Group, chicken fingers were the third most popular item on American menus in 2010, behind steak and Caesar salad.
Still, as popular as chicken fingers are, the consensus among adult eaters was summed up a few years back by David Kamp, writing in the New York Times, when he lamented the "palate-deadening potential" of his kids' favorite food. Chicken fingers, it seemed, would never grow up.
But the generation gap is murkier than it appears. As I discovered recently at Mitzi's Restaurant, in downtown Winnipeg, Canada, a raging chicken finger fan is hiding below the surface of most adults. At this 33-year-old Chinese restaurant, the lunchtime lineup stretches out the door for homemade chicken fingers.
Added to the menu in 1988 by owner Peter Eng, who felt he could do better than the frozen ones his kids were eating, the 125 pounds of fingers served daily at Mitzi's (mitzi sounds like the Cantonese word for tasty) are made from scratch. "Others grind [the meat] or mold it," says Shirley Eng, who, like her husband, hails from Hong Kong. "Ours is real chicken." Fresh breasts are sliced into strips, then marinated overnight in salt, pepper, sugar, garlic, paprika, and other seasonings. Flour-dusted and dredged in an egg wash, the chicken is coated in breadcrumbs (ground loaves of supermarket white), and fried in canola oil.
Unlike the uniform fingers most places serve, Mitzi's (see a recipe at right) are thin, short, and slightly gnarled by the fryer's heat. The breading is light and crisp, and the juicy flesh has just enough spicy, sweet flavor to enliven the chicken, which is best dipped in Mitzi's signature honey-dill sauce.
Peter Eng's rendition is so good that a food once irksome to him has turned out to be a boon for business. On Mitzi's predominantly Chinese menu, the non-Asian fingers stick out like a, well, sore thumb. Still, says Shirley Eng, they make up 80 percent of Mitzi's business.