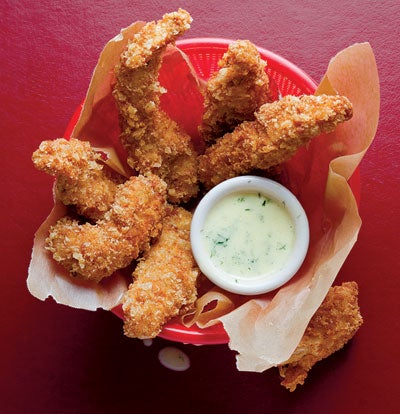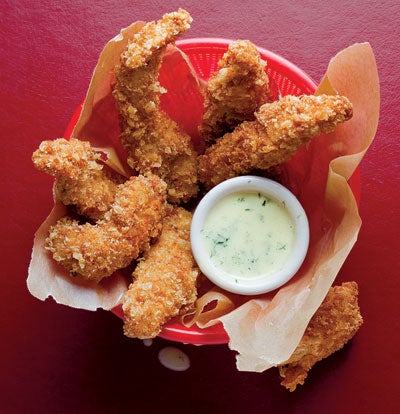 At Mitzi's in Winnipeg, Canada, these chicken fingers are served with crinkle-cut fries, coleslaw, and a honey-dill dipping sauce — they're so good that even grown-ups line up for them. This recipe first appeared in our October 2011 issue along with David Sax's article "All Grown Up: Chicken Fingers for Adults."
Yield: serves 6
Ingredients
For the Dipping Sauce
1 1⁄2 cups mayonnaise
1⁄4 cup honey
2 tbsp. roughly chopped dill
2 tbsp. fresh lemon juice
1 tbsp. dry mustard powder
Kosher salt and freshly ground black pepper, to taste
For the Chicken Fingers
2 lb. boneless, skinless chicken breasts, cut into 3″-long-by-1″-wide strips
1 tbsp. sugar
1 tbsp. kosher salt
1 tbsp. freshly ground black pepper
1 1⁄2 tsp. garlic powder
1 tsp. paprika
1 tsp. dry mustard powder
1 cup flour
4 eggs, lightly beaten
3 cups finely ground fresh breadcrumbs or panko
Canola oil, for frying
Instructions
Make the dipping sauce: In a medium bowl, whisk together the mayonnaise with the honey, dill, mustard powder, and lemon juice. Season with salt and pepper, and stir together until smooth; set honey-dill dipping sauce aside.
Make the chicken fingers: In a medium bowl, toss together chicken, sugar, salt, pepper, garlic powder, paprika, and mustard; set aside. Place flour, eggs, and breadcrumbs in 3 separate shallow dishes; set aside. Pour oil to a depth of 2″ into a 6-qt. Dutch oven; heat over medium-high heat until deep-fry thermometer reads 325°. Working in batches, coat chicken in flour, shake off excess, and dip in eggs; coat in breadcrumbs. Fry chicken until golden brown and crisp, about 3 minutes. Transfer to paper towels to drain. Repeat with remaining chicken. Serve with dipping sauce.
**Correction: September 12, 2011 An earlier version of this recipe did not include the type of oil in the ingredients list. This recipe requires canola oil, for frying. The ingredients list has been corrected to reflect this.