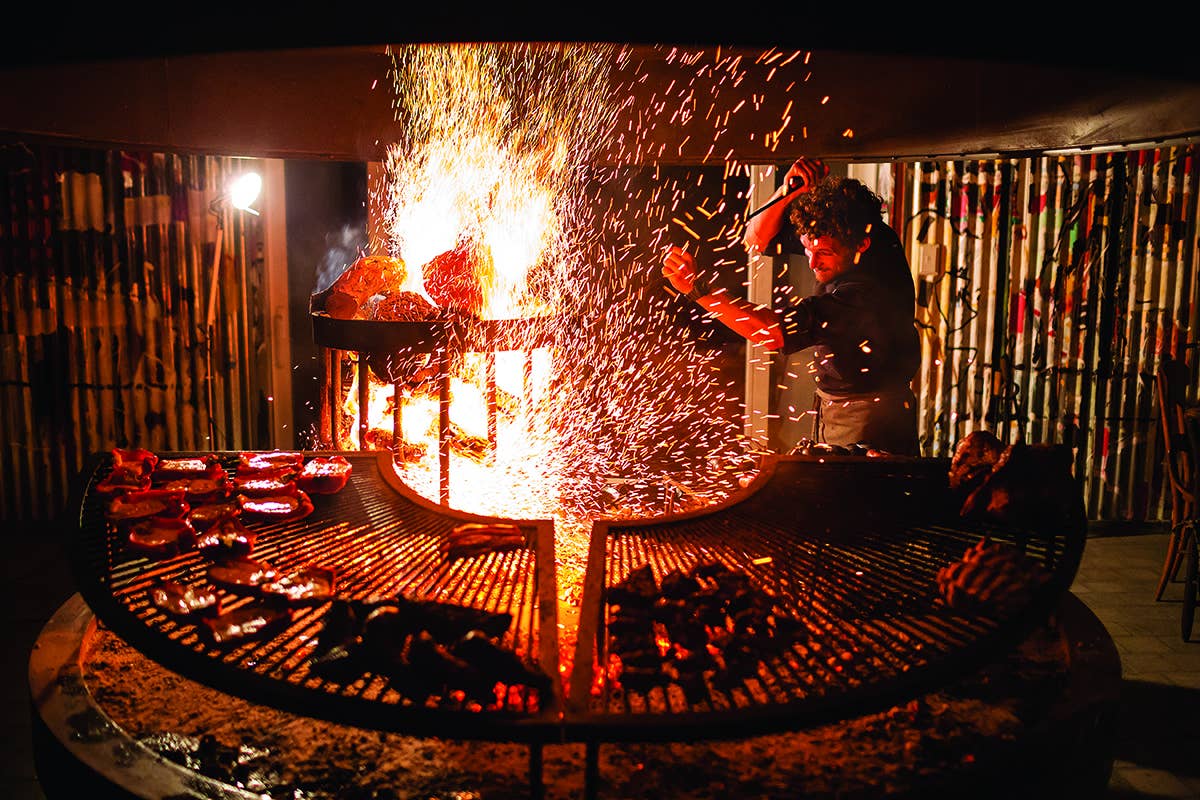 Travel
Art of the Parrilla
In Uruguay, a nation of gauchos and cattle, nearly every cook has a way with the grill
"Al aire libre." Loosely, it means "free air" in Spanish—the great outdoors. On a rocky hilltop in the Uruguayan countryside, this lyrical idiom caught my attention as asado cooks raked and shoveled hot coals from towering wood pyres into shallow pits where whole lambs, suckling pigs, chickens, and a heap of sausages sputtered on iron spits and tilted racks. Dripping fat and juices, the crackle of bones and crisping skin were deftly accomplished with searing heat from untamed flames and dying embers. Standing there among sun-scorched gauchos with blades thrust in their belts, I felt the macho spectacle perfectly suited to this wild, wind-blasted landscape.
In Uruguay, a country where nearly 80 percent of the land is available for grazing livestock, grilling is everywhere. The custom of asado, or whole-animal grilling on a cross or spit, and its slightly tamer parrilla variation, where cuts of meat are placed on a grill top, can be observed from the capital of Montevideo to dusty pueblos east of Rio de la Plata. On a recent visit, I ate beef short ribs at El Palenque, a grilling restaurant in Montevideo's Mercado del Puerto; scooped shrimp from a cazuela of sizzling oil set atop a grill at an eatery right next door to the Atlantic; marveled at cooks at a rodeo preparing asado con cuero, a cow cooked with its hide attached; sipped tannat wine at a cattle ranch as cinders spiraled heavenward. With each meal I gained respect for asadors who could nudge russet coals into just the right position to crust up a rib eye, keeping its insides red and juicy, to be slathered with chimichurri sauce. It was this skillful manipulation of heat that impressed me most. Uruguayans prefer their grill tops to be canted at a 45-degree angle; along the sloped grate with its range of temperatures and proximities to the flame, they slowly, carefully navigate the relationship between meat and fire.
At a cookout in the rugged countryside with Francis Mallmann, a chef and cookbook author renowned for his asado, grizzled men lit hand-rolled cigarettes and leaned on iron pokers. Mallmann, who comes from Argentina but spends an abundance of time tending fires in Uruguay, offered me rosy cracklings from a pig just freed of its spit bindings. They were smoky, fragrant. "Patience is one of the most important ingredients," he told me. "You can never be in a hurry."
Shane Mitchell is a contributing editor for SAVEUR.