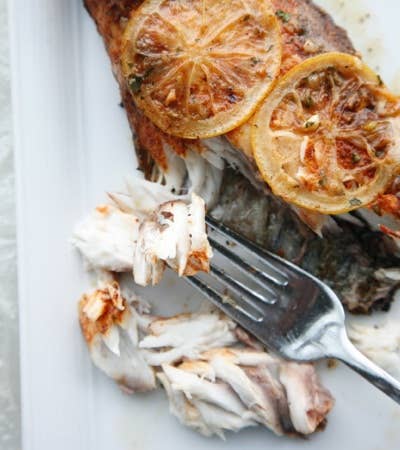 Travel
Beach House Dining: Grilled Redfish
These were my provisions: a ten-pound bag of potatoes, ten pounds of shrimp, one redfish, a bunch of scallions, and three lemons. I set the ingredients on the chipped kitchen counter of the beach house rental, opened a beer, and assessed my bedraggled friends splayed out on the living room's couches wearing various shades of sunburn. The 16 of us had woken up at sunrise that morning to fish for redfish in the shallow saltwater creeks and inlets near Charleston, South Carolina, but an overnight cold front had rendered our quarry sluggish. We caught a few, but only one was within the legal size limit (15" to 24") for keeping. My plan for a big redfish dinner shot, we'd headed back to the house, put the beer on ice, and settled in to watch the Sweet 16 round of the NCAA basketball tournament on TV.
It was past time for dinner. So I put on a big pot of water and boiled the potatoes, drained and smashed them, and scrounged around the pantry for olive oil, vinegar, and Dijon mustard left by a former renter, which I mashed into the potatoes along with the chopped scallions. A warm potato salad made, I lit the grill and skewered the shrimp. I didn't want to bother with peeling them; better to let the shells crisp on the grill. Once the shrimp were nicely charred, I showered them with lemon juice. Then I set about making redfish on the half shell with our one precious fish. This was a dish I had eaten all over the Gulf Coast of Texas while on assignment for our special Texas issue (June/July 2009). I put the fish skin side down on the grill without scaling it, seasoned it and smeared it with butter, and walked away to let it cook. Dinner was ready. A few more friends arrived. We gathered around the table, some sitting, some standing, and tore into the food. For a moment, the basketball games were forgotten and our memories of the morning's frigid fishing expedition were filtered through rose-colored glasses. "How big was that fish you caught with that blue crab bait, Fitch? Eight pounds?"
"Nah, that was a 12-pounder!"