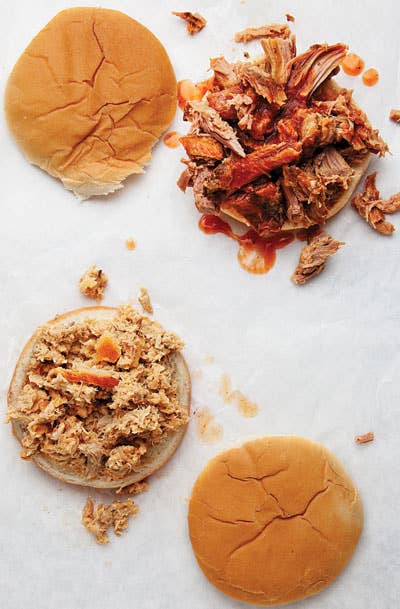 Travel
East Vs. West: North Carolina Pulled Pork
When it comes to regional styles of North Carolina barbecue, you are what you eat
Thinking back on it now, my husband's mother had every reason to be concerned. Her son had brought home an artsy Yankee girl who didn't know beans about barbecue or college basketball—two sacred topics in the Bowen household. As we sat in the living room, watching a Carolina game, I could feel her stare; while everyone else inhaled their barbecue sandwiches and discussed Dean Smith's coaching, I nibbled quietly, trying to make sense of this strange and delicious food.
Twenty years later, I can imagine how my mother-in-law must have felt. When I introduce someone to a North Carolina barbecue sandwich, I expect a strong reaction. It's the perfect food: succulent pork scented with wood smoke—sometimes a whisper of it, other times, a shout—topped with sweet slaw and vinegar-spiked sauce in a squishy white bread bun. Just thinking about it makes the sides of my tongue water and my heart swell up with love.
Once I became a convert, I realized that it's not enough to simply love North Carolina barbecue (or basketball, for that matter); you have to play favorites and defend yours at all costs. And these favorites will land you on one side or the other of a fierce and long-standing debate: Which is better, North Carolina's eastern- or western-style barbecue? To an outsider, this rivalry must seem silly: Both regions serve slow-smoked pork with tangy sauce and slaw. How different could they be? But to North Carolinians, the details represent something larger than barbecue itself: They're a matter of intense cultural pride.
For years I ducked out of the debate, arguing that I didn't know enough about the subject to choose a favorite. The style I was most familiar with came from my husband, Lindsay's, neck of the woods, down east: whole hogs smoked over hardwood coals, so finely chopped that every bit of pig—from the meaty hams to the luscious belly—averages out in a tasty mix. The sauce is simply vinegar, hot pepper, and spices, never tomatoes—they weren't popular when this style first surfaced, during the Colonial era. While other regions pit-cooked other animals, when the tradition took root in eastern North Carolina, it was all about the pig. By the late 1700s, the state was becoming a capital of hog farming (it's now the nation's second-largest pork producer). A century later, entrepreneurs had turned the meal into thriving businesses.
Nowadays in eastern North Carolina, you're never far away from a barbecue sandwich. There are flashy new places in shopping malls; supersize institutions, like Wilber's in Goldsboro; and old joints like B's in Greenville that always sell out by the time we arrive.
About ten years ago, I started grumbling that the mince was too fine and the smoke was barely discernible at a few of our local haunts—had these places abandoned wood smoke for electric cookers? Were they grinding rather than hand-chopping their meat? I started to grow curious about what barbecue tasted like farther west, where the cooks—who use pork shoulders instead of whole hogs and flavor sauce and slaw with tomatoes—were famous for their devotion to smoke.
Now would be a good time to mention that barbecue loyalties (like basketball ones) are not the kinds of things you question—not in Lindsay's family, at least. They're eastern-style people. Tar Heel folks. To Lindsay, there's truth and beauty in his barbecue in much the same way that Carolina basketball has come to stand for all that's right in the world. In his view, it's the higher moral choice. But still, I had to know.
And so I made my first trip to Lexington—a west-central city that is holy ground for western-style barbecue—alone. The sheer concentration of joints in this small town (17 at last count) is awe-inspiring: As I drove around with my windows rolled down, the smell of wood smoke flooded my car.
In the early 20th century, thanks to the region's economic growth and to the entrepreneurship of a few pitmasters, Lexington became a barbecue boomtown. The spirit was customer-focused: You can still honk outside some places and have a carhop take your order. Or you can go in and feast not only on barbecue, hush puppies, and slaw, but also on banana pudding, cobbler—the whole shebang.
The fact that Lexington is known for its shoulders, not whole hogs, is also a result of this business savvy; they cook faster and produce less waste. And because of the cut's smaller size, the meat easily soaks up the flavor of the smoke. In Lexington, and other parts of the surrounding area, a barbecue lover also has options. "It's like going to a steak house," says Rick Monk, who runs my favorite place, Lexington Barbecue, which his father, Wayne, founded in 1962. Ask for "brown," you get meat with more smoke flavor; "white" is leaner and lighter. You can order your 'cue chopped, sliced, or "coarse-chopped with brown"—chunks with crispy skin. The local tomato-tinged sweet "dip" and ketchup-spiked slaw are perfect with such robustly flavored meat. Overall, western-style barbecue is more emphatic and, I was starting to think, more savory than what's out east. When I mentioned this to my father-in-law, he was horrified: "It's unrefined! Too heavily sauced!"
He took me to a place he'd been raving about for years called Skylight Inn, in Ayden, in the state's east. Little has changed since pit-master Pete Jones opened the place, in 1947. In fact, the crispy corn bread recipe is still his grandmother's.
The Jones family has been cooking 'cue since the 1800s, and their smoky, succulent meat yanked me back over to the charms of the east. A man named James Howell stood behind the counter, hand-chopping a hog with a cleaver; the pieces bound with bits of tasty char and fat. With the sweet slaw and light, vinegary sauce, it all came together beautifully in a bun.
Sam Jones, the late Pete Jones' 30-year-old grandson, took me outside to check out his barbecue pits. They looked like the ones I'd seen in old pictures, with butterflied hogs resting on open grates with coals directly underneath.
When I asked him what he thought about the rivalry between eastern- and western-style barbecue, he shrugged. "All of us who use wood cook the same. It's what we do with the meat when it's done that's different," he said. "I guess it's just a matter of taste."