Recipes
Lexington Pulled Pork
East or west, it's all in the details.
Serves

serves 12

Cook

5 hours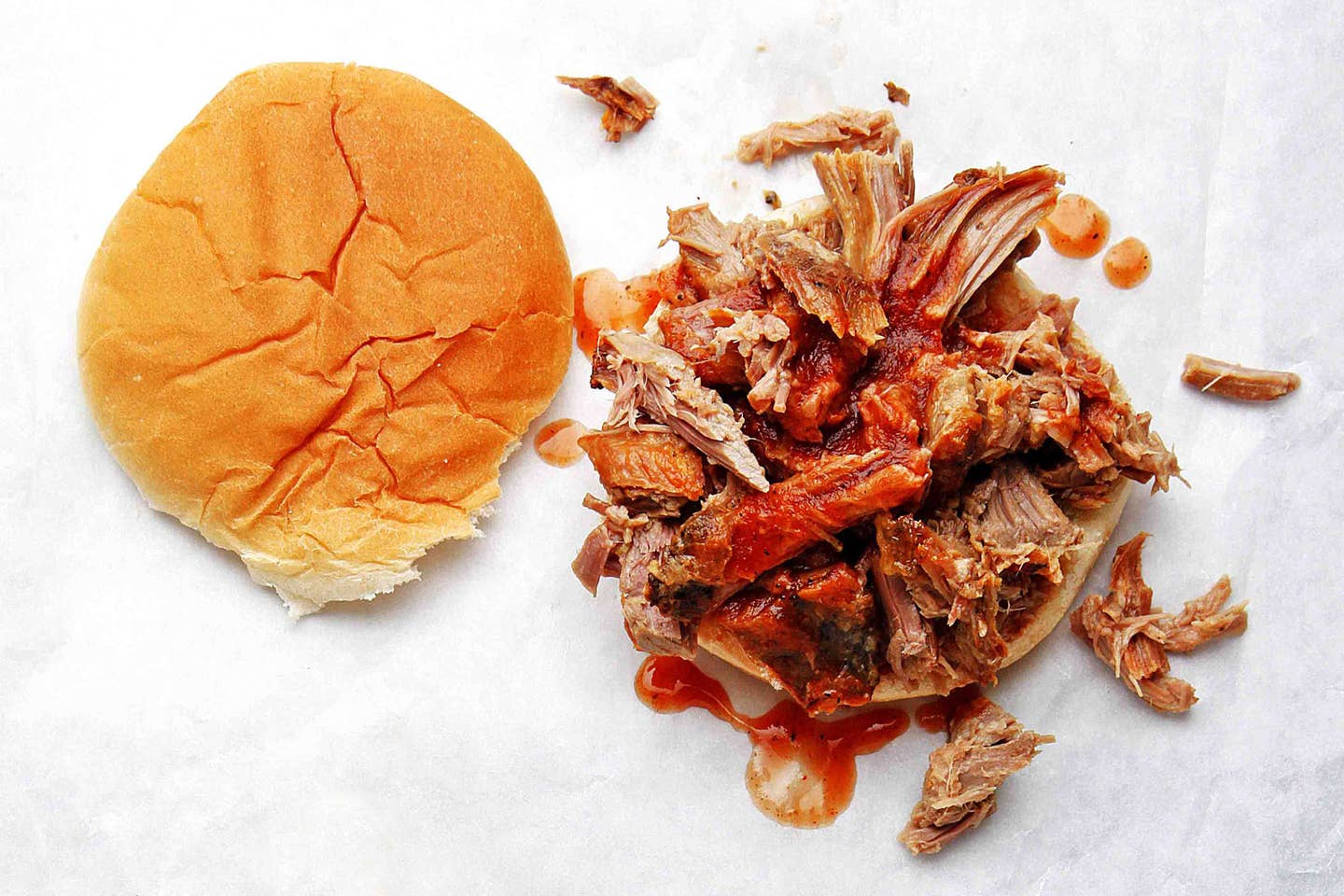 In Lexington, North Carolina, smoked pork shoulder is often shredded and served with a tart tomato-based sauce. Any successful barbecue relies on two things: heat and smoke. Use a kettle grill, bullet smoker, or even a gas grill. Don't skimp on aromatic fruitwood chips, which seal their sweet smoke flavor in the pulled pork. And for even more 'cue secrets, check out some of our favorite barbecue recipes from around the world.
Ingredients
For the rub:
4 tsp. plus 1 tsp. sweet paprika
1 tbsp. dark brown sugar
1 tbsp. kosher salt
1 tsp. Cayenne pepper
1 tsp. dry mustard powder
1 tsp. garlic powder
1 tsp. ground black pepper
1 tsp. ground white pepper
One 6-lb. bone-in, skinless pork shoulder
For the sauce:
3 cups ketchup
2 cups apple cider vinegar
2 tbsp. sugar
1 tbsp. plus 1 tsp. kosher salt
2½ tsp. ground black pepper
1½ tsp. Cayenne pepper
Instructions
Step 1
Make the rub: To a small bowl, stir together the paprika, brown sugar, salt, Cayenne, mustard, garlic powder, and black and white peppers. Rub the pork all over with the spice mixture, then set aside at room temperature for 1 hour.
Step 2
Meanwhile, make the sauce: In a medium pot, whisk together the ketchup, vinegar, sugar, salt, black pepper, Cayenne, and 2 cups water; bring to a simmer over medium-high heat. Cook, stirring, until slightly thickened, about 15 minutes. Remove from heat and set aside.
Step 3
Prepare your grill using the kettle grill, bullet smoker, or gas grill method, using apple wood chunks or chips (see saveur.com for more info). Place the pork directly on the grill grate. Maintaining a temperature of 225°F–275°F (if using a kettle grill or bullet smoker, replenish your fire with unlit coals, as needed), cook until a thermometer inserted in the thickest portion of the roast reads 190°F, 4–6 hours. Remove the shoulder from grill and set aside to rest for 20 minutes.
Step 4
When ready to serve, shred the pork, discard any bones, transfer meat to a large serving dish, and toss with 1½ cups of the reserved sauce. Serve with remaining sauce on the side.