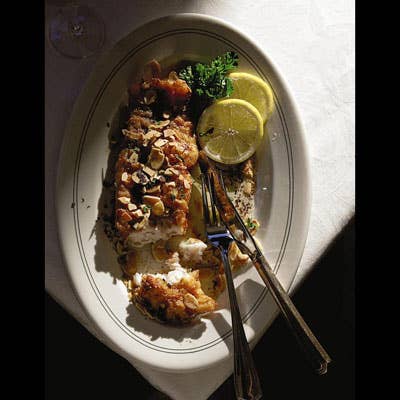 No one hands me a menu. It's just not done on Fridays. Friday lunch at Galatoire's, in New Orleans's French Quarter, starts in the morning, with bourbon milk punch at the upstairs bar. One floor below, a congenial crush of locals clutch cocktails in the foyer. They wait until manager Melvin Rodrigue, in pressed powder-blue seersucker, opens the doors to the dining room of the 105-year-old institution. It's 11:30 a.m.
He guides the crowd to their regular tables. The gentlemen hang their panama hats on brass hooks beneath forest-green wallpaper flocked with fleurs-de-lis, the revived symbol of the city's fortitude since Hurricane Katrina. A table of ladies in dime-store tiaras and serious diamonds toss confetti into the air. Jacketed waiters bear large platters as they weave between bentwood chairs.
One of them, Peter or Homer or John or Shannon, recites the specials and brings, without anyone seeming to have asked, orders of the twice-fried souffle potatoes, puffed like starchy zeppelins, with a dose of tarragon-scented Bearnaise. Next, a side of fried eggplant sticks. Everyone dabs them in a pile of confectioners' sugar swirled with Tabasco: Creole wasabi.
I feel justified in switching to champagne at exactly noon when the crab Yvonne arrives, dressed for the occasion. A generous pile of sweet lump crabmeat adorned with slices of mushroom, sherry, and butter, it is possibly the finest way to eat this crustacean when cutlery is involved. That dish is swiftly followed by trout amandine, the classic whole fish doused in a brown butter sauce and embellished with toasted sliced almonds. Because it happens to be available, and my dining companions insist, out comes pompano en papillote as well. Using two serving spoons, our waiter peels back the parchment as fragrant steam issues forth, revealing boned filets swimming in creamy bechamel and dotted with dainty Gulf shrimp.
More champagne. More souffle potatoes, mostly as an excuse to mop up the remaining luscious Bearnaise.
Finally, a punch bowl of orange liqueur and brandy is set alight at the table. As blue flames course over slices of orange floating in the alcohol, dark coffee is poured to make cafe brulot that's darker than the muddy Mississippi. By this time, the decibel level has reached absurdity. Since the curtains have been discreetly drawn across the front window, no gawker holding a cocktail in a go-cup on bawdy Bourbon Street would guess that a genteel riot is taking place within.
And then the three-piece brass band barges in playing "When the Saints Go Marching In." Amid the bear hugs and big red kisses, I was reminded that Crescent City revelry supersedes Southern table manners any day of the week. —Shane Mitchell, a  SAVEUR contributing editor