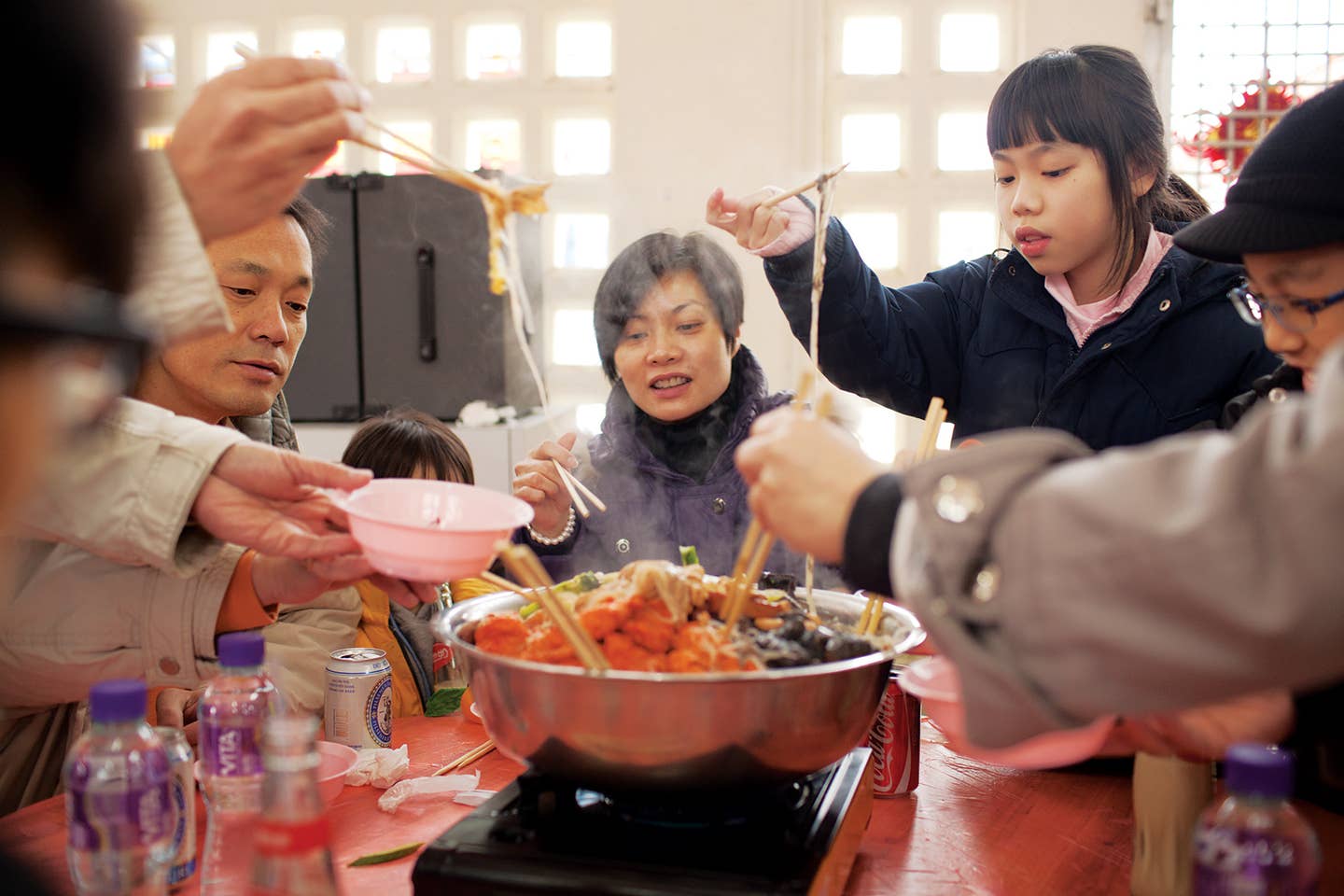 Travel
Where to Eat in Hong Kong During Lunar New Year
For visitors in the know, the Lunar New Year is a time to experience Hong Kong during its most spirited season, when denizens feast like there's no tomorrow
The Year of the Horse officially begins at the stroke of midnight on first day of the Chinese lunar calendar, which lands on January 31 this year, but in Hong Kong, the festivities last a full 15 days—this year, from January 31–February 14, 2014. While many locals take advantage of the public holidays to leave the city, for visitors in the know, the lunar new year is a time to experience Hong Kong during its most spirited season, when denizens feast like there's no tomorrow: every bite of food is highly symbolic, and eating becomes a means of shoring up good luck for the year ahead. At home, there are nightly family gatherings where the spreads easily rival Christmas and Thanksgiving combined, and the city's markets and restaurants feature auspicious delicacies and special dishes to help usher in the new year. In my mind, there's no better time to sample the delicious food of this dynamic city.
Victoria Park
To celebrate the new year, a handful of temporary flower markets—think street fairs rather than florist stalls—sprout up throughout Hong Kong a few days prior to the holidays. They will stay opened until mid-day on the first day of the Chinese New Year (January 31), with crowds culminating on Chinese New Year's Eve (January 30). Victoria Park is one of the largest and bustling with crowds late into the night. You'll find stalls filled with traditional Chinese sweets ranging from nougats and peanut butter brittle to traditional rice cakes. There are also flowers, including large amounts of miniature kumquat trees, whose fruits resemble gold ingots and symbolize wealth. And you're sure to find a strange selection of plastic toys, most of which will feature the animal of the upcoming year, the snake.
Victoria Park
1 Hing Fat Street
Causeway Bay, Hong Kong
Tel: +852 2890 5824
Yin Yang
Celebrated as a time of reunion, Chinese New Year meals are usually enjoyed at home. Happily for those who want a home-style meal away from home, there's Margaret Xu Yuan, the chef of a small private kitchen called Yin Yang. Cooking with many of the ingredients she harvests on her own organic farm, Margaret likes to do things the traditional way with brilliantly placed modern accents. She grinds her own tofu, for example, but adds in basil juice to create a vivid, herbaceous layer of green. Her roasted pork with homemade lychee wine and roasted hand-shredded chicken are amongst the best in the city, and if you're nice, she'll invite you into her upstairs kitchen to shadow her chefs. (Book early as there are only 4 tables on the ground floor and one large private room upstairs.)
Yin Yang
18 Ship Street
Wanchai, Hong Kong
Tel: +852 2866 0868
Wong Tai Shin Temple
This old Taoist temple—an essential stop over the lunar new year—has upgraded itself in recent years. In the past, worshippers would shake a bunch of wooden sticks until a single one fell to the ground, and use that to get their fortune. These days, they shake a computerized machine and a number shows up on the screen. One tradition that has not slipped, however, is the large crowd—in the tens of thousands—that wait outside the temple doors on Chinese New Year's Eve (January 30) until the stroke of midnight. The belief is that wishes are granted on a first come first serve basis, so crowds rush in to make their offerings once the new year officially begins. This is not a place for the faint of heart as it can get hectic, but it is worth experiencing the mad dash to burn incense and clock in your prayers at least once. Before heading to the temple, I like to fortify myself at 8 Happiness Restaurant located in nearby Wong Tai Shin Mall, an auspiciously-named authentic Taiwanese restaurant serving items like oyster rice vermicelli in a thick soy sauce-based chicken broth, and pepper buns (sesame buns filled with black pepper marinated beef).
8 Happiness Restaurant
Shop G4A, Wong Tai Shin Shopping Center,
104 Ching Tak Street, Wong Tai Shin, Hong Kong
Tel: +852 2326 8168_
Tim Ho Wan
Holding the title as the cheapest one-star Michelin restaurant in the world, a meal at Tim Ho Wan won't cost you much money—the average check is around $5.00 per head—but will cost you time. Expect long lines of upwards of an hour to score one of the small plastic stools in this hole-in-the-wall. Here, former Four Seasons Hong Kong executive dim sum chef, affectionately known as Pui Gor (meaning "Brother Pui") to his regulars, cooks up his no frills dim sum-only menu. A crowd favorite is the sweet and savory barbecue pork bun, which has a layer of sugary crumble on the top.
Tim Ho Wan
Flat 8, G/F, Phase 2 Tsui Yuen Mansion, 2—20 Kwong Wa Street
Mong Kok, Hong Kong
Tel: +852 2332 2896
Lung King Heen
It's going to be a splurge, especially with specialty Chinese New Year tasting menus priced above $100 a head, but slick and upscale Lung King Heen is Hong Kong's only 3-star Michelin Asian establishment, and rightly so. Here you'll find all the classic Cantonese dishes that are mandatory for the new year, including a wide range of seafood (the word for fish, yu, is a homonym for "surplus") and fat choy (a type of black moss, which is the homonym of "get rich" in Cantonese). There will also be extravagant and exotic choices from lobster tails to birds nest. Request a table by the window on the second day of Chinese New Year (Feb. 11) and catch the highly anticipated Lunar New Year Fireworks across Victoria Harbour that begins at 8pm and lasts for roughly 20 minutes.
Lung Keen Heen
Four Seasons Hotel Hong Kong, 8 Finance St
Central, Hong Kong
Tel: +852 3196 8888
OZONE
Perched on the 118th floor of the Ritz Carlton Hotel Hong Kong is the current record holder for Asia's highest bar. With 360 degree views of the entire city, it's easy to get vertigo as you walk out the all-white interior and onto the partially covered terrace. Sip on cocktails and nosh on bar snacks that range from sushi to oysters to lamb kebabs as you start off the Chinese New Year high above the city skyline. Just make sure you check weather reports to ensure its clear skies.
OZONE
Ritz Carlton Hong Kong, 1 Austin Road West
Kowloon, Hong Kong
Tel: 852 2263 2263
Cathay Pacific International Chinese New Year Night Parade
Head over to the Tsim Sha Tsui area in Kowloon on the first day of Chinese New Year (January 31) a few hours before the parade begins at 8pm in front of the Hong Kong Cultural Center. Brilliantly lit floats, Chinese acrobats, and teams of lion dancers hit the streets for an hour and a half to officially welcome in the Year of the Horse. The shops that line the streets will be on sale, hoping to attract those who want to buy new clothes for the new year. And when you get tired, drop into the iSquare shopping mall on nearby Nathan Road to Honeymoon Desserts, where you can order up a bowl of delightful tapioca floating in fresh mango purée, or for the more adventurous, a durian crepe.
Moon Koon Restaurant at Happy Valley Racecourse
The superstition goes: It's good to gamble in the beginning of the new year; win or lose, it gets the ball rolling on your luck. On the third day of the Chinese New Year (Feb. 2), the more serious gamblers will show up at the Sha Tin Race Courses, where there will be lion and dragon dances accompanied by festive drumming, and then six hours or so of horse races. The benefit of placing your bets in Happy Valley Race Course, aside from its more convenient location, is the food. Newly opened restaurant Moon Koon offers poon choi (meaning a "pot of luck" in Cantonese), a traditional village-style casserole that features layers of ingredients with turnips and vegetables on the bottom to braised pork belly, tofu, and even the pricier abalone on top. Make sure you call in ahead of time to pre-order this dish, and bring friends to help devour it.
Moon Koon
2/F Happy Valley Strand, Happy Valley Racecourse
Happy Valley, Hong Kong
Tel: +852 2966 7111
Grand Stage Restaurant at the Western Market
When it was first erected in 1906, the Western Market, easily recognizable by its clock tower, was just that—a produce market. Since then, this oldest surviving market place in Hong Kong has been transformed into a collection of mediocre fabric stalls and tourist shops on the bottom floors. On the top two stories, however, sits Grand Stage Restaurant. Adorned with chandeliers, bare brick walls, and a large dance floor, the massive restaurant seats more than 500 and is most notable for its 7pm nightly ballroom dancing. Order up a spread of authentic dim sum dishes, and save room for the steamed custard buns for desserts. As a bonus, the small streets leading up the Western Market, including Des Voeux Road West, are famous for selling some of the most exotic Chinese dried goods, including birds nest, sharks fins, and herbal medicines—all expensive delicacies that are a must-have for the Chinese New Year and a great present for party hosts.
Grand Stage Restaurant at the Western Market
2/F Western Market, 323 Des Voeux Road
Sheung Wan, Hong Kong
Tel: +852 8202 2809
The Chairman
The Chairman is an odd mix of the grandiose and cozy. The ground floor foyer is reminiscent of large banquet style restaurants with a stately chandelier and flashy staircase, but the quaint private kitchen holds just five tables. The Chairman is a place to take advantage of the fresh seafood, especially whole fish, a mainstay of new years menus. (The custom is to always save a little leftover, so you will always have excess in the new year.) Whole fishes require advanced order and can either be prepared deep-fried with ginger and plum sauce, stir-fried with Chinese vegetables, or steamed with Mandarin peel. In addition to fish dishes, be sure to try the flower crabs steamed in Shaoxin wine and chicken fat (it's a brilliant dish that the restaurant is justly famous for), and the fried baby yellow croaker fish, which are dipped in a shallot-infused black vinegar sauce and that can be eaten in their entirety. Reservations are a must, so call ahead.
The Chairman
G/F, 18 Kau U Fong
Sheung Wan, Hong Kong
Tel: +852 2555 2202
He Jiang
He Jiang, named after an area in China between the Sichuan and Jiangsu provinces, brags of a menu that has a split personality. On the Sichuan side, there are hot and numbing spices, most evident in chili crab where prickly pangs of spiciness amuse your palate. On the Jiangsu side, there is the milder and lighter style of Huaiyang cuisine. Think of the sweeter braised pork and mushrooms or the clean flavored shredded bean curd with ham and bok choy. Hit two birds with one stone, and ask for recommendations from both regions. For something truly special for the new year, order the smoked eel: fresh-caught river eels are deboned completely and then slowly smoked and glazed with soy sauce. (This dish must be ordered in advance.)
He Jiang
1/F Cosmopolitan Hotel, 387—397 Queen's Road East
Wanchai, Hong Kong
Tel: +852 3167 7833
For more information on planning a visit to Hong Kong for the lunar new year, visit the website of the Hong Kong Tourism Board.