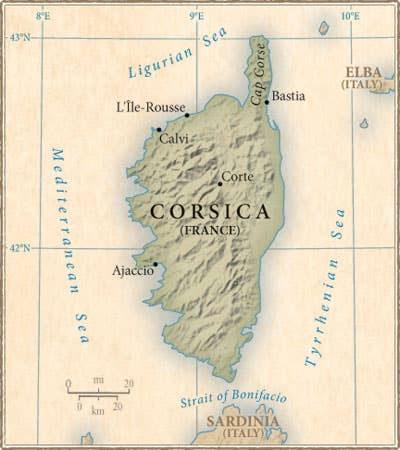 Travel
The Guide: Corsica
This mountainous island, with influences from France, Italy and the rest of the Mediterranean, has a charm all its own. Here are our favorite places to eat, stay, and see in Corsica.
Route D55, Grosseto-Prugna, Porticcio (33/4/9525-0555). Rates: $600 double. This 60-year-old waterfront hotel is something of a grande dame on the island, as is founding owner Ketty Salini. She presides over Le Maquis' graceful lobby and its excellent white-linen restaurant, L'Arbousier, where a meal of grilled day-boat fish in olive oil and wild herbs is worth every centime.
Chemin Notre Dame de la Serra, Calvi (33/4/9565-1010). Rates: $500 double. La Villa, in the picturesque beach town of Calvi, could be said to represent the new school of Corsican hospitality: infinity pool, minimalist decor. It's a nice choice if you're exploring the island's northern tier and want to splurge. The hotel bar offers a delicious local version of kir using Corsican myrtle liqueur.
Plaine de Cuttoli, Cuttoli (33/4/9525-6157). Expensive. This rustic inn and restaurant, in the herb-covered hills overlooking the Gulf of Ajaccio, offers traditional Corsican cuisine: wild-boar terrine, headcheese, handmade pastas, and a sumptuous pork shoulder cooked for 10 hours over a wood fire.
2 place Paoli, L'Île Rousse (33/4/954-706-770). Expensive. The finely wrought cuisine at this gem of a restaurant in the northern port of L'Île Rousse applies French rigor to native Corsican ingredients. Chef Ange Cananzi's renditions of traditional dishes might include a veal-liver risotto with baby purple artichokes, and other thoughtful takes on local ingredients.
Route de Casevecchie, Ville de Pietrabugno (33/4/9531-4189). Inexpensive. This always-busy restaurant, in the foothills north of the waterfront town of Bastia, sees only a smattering of tourists a year. Its cuisine is centered on a wood-fired hearth that turns out perfectly singed thin-crust pizzas topped with local charcuterie, as well as grilled meats and fish.
Boulevard du Roi Jerome. Ajaccio's main outdoor market, a warren of tented stalls in the center of town near the port, offers a thorough introduction to Corsican ingredients and foodstuffs, especially artisanal cheeses and charcuterie. The city's main fish market is in a public hall just steps away, on the quai Napoleon.
Dinner for two with drinks and tip:
Inexpensive: Under $75
Moderate: $75-$99
Expensive: $100 and up
Air France offers daily connecting flights from Paris Orly to Corsica.