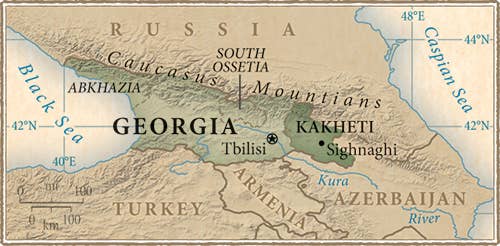 Travel
Travel Guide: Republic of Georgia
Where to eat, what to do, and where to stay when visiting the Republic of Georgia. This guide first appeared in our April 2013 issue with Karen Shimizu's article Everlasting Feast.
Dinner for two with drinks and tip
Inexpensive: Under $15; Moderate: $16-$30; Expensive: Over $30
International flights land in Tbilisi, a 1,500-year-old city on the Kura River that's worth exploring. The two-hour taxi ride from Tbilisi to Sighnaghi costs about $40.
Radisson Blu Iveria Hotel
Rose Revolution Square 1, 0108, Tbilisi (995/32/402-200). Rates: $250 for a double. This 18-story luxury hotel is perched above the Mtkvari River in the center of Tbilisi, within striking distance of the restaurants and shops on Rustaveli Avenue, the city's main drag. Rooms are serene and spacious, with free Wi-Fiand, on the upper floors, spectacular views.
Nana's Family Hotel
2 Sarajishvili Street, Sighnaghi (995/559-79-50-93; kkshvl@yahoo.com). Rates: $17 a person. This homey guesthouse is in Sighnaghi's picturesque town center. Proprietor Nana Kokiasvili speaks some English and cooks excellent Georgian meals. Her house, which doubles as the hotel, is spacious with clean, modern facilities and hot water. She can also arrange excursions to local sites.
Shemoikhede Genatsvale
Leselidze Street 25, Tbilisi (995/32/243-9646). Moderate. This welcoming restaurant (whose name means "Come in, darling") in the heart of Tbilisi's Old Town serves four types of delectable khinkali, Georgian dumplings, as well as a wide range of traditional offerings, including badridzhani nigvsit (eggplant with walnuts) and shekmeruli, chicken in a butter and garlic sauce served, still sizzling, in an earthenware dish.
Salobie
Mtskheta Road, Mtskheta (995/99/548-229). Inexpensive. About 20 minutes outside of Tbilisi is "where the beans are"—the literal meaning of the restaurant's name. The thing to eat here is the lobio, a flavorful bean stew served in red clay pots along with chadi, Georgian corn bread. Also very good are the mtsvadi, skewers of grilled meat; pork, beef, and fresh herb khinkali dumplings; and the acharuli khachapuri, a canoe-shaped bread cradling a puddle of hot butter, molten cheese, and an egg.
Pheasant's Tears Wine Bar
Baratashvili Street 18, Sighnaghi (995/599/534-484). Moderate. This recently opened wine bar in Sighnaghi features traditional qvevri wines, including shavkapito, a beautifully balanced red, paired with updated Georgian classics served tapas style: mushrooms with tarragon and mint; khashlama, stewed veal with sour plums or quince; bread crisps with tahini and sunflower oil. You can also tour the winery and vineyards by car or on horseback.