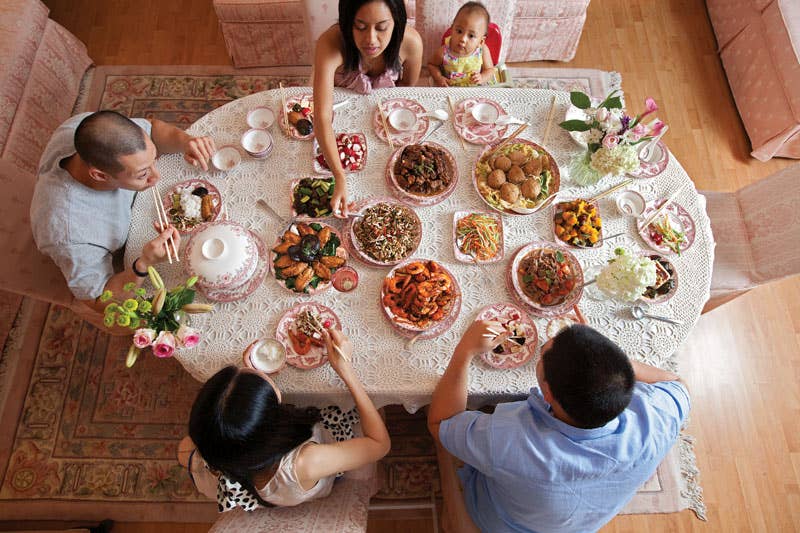 Travel
Nothing Better Than A Home-Cooked Meal
In Las Vegas, some of the greatest Chinese food is found at home
I grew up in Las Vegas. Those six simple words never fail to provoke an awkward pause in conversation. Followed, inevitably, by the polite, "So, what was it like?"
There were no neon lights at the ranch house where I spent my childhood. No showgirls, no $5 buffets, no Cirque du Soleil spectacles. There was just my mom and a 30-year-old wok. We moved to Las Vegas when I was five, to a street on the west side of town that wasn't even a blip on our crinkled map. It was a road less traveled compared to most coming-to-America stories, I suspect, moving from Taiwan to Michigan to Vegas. But my mother, Eatty Du, who fled her native Shanghai with my grandparents in the 1940s to escape the Communist regime, was always one for the unexpected. When we arrived in Vegas in the early 1990s, the city had no Chinatown yet; that would come later, after thousands of immigrants from mainland China flocked here to fill jobs at a number of newly opened resorts. When Mom needed the earthy dried mushrooms essential to her delicious stock, or the funky black bean paste that added the perfect hint of umami to her stir-fries, we used to have to pile into our beat-up minivan for the five-hour pilgrimage to Los Angeles.
Nowadays I live in LA, and when I visit Mom, she bustles around her kitchen with armfuls of ingredients from one shiny new Asian market or another. We bicker over whether to braise or fry the porky lion's head meatballs, and discuss the merits of the leftover vegetables she's about to toss into her ginger-spiced stock. And as we sit together to eat with my brother, Alex, and the rest of our family, I feel such a fondness for our Chinese table in Las Vegas. And all that glitters on the Strip feels so far away.
Pictured above: The author and her family sit down to a Sunday meal at the Las Vegas home of her mother, Eatty Du. Seated clockwise from left are the author's cousin, Jeremy Hsia; the author's brother's fiancee, Bridget Chu-Dante; the author's niece, Mia Sun; the author's brother, Alex Sun; and the author. On the table are Shanghainese dishes made by the author and her mother: (clockwise from top left) pickled radish and green onion salad; Shanghai-style spare ribs; braised lion's head meatballs with Napa cabbage; chilled braised pumpkin with red dates; thousand-year-old egg and tofu salad with pickled mustard greens; tomato and beef stir-fry; celery, carrot, and bean sprout salad with sesame oil; sweet and sour shrimp; shredded pork, dried bean curd, and cilantro; Chinese chicken wings with rehydrated mushrooms; pickled cucumber salad with wood ear mushrooms.