Braised "Lion's Head" Meatballs with Napa Cabbage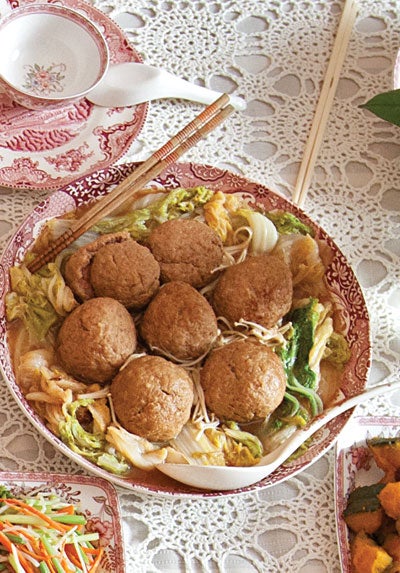 These giant ginger and garlic-spiced meatballs come from home cook Eatty Du. This recipe first appeared along with Andrea Sun's story Nothing Better Than a Home-Cooked Meal.
Yield: serves 4
Ingredients
1 1⁄2 tsp. sesame oil
10 leaves napa cabbage
4 oz. enoki mushrooms, stems trimmed
1⁄4 cup light soy sauce
1 tbsp. dark soy sauce
1⁄2 tsp. sugar
1 lb. ground pork
1⁄2 cup water chestnuts, minced
2 tsp. minced ginger
2 tsp. minced garlic
2 tbsp. cornstarch
2 tsp. Chinese cooking wine
Instructions
Pour 1 tsp. sesame oil in a 6-qt. saucepan and arrange cabbage leaves in an even layer. Place mushrooms over the leaves in an even layer. Pour 2 tbsp. light soy sauce, dark soy sauce, sugar, and 1 cup water over leaves and set aside.
In a bowl, combine pork, water chestnuts, ginger and garlic. Add remaining sesame oil and soy sauce, along with cornstarch and wine; mix until evenly incorporated. Divide mixture evenly into about eight 3-oz. meatballs; arrange meatballs evenly on top of cabbage. Heat over medium-low heat, and bring to a simmer; cook, covered, until cooked through, about 25 minutes.