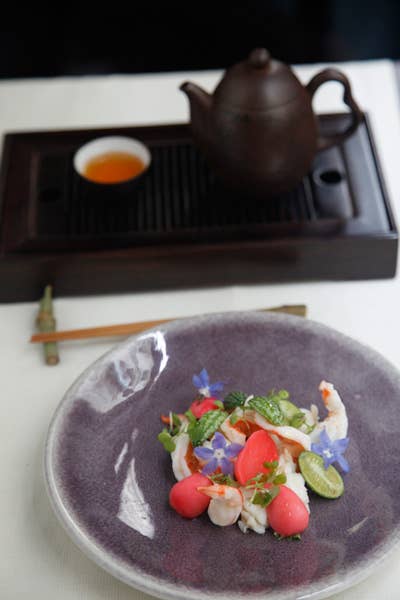 Travel
Yam'Tcha
In this year's SAVEUR 100, we take stock of our favorite things: recipes, people, places. We consider every last one a new classic.
Thirty-three-year-old Adeline Grattard is one of Paris's most creative chefs. I recently had a superb lunch at Yam'Tcha, the Michelin one-star she opened in 2009 with her Hong Kong-born husband, Chi Wah Chan, in the Les Halles neighborhood. It began with steamed garlic-marinated scallops and continued with thin, glassy potato noodles in rich shiitake broth; sea bass served Cantonese-style with thin strips of ginger and scallion; and sauteed blood sausage over inky black rice.
"Since I was a girl I have loved Chinese cooking—ginger, soy sauce, and the fast magic of the flame," Grattard told me. After earning her culinary degree at Paris's École Gregorie Ferrandi and working for chef Pascal Barbot at the three-star L'Astrance, she spent two years cooking in Hong Kong. When I told her that I think of her food as an elegant dialogue between French terroir and the cooking of China, she beamed: "Why, yes! That's exactly what it is."
4 Rue Sauval
Paris, France
tel: 33/1/4026-0807