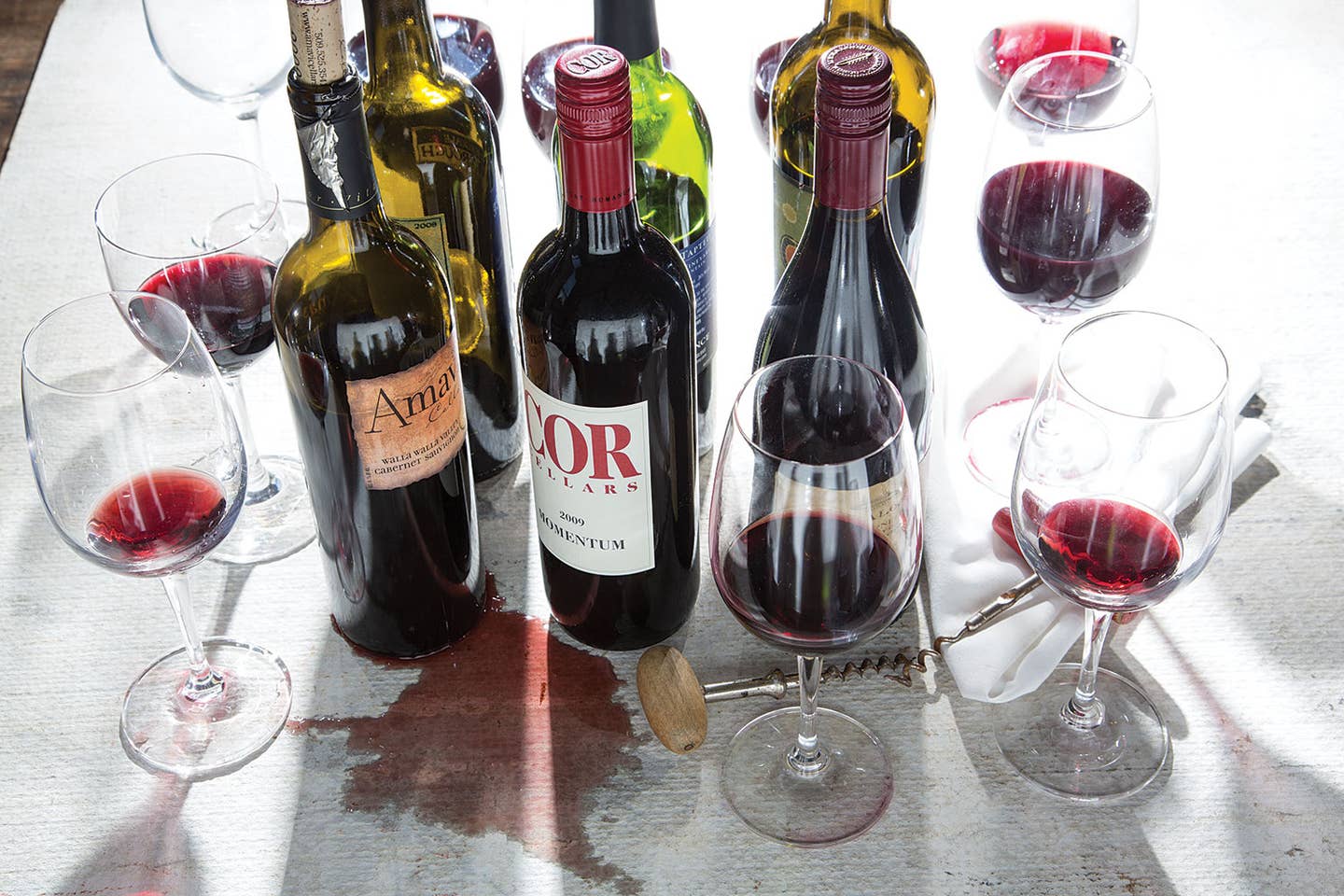 Drinks
Western Expansion
Washington state makes big but balanced wines that are perfect for grilling season.
Rarely have I enjoyed living anywhere as much as I did in my old ranch-style house in Seattle's Maple Leaf neighborhood. Its true charm lay in the grilling area out back, where I cooked my dinner several nights a week, come shine or, more frequently, come the Northwest's endless rain. Some of my fondest cooking memories were hatched there, in Washington's damp winters, as I huddled near the fire, grilling firm, rich chinook salmon on a cedar plank, and burgers from local lamb made succulent with milk and a pinch of rosemary picked from my backyard.
To accompany these meals, there were plenty of wines—mostly reds. I had moved to Seattle at the turn of the millennium, just in time for a wine boom that was driven by small producers who saw the Northwest as the next great frontier. This was a quieter affair than the party going on to the south. While California embraced magnitude, the appeal of Washington's reds was their drinkability, their ease and flexibility with all kinds of foods, especially grilled ones. The wines could be hearty, for sure, but those cold northern nights lent them a freshness, and they exhibited a complexity that often eluded their California counterparts.
By the time I left Seattle for San Francisco in 2005, Washington was home to 360 wineries, more than twice as many as when I'd arrived, and red wine had become the state's shining star. Robust cabernet; aromatic, spicy syrah; and Bordeaux-inspired blends showcased its top vineyards, the majority of which were planted in the Columbia Valley's arid steppe on the eastern side of the Cascade Range, far from many of Washington's wineries. Although the remote town of Walla Walla, more than four hours southeast of Seattle, had drawn intrepid winemakers eager to expand the area's reputation for prodigious red wines, most of the newer vintners settled in or near the city and had the grapes trucked in. The proximity to Seattle allowed hopefuls with young families, like former Boeing engineer Ben Smith and his wife Gaye, who launched their tiny Cadence label in a south Seattle warehouse, to pursue their winemaking dreams without upending their lives.
This geographic split personality—grapes grown in one place, wine made in another—hardly diminished the quality of the wines. In addition to Walla Walla, the tiny Red Mountain appellation, tucked into the Yakima Valley growing area in south central Washington, attracted a big following for its dense, tannic reds. Not only cabernet but plush merlot, smoky cabernet franc, and inky petit verdot—the full Bordeaux grape roster—thrived in its gravelly alkaline soils. The names of Red Mountain vineyards—Tapteil, Klipsun, and others—graced bottles made by Seattle area wineries such as Andrew Will Winery, producer of some of the country's top Bordeaux-style blends.
But the distance between vineyards and wineries did complicate things. In the eyes of visitors expecting to see rows of grapes next to cellars, Washington struggled with delivering what writer Matt Kramer once called "somewhereness." And those ranks of hopeful vintners were swelling to capacity. Watching from afar as the number of wineries recently crept up to 750, I worried that such a glut would affect the quality of those lovely local wines that had completed my backyard meals back in my Seattle days. So I was rooting for Washington when, on a trip back to the state not too long ago, I delved into its recent vintages to see how the wines were holding up. I was relieved to discover that, given some new developments, Washington's wines are more interesting than ever.
For one thing, established regions are attracting winemakers with globally informed palates. With their fresh perspectives, they're creating elegant wines from grapes that grow well in Washington soil. Walla Walla, for instance, is benefiting from newcomers such as Amavi Cellars' Jean-François Pellet, who farmed vines in his native Switzerland before coming here to make mineral-driven cabernet sauvignon, the kind that pairs well with steak. Greg Harrington of Walla Walla's Gramercy Cellars worked as a master sommelier in New York, where he fell in love with the Rhone-style wines he produces now. His vivacious syrah is a great match for pork.
Intriguing reds are also coming from nascent growing regions. A case in point is Andrew Will Winery's straightforward cabernet franc, made from grapes from several vineyards, including the winery's own young Two Blondes planting. Located in the town of Zillah in the Yakima Valley, Two Blondes occupies a spot once considered too cold for red wines. But cabernet franc has made a happy home here—and a case for being Washington's perfect variety. Its smoky flavors and bright red fruit, preserved by cold October harvests in these latitudes, are right for nearly everything off the grill, especially lamb.
Cabernet franc is also thriving in the Columbia River Gorge, Washington's other emerging region. The gorge was formed by the ancient volcanic lift of the Cascades and the mighty Columbia River as it wound westward from the arid eastern desert and between the mountains toward what is now downtown Portland, Oregon. The Missoula Floods—massive walls of water at the end of the last ice age—left exposed volcanic-rock cliffs and an astonishing jumble of soils along this 40-mile stretch of river that divides Oregon and Washington. Rarely do you encounter such a chaotic stretch of geography. (The Columbia Gorge appellation, created in 2004, is the rare winegrowing area to straddle two states, and neither Oregon nor Washington has exclusively claimed it.)
In response to the Columbia Gorge's eclectic terroir, there's an experimentalism that I find particularly exciting. For instance, the family-owned outfit Memaloose Wines has planted 20 different varieties on fewer than 17 acres of mostly organic vineyards on either side of the Columbia, trying out not only cabernet franc but even lighter reds such as gamay noir. Washington has always balanced its robust reds with a certain nuance, but Memaloose's cabernet franc was a thrilling discovery—even more quiet, and far more delicately perfumed, than others. It showed a side of Washington reds I'd never encountered before; I had to seek out a few bottles to accompany the salmon I still love to grill.
Not far from Memaloose, Alexis and Juliet Pouillon make Rhone varieties with grapes from their own biodynamic vineyard and others. I first encountered Domaine Pouillon's Katydid, a bright, herbaceous mix of grenache, syrah, mourvedre, and cinsault, on a cold November night last year, just the thing to balance the subtle yet beefy flavors of the grilled tongue I was eating. In an instant Katydid felt familiar: that dusty desert edge and tangy cold-weather fruit, that Washington-ness.
This is just the sort of Washington wine I'd always adored, huddling by the warmth of my Seattle grill. Its charms hadn't gone anywhere. They had just wandered a bit farther afield—to growing regions and styles of red wine that, though new to the state, fit in beautifully.