Food Poetry: Big Bowl
The intersection of food and poetry is a natural one: both are subjects that concern themselves with experience, memory, sense, and self. In honor of National Poetry Month, we've asked some of our favorite poets from around the world to share works—each poem in print for the first time overall or in English—that fuse the poetic with the edible.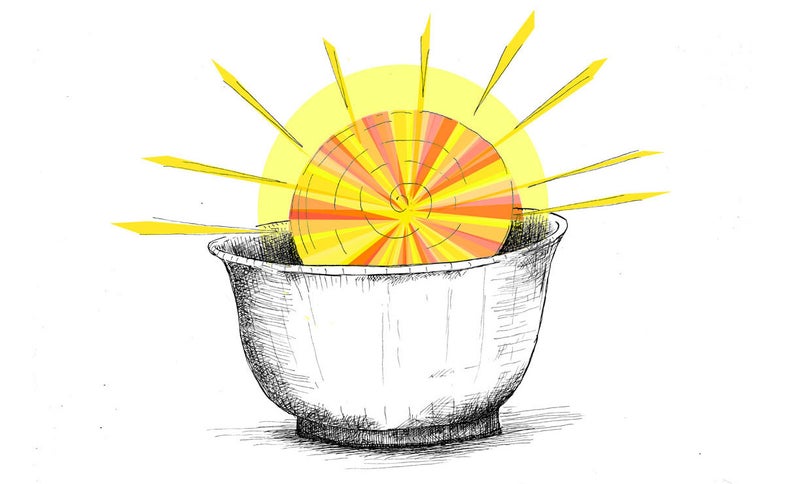 Big Bowl
by Zhang Er
routines of solace
                   *  

lift up the curtain when entering
                   *  

on the dinner table, a flowery plastic sheet.
                   *  

door to home, always open, the wallpaper always white
                   *  

air flowing in through the suspended ceiling
                   *  

matching the big bowl, the substance
bottom line solid
       is clear at one glance:  

beaten egg, bean curd, shredded meat,
black mushrooms, bean noodles
                   *  

Squatting, Uncle in-law with bowl
                   *  

Laughing, he tells the story of how the
Water Conservancy Bureau
Went about building a high-rise . . .
                   *  

Eaten from, from the bed room
to the living room, eaten from
in the bed next to bed that is next to the sofa:
the big bowl is not a symbol.
                   *  

Grandma's mysterious trick:
The more you eat, the deeper the bowl
Could you possibly be
still hungry?
                   *  

Heaven and earth, linked by a slurp.
                   *  

Eat till you occasionally lift your head.
                   *  

Eat till you see the healing spices of the sun
pouring down over all,
becoming Aunt in-law's cotton jacket
with its sparkling flowers.
Zhang Er was born in Beijing and now lives in Olympia, Washington. In addition to having written four volumes of poetry, she is coeditor of Another Kind of Nation: An Anthology of Contemporary Chinese Poetry (Talisman House, 2007). Her most recent collection of verse in English translation is So Translating Rivers and Cities (Zephyr Press, 2007).
Translated from Chinese by Joseph Donahue with the author.
PREVIOUSLY:
Food Poetry: The Sunday Milk Pudding
Food Poetry: september 15, 2001
Food Poetry: Breakfast in Aleppo
Food Poetry: (Two Untitled Poems)