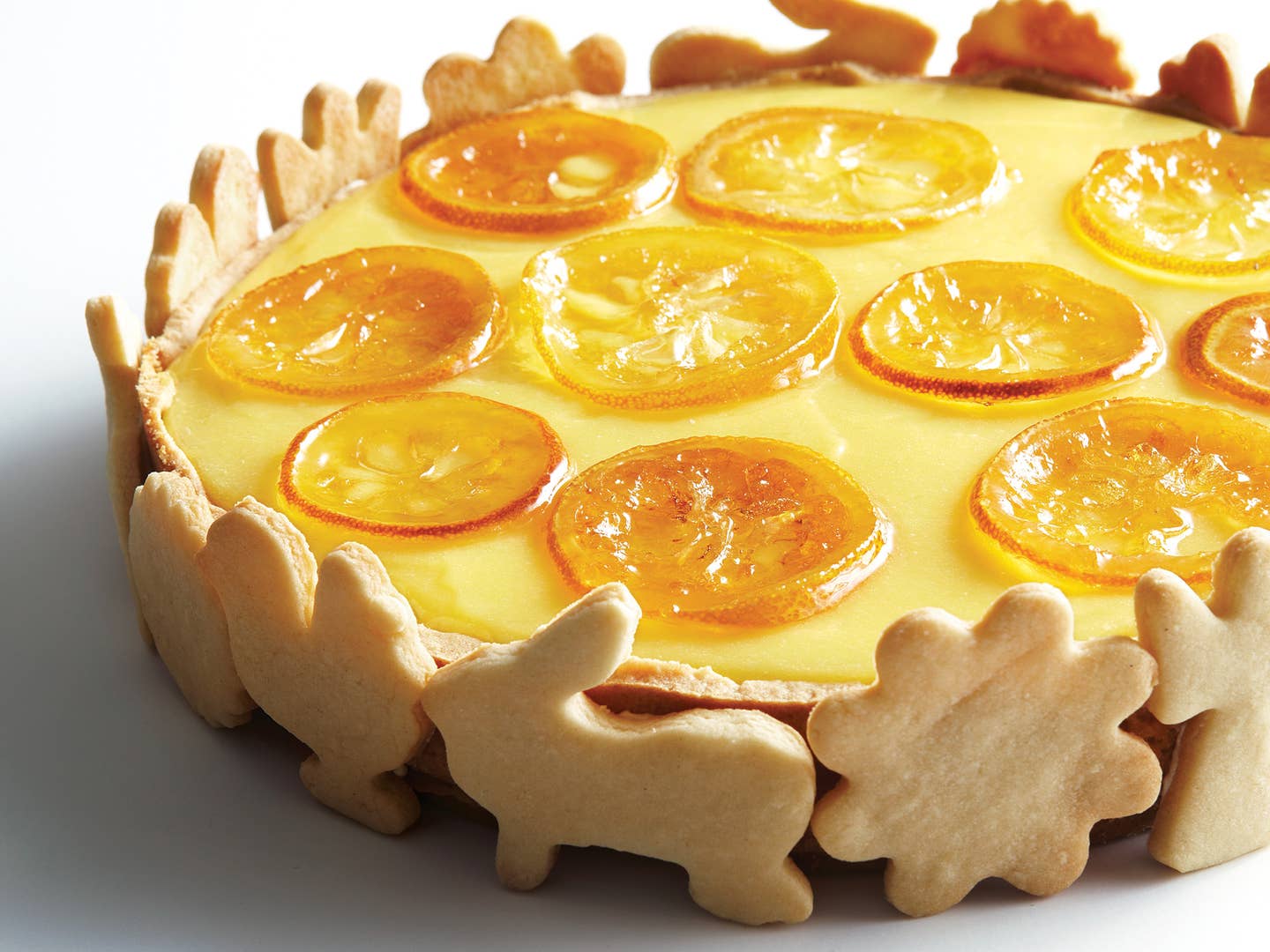 Culture
An International Pastry Renaissance
How three visionary pastry chefs, from London to Portland, are reinventing the baked good.
Harbingers of Easter include Peter Cottontail doing his bunny hop down the bunny trail, the decorative painting of eggs, the donning of festive bonnets, and the smell of sweet baked goods like Hot Cross Buns or the spiced, almond-enriched British Simnel Cake rising in the oven. It's the onset of spring, which means rhubarb and pine shoots are peering out from the still-sleepy ground. It's also considered a time of rebirth.
Coincidentally, right now, an international pastry renaissance is underway. The most nimble dessert-making hands are leaving the kitchens of restaurants behind to open their own shops; they are reviving and reinventing the endangered tradition of local bakeries and patisseries. Here, three of the visionaries among this new generation offer festive confections that are as sublime to eat as they are to behold.
Kristen D. Murray
The first thing Kristen D. Murray ever baked was not a cake, or even a batch of cookies. Her Aunt Chris, who helped raise the future pastry chef in Southern California, liked to remind her niece of her humble beginnings in the kitchen.
"As I continued in my career and worked at fancier places," recalls Murray, who, after studying at the San Francisco Culinary Academy, trained under legends like the Bay Area's Alain Rondell, New York City's Claudia Fleming, and Boston's Barbara Lynch. "Aunt Chris always told me, 'Remember how I taught you how to bake a potato?'" There are memories of candying kumquats picked from the tree in Chris's backyard, and of making lefse, with Nora, Murray's Norwegian great-grandmother who lived on a farm in Fargo and passed her recipe for the soft flatbread of her homeland down to her granddaughter.
Now, she serves those lefse at Måurice, the diminutive "Modern Pastry Luncheonette" she opened in Portland, Oregon, little more than a year ago. Named for her pet rabbit, the space is filled with vintage serving-ware and mismatched chairs, painted white, chosen to suit all the body types of the women in her family. The menu showcases her unique style of California-French-Nordic cuisine. There are open-faced smørrebrød and savory polenta clafoutis at lunch; a selection of fika, or coffee snacks, that includes brioche buns flavored with anisette and chocolate and dainty macarons; or, for dessert, black pepper cheesecake and crème brûlée pops.
"I get really pissed off with pastry chefs who use too much fat and sugar so it doesn't taste like it should," Murray says, and her food reflects that attitude. Still, she doesn't take herself too seriously. "There's definitely whimsy. I like to have fun, but I don't like to play with my food."
Ayako Kurokawa
The city of Wakkani is the northernmost point of Japan. It's dairy-farming territory. Being born there may have secured Ayako Kurokawa's future in butter. Her childhood was spent eating "super rich and creamy dairy products." Early on, she found a weathered copy of a pastry cookbook in her parents' house, and decided to try her hand at the featured butter icebox cookies. "I remember I was so surprised by how much butter this recipe needed. But it came out heavenly good." This proved an invaluable lesson.
Today, locals return to Burrow, the Brooklyn storefront she opened in December 2013 for her Far Breton, a traditional French custard filled with spirits-soaked dried fruit; her pristine madeleines; and her chocolate chip cookies bursting with toffee bits. They also place custom orders for "experimental pieces," where the self-described "pastry sculptor" applies her artistic skills to her baking practice. "I cannot bake pastry without art and cannot create sculptural pieces without a pastry essence," she explains.
Self-taught in both fields, Kurokawa mastered her culinary technique by working in kitchens of New York City fine dining establishments like The Modern—at the Museum of Modern Art, coincidentally—and the Oak Room. Her inspirations include artist Wayne Thiebaud, and food-centric films like I Am Love and Babette's Feast. These come through in her minimalist, graphic, colorful and always undeniably pretty tarts, éclairs, cakes and cookies. Her Instagram feed is where nearly 70,000 people hungry for beauty go to feast their eyes. If only they could taste the heavenly goodness.
British pastry chef Justin Gellatly initially associated what would later become his area of expertise with his parents' kitchen at home in Richmond, Surrey. His mother was responsible for the baking. He "loved the smell of all those sweet and buttery things, which, even today, I have never got tired of." Gellatly trained as a savory chef; he studied at a catering college and worked at restaurants in London, Cheshire, and—overseas—Maine. Then, he landed at Fergus Henderson's St. John Restaurant and stayed within the umbrella of those London restaurants for the next thirteen years. When he started, he'd spend his days off helping the bakers.
"After my first bake at St. John," he reminisces, "I took my first loaves of bread out of the oven. The bread and the crackling of the crust just didn't stop singing to me. I hung up my chef apron and put on a baker's one and never looked back." While honing his skills, he learned, "to trust yourself; keep things simple; use great ingredients; don't kill yourself by working all hours; always make time for family and friends; treat and reward your staff well, and of course make time for a good lunch." Henderson, he says, "taught me the ways of the Jedi."
After finishing the manuscript for his first cookbook, Bread Cake Doughnut Pudding, which was published last year, Gellatly opened Bread Ahead in London's Borough Market with fellow baker Matt Jones. He lets the bread speak for itself; but with his signature doughnuts, "it's time to get cheeky and glamorous with lots of great filling and flavors."