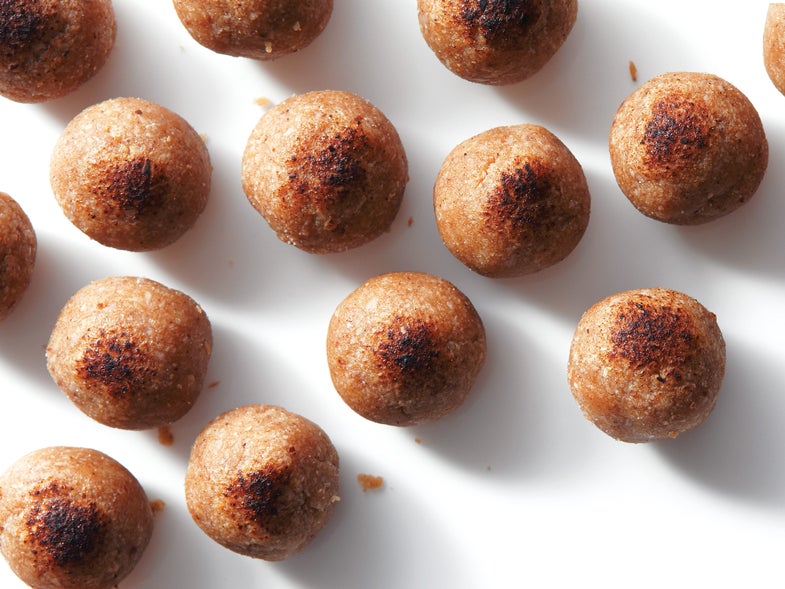 Marzipan, a sweet paste of almond meal and sugar, is laced with spices, brandy, and lemon juice for these simple treats from Justin Gellatly of London's Bread Ahead.
Simnel Marzipan Bonbons
Marzipan, a sweet almond paste, is laced with spices, brandy, and lemon juice.
Ingredients
2 cups almond meal
3⁄4 cup confectioners' sugar
1⁄2 cup superfine sugar
1 1⁄2 tsp. ground cinnamon
1 tsp. ground cloves
1 tsp. brandy
1 tsp. fresh lemon juice
1 tsp. honey
1⁄4 tsp. almond extract
1⁄4 tsp. vanilla extract
1 egg plus 1 yolk
Blowtorch, for caramelizing
Instructions
Whisk almond meal, sugars, cinnamon, and cloves in a bowl until combined; set aside. In a separate bowl, whisk brandy, lemon juice, honey, extracts, egg, and yolk until smooth. Stir wet ingredients into dry; using your hands, knead mixture until smooth. Divide mixture into thirty-eight 1⁄2-oz. balls and place on a baking sheet. Using a blowtorch, torch tops of bonbons until lightly caramelized, 30 seconds to 1 minute. They can be rolled and chilled for up to 2 days before being caramelized.