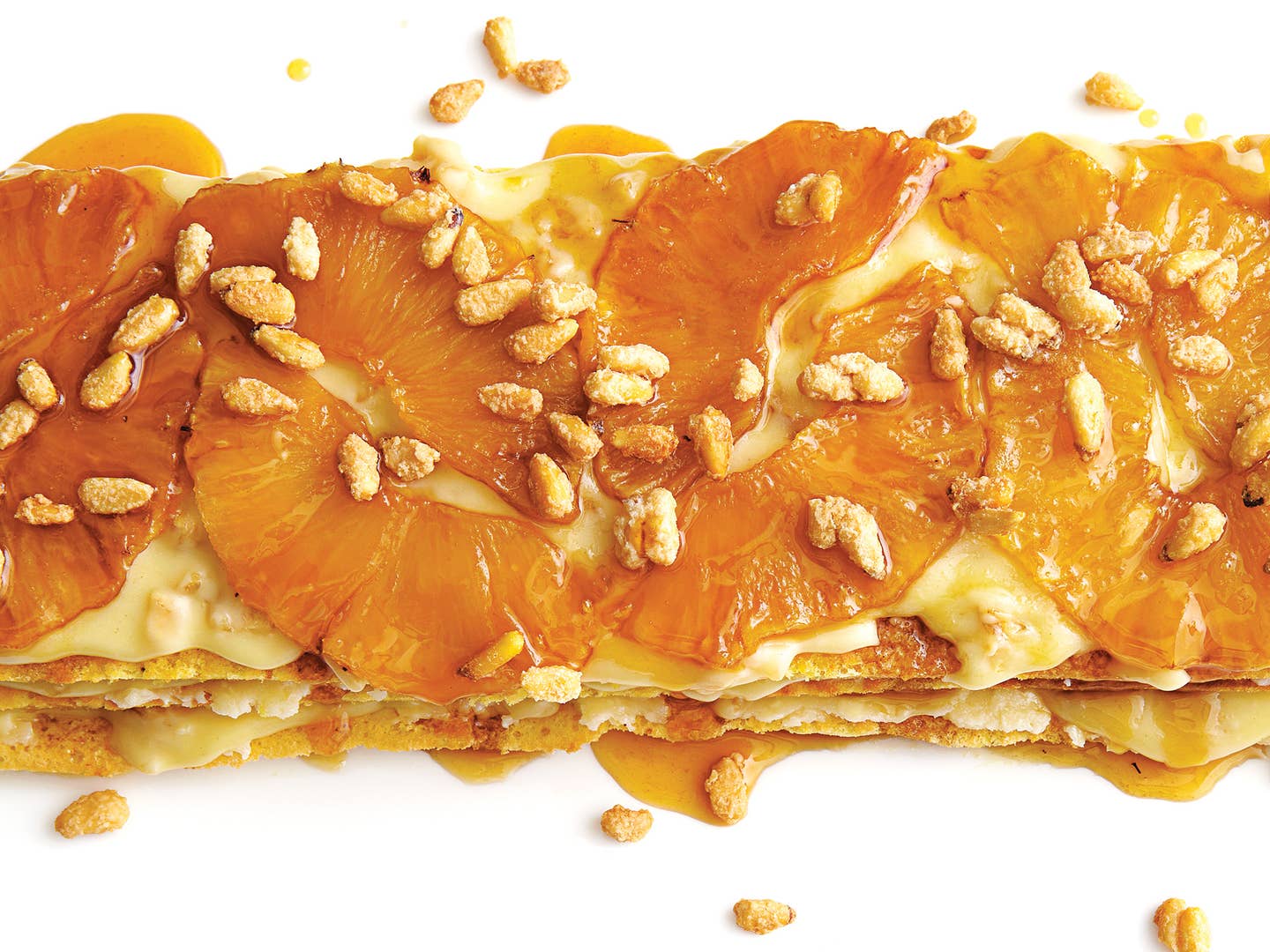 Recipes
Pineapple and Pine Nut Torte
At Portland, Oregon's Måurice restaurant, pastry chef Kristen Murray layers sponge cake with buttercream and white chocolate ganache, and garnishes the torte with honeyed pineapple slices and candied pine nuts.
FOR THE PINE NUT SPONGE CAKE:
4 tbsp. unsalted butter, plus more for greasing
1 cup pine nuts, lightly toasted
⅓ cup cake flour, sifted
½ cup sugar
6 eggs, separated, plus 4 yolks
FOR THE CANDIED PINE NUTS:
1 cup pine nuts
⅓ cup granulated sugar
1 egg white, lightly beaten
FOR THE BUTTERCREAM:
11 tbsp. unsalted butter, softened
1 tbsp. Zirbenz (Austrian stone pine liqueur)
1 cup plus 1 tsp. granulated sugar
3 egg whites
FOR THE WHITE CHOCOLATE GANACHE:
14 oz. white chocolate (at least 20% cocoa butter), finely chopped
½ cup heavy cream
½ cup minced dehydrated pineapple
Pinch Maldon flake sea salt, to taste
FOR THE CARAMELIZED PINEAPPLE AND SYRUP:
½ cup honey
½ ripe pineapple, cored and sliced ¼" thick
3 tbsp. limoncello
1. Make the pine nut sponge cake: Heat oven to 350°. Grease a 12" x 16 ½" baking sheet with butter and line with parchment paper. Melt butter in a 10" skillet over medium; cook until color is a deep golden brown, 6–8 minutes, and let cool. Pulse pine nuts and cake flour in a food processor until finely ground. Using an electric hand mixer, beat sugar and egg yolks in a bowl until pale yellow and thick, about 4 minutes. In a separate bowl and using clean beaters, beat whites until stiff peaks form. Fold pine nut flour, then whites and reserved brown butter, into yolk mixture; spread evenly into prepared pan. Bake, rotating once, until golden brown and cooked through, 8–10 minutes; let cool.
2. Make the candied pine nuts: Reduce oven to 300°. Stir pine nuts, sugar, and egg white in a bowl; spread evenly on a baking sheet. Bake, stirring occasionally, until golden and crisp, 15–20 minutes; let cool.
3. Make the buttercream: Using an electric hand mixer, beat butter and Zirbenz until smooth and creamy; set aside. Heat sugar and ¼ cup water in a 1-qt. saucepan over medium-high until an instant-read thermometer reads 245°, about 5 minutes. Meanwhile, in the bowl of a stand mixer fitted with a whisk attachment, beat egg whites until frothy. With the motor running on medium, slowly drizzle sugar syrup into egg whites along the side of the bowl, avoiding the whisk. Increase speed to high; beat until stiff peaks form and meringue is cool to the touch, about 5 minutes. Add reserved butter and beat on medium until smooth, about 2–3 minutes; chill until ready to use.
4. Make the white chocolate ganache: Place chocolate in a bowl. Boil cream in a 1-qt. saucepan and pour over chocolate; let sit, without stirring, for 2 minutes. Add pineapple and salt and, using a rubber spatula, stir to combine; cover and set aside until ready to use.
5. Make the caramelized pineapple and syrup: Melt honey in a 12" skillet over medium-high until bubbly, 3–4 minutes. Add pineapple in a single layer; cook, flipping once, until caramelized, about 15 minutes. Using a slotted spoon, transfer pineapple to a plate; set aside. Stir limoncello into honey; set syrup aside.
6. Assemble the torte: Invert cake onto a cutting board; slice lengthwise into three 4"-wide strips. Place 1 strip of cake in center of a serving platter. Spread half the buttercream and one third of the ganache over cake. Top with another strip of cake; spread with remaining buttercream and one third of the ganache. Top with remaining ganache. Arrange caramelized pineapple over top of torte and sprinkle with candied pine nuts; chill. Drizzle with syrup before serving.