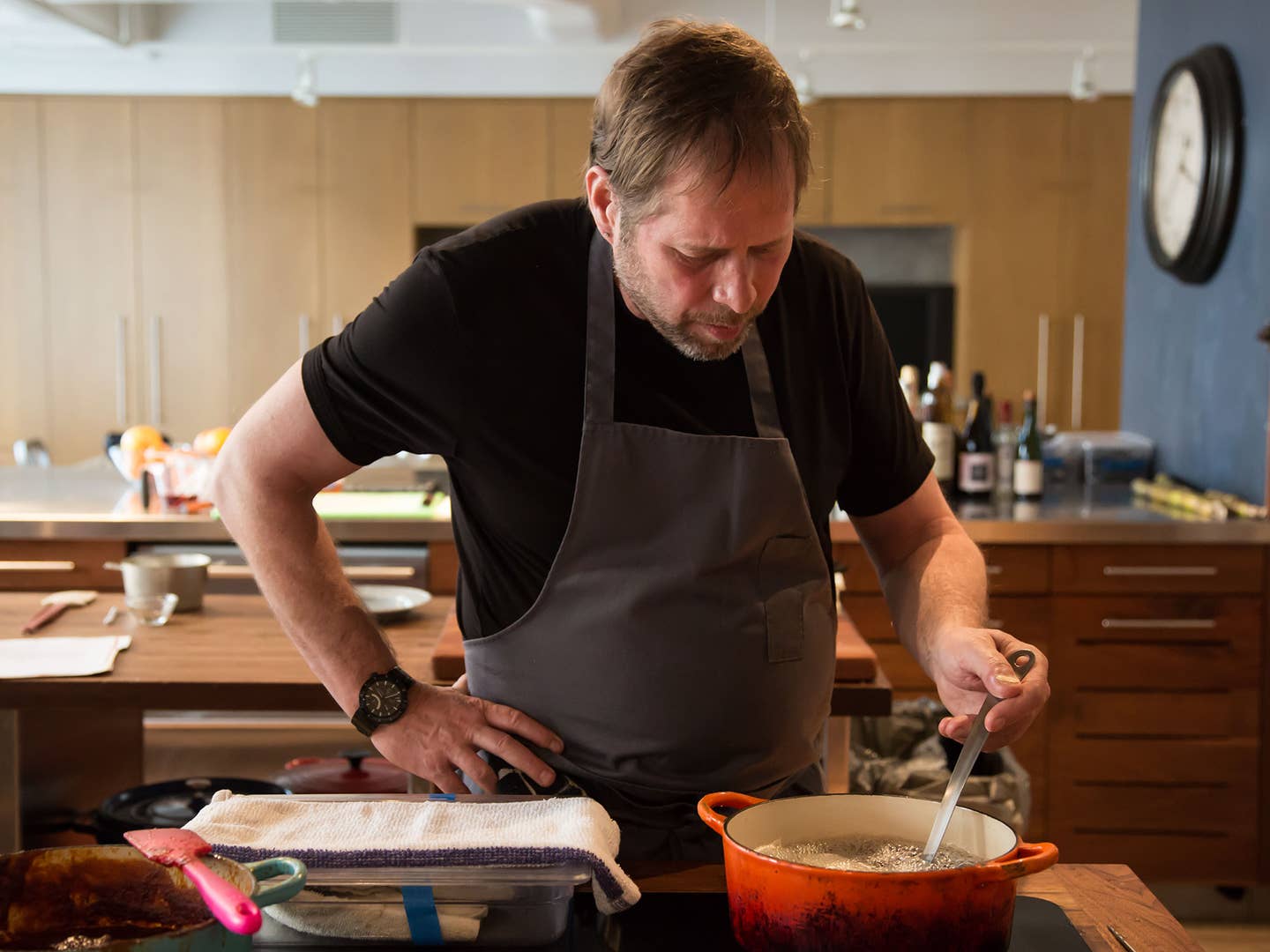 Culture
Frying Tater Tots with David Kinch
He may be the Michelin-starred chef-owner of Manresa, but he's not above the humble fried potato.
David Kinch's tater tots begin, as all good things in this world do, with a vat of duck fat.
"It's a traditional, classic way to prepare potatoes, but it fell out of favor," said the Manresa chef when he recently stopped by the Saveur test kitchen. "It's rich to cook in duck fat, but if you have it, why not?"
Kinch—a little David Duchovny around the eyes, a little club kid cool (diamond stud in one ear, metallic gold New Balances), a touch of Zen calm—has been honored with just about every culinary award under the sun. Manresa, his restaurant in Los Gatos, CA., has held two Michelin stars for the past nine consecutive years and been listed on San Pellegrino's World's 50 Best Restaurants list; he's a James Beard winner. Last summer he hit a stumbling block: A freak fire nearly destroyed the restaurant. Kinch rebuilt the place basically from scratch. Last month, San Francisco Chronicle food critic Michael Bauer declared the food "even better than before." He awarded the restaurant four stars. That's the number it held before the fire. But the ranking system doesn't go to 11 (or five, for that matter). So Manresa held steady at perfection.
Kinch's passion for precision is easy to see when he's cooking—even if he's just making tater tots. The chef placed a piece of parchment paper on the cutting board before peeling the potatoes, to minimize mess, then laid down a new sheet of parchment and grated the potatoes on top. These shredded potatoes were eased into a Dutch oven filled with duck fat, which was brought slowly up to bathtub temp—Kinch stuck his finger in multiple times to check—in a classic confit preparation.
"Don't wash the potatoes," he said, "and don't grate them into water. You want to extrude the starch into the fat as it cooks." Unlike the supermarket frozen variety, which rely on a variety of chemistry lab-sounding ingredients to help bind the shredded potatoes together, Kinch's are nothing more that potatoes, salt, and herbs.
After the shreds turned translucent, Kinch drained them and added some salt and chopped thyme, which he pulverized almost instantly by creating a makeshift mezzaluna out of his knife, the fulcrum at the knife's heel, and hinging it back and forth on fast forward—whizz, bang, voilà.
"Well, sure, but technically rosemary is an Italianate herb, so I wouldn't use it in a French confit," Kinch said with a barely detectable smirk.
Kinch likes to let the potato mixture set in the fridge for a day or two, which renders it easier to slice and fry, so had come equipped with some pre-made tots, which he cut into perfect batons, carefully trimming a stray spud from the side.
Into the bubbling fat they went. Lured by the smell and sizzle, a few eager staffers crowded around the pot.
"There's a big difference between golden and brown," Kinch intoned solemnly, a dictum met with lots of overt nodding and hidden salivating. A few moments later, out came a pile of perfectly crisp golden-brown creations. They're on the Manresa menu now, served with warm smoked trout, but we were fresh out of that in the kitchen, so Kinch plated them solo. Piled up crisscrossed like Lincoln Logs, they looked a little like a hashtag.
On cue, the phones came out, poised for Instagramming.
"Hashtag f-ing delicious?," someone suggested. Murmurs of approval. Then everyone dug in, crisp crust yielding to impossibly fluffy, thyme-scented interior. The tots didn't stand a chance.