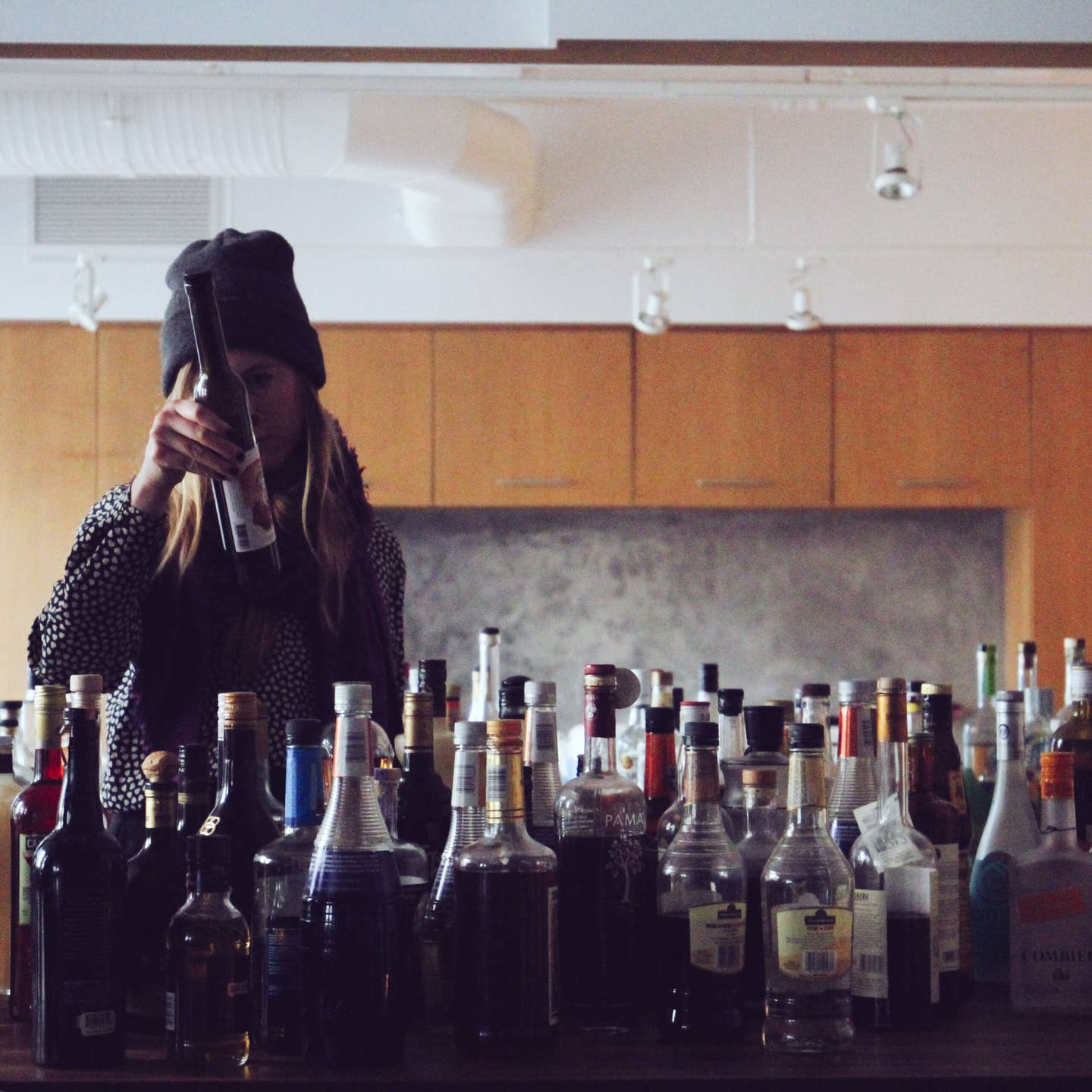 Culture
What We Found While Cleaning Out the Saveur Liquor Cabinet
Thanks to a bit of free time, the SAVEUR Test Kitchen team cleared out shelves and shelves of liquor. Here's what they found, and what they subsequently made.
Yesterday, with a bit of spare time on their hands, the Test Kitchen team set out to organize their many shelves of booze. Every bottle came down from the shelf, was inspected, and got clustered together with similar bottles. Duplicates were "married" and the obscure, we'll-never-use-this-again stuff was organized into a "please take me home lest I suffer a very sad fate" section.
The key takeaway: There's a whole lot of booze in that kitchen. Here's a rundown of what we found, and a few things we learned along the way:
COUNTED: 180 bottles, total—including 15 bottles of whisk(e)y, 3 bottles of velvet falernum (more on that below), 8 bottles of amaro (including all of these), one lonely bottle of tequila, and 8 bottles of coffee liqueur*.
MINUTES SPENT DISCUSSING THE ORIGINS OF A BOTTLE OF HYPNOTIQ: Five. And yes, we have a recipe that uses it. (It's Hawaiian! They get a free pass!)
TASTED: Homemade crème de menthe (leagues better than the stuff on your great aunt mildred's bar, but you already knew that); homemade Transylvanian caraway brandy that our food editor Kellie Evans plans to pull out at a party someday. (Great hostess move: "Oh that? No big deal, just some Transylvanian brandy I whipped up the other day.")
NOT TOUCHED WITH A TEN-FOOT POLE: Yogurt liqueur, origins unknown, never opened.
IMPORTANT SKILL LEARNED: Art director Adam Bookbinder came to our rescue when nobody could open a bottle of (not homemade) crème de menthe whose cap had somehow fused to the bottle with such sticky gumption that we thought we'd have to trash it. His solution? Take a plain rubber band, wrap it tightly around the bottle cap, and use that friction as leverage to twist the bottle open. Success!
ICE CREAM FLAVORS USED FOR ROOT AND BEER FLOATS: Two.
And about those floats. We had resolved to make something with a more-than-half-full bottle of Root, a spirit made by the crazy people at Art in the Age that's reminiscent of root beer. Since we had received a big ice cream delivery earlier that day, our minds immediately went to floats. We had no root beer, but we did have a fridge full of actual beer, and so pulled out two pint glasses, a bottle opener, and an ice cream scoop. Here's our make-a-float-with-anything strategy:
Plunk two big scoops of ice cream into a pint glass. Top with an ounce of something strong and boozy (this step is optional but recommended), like Root. Fill the rest of the glass with beer (we used Brooklyn Brown Ale for a darker float) or ginger beer (highly recommended) or regular old root beer. Find a spoon and a straw. Dig in.
*The abundance of coffee liqueur is still a bit of a mystery, but Food and Prop Stylist Judy Haubert likes adding some to her White Russians. We think this might become a trend.