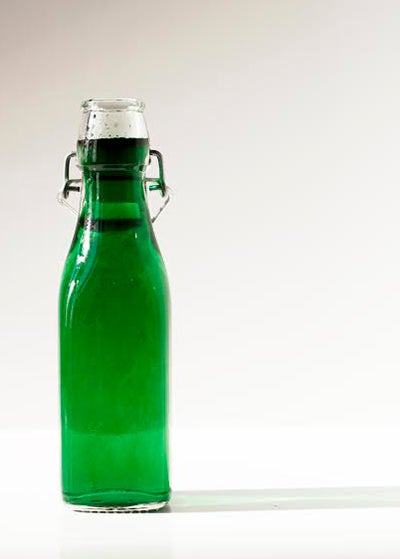 An essential ingredient in the classic grasshopper ice cream cocktail, this bright potion is given the distinction of being a crème liqueur not because it has cream or any dairy product added to it, but because of the thick, luscious texture resulting from the amount of sugar in the recipe. It first appeared in the tablet edition of our Jan/Feb 2014 SAVEUR 100 with the article Ice Cream Cocktails.
Yield: makes 1 Quart
Ingredients
2 cups vodka
3 cups packed mint leaves
1 cup sugar
5-6 drops green food coloring (optional)
Instructions
Place vodka and half the mint in a sterilized 1-qt. glass jar. Cover with a lid and set aside in a cool, dark place for 1 week.
Bring sugar and 2 cups water to a boil; cook, stirring, until sugar is dissolved, about 2 minutes. Remove from heat and add remaining mint; let syrup cool.
Strain vodka and syrup through a fine-mesh sieve lined with cheesecloth into a sterilized 1-liter glass bottle, discarding mint. Add food color if using; cover bottle and shake gently to combine. Keep refrigerated for up to 3 months.