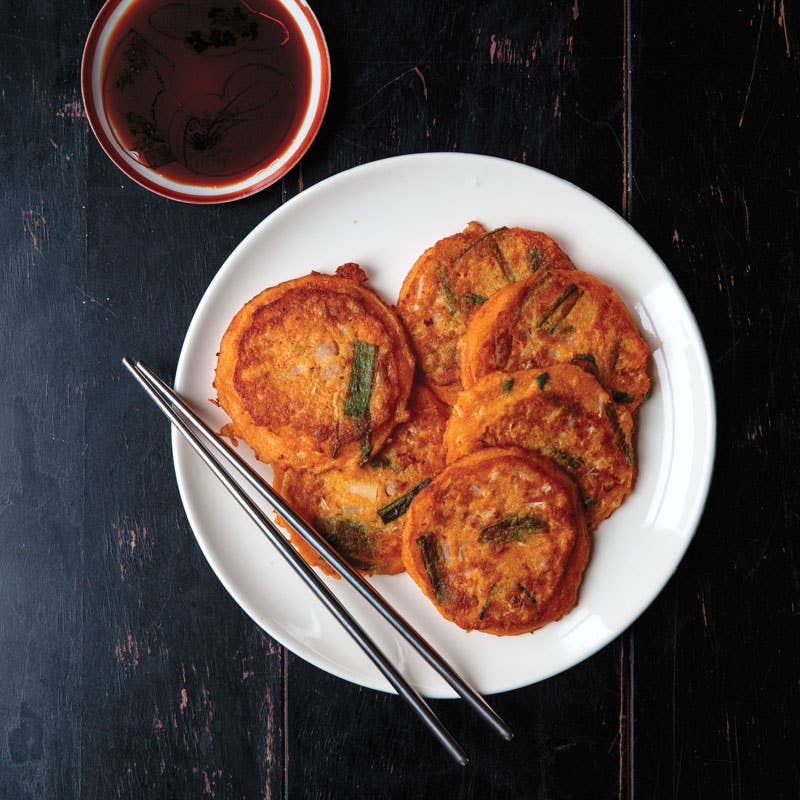 Culture
20 Years of SAVEUR: Mung Dynasty
In honor of the 20th anniversary of SAVEUR, we asked some of the people who taught us the most to each peruse a year's worth of issues and to reflect on them. Here, Madhur Jaffrey on a story from our August/September 2003 issue.
In SAVEUR's August/September 2003 issue, I came across a story about bindaeduk, that gorgeous Korean pancake made from a batter of soaked mung beans, crisp on the outside, soft, savory, and spicy on the inside. I had first tasted bindaeduk many years before, from a breakfast buffet at the Lotte Hotel in Seoul. And I continued to enjoy them in later years when, traveling around the Korean countryside, I found them at many fetes and fairs. I have always loved the melding of scallions, bean sprouts, spicy kimchi, and garlic with the mung bean batter, as well as the meaty depth from finely chopped pork. But it was the title of that SAVEUR article, "Mung Dynasty," that got me reminiscing.
The mung bean is native to India, where it has been eaten for at least 5,000 years. Because it is so easily digested, it is often the first legume many north Indian children are fed. I can still remember my mother holding me closely, and the feel of her freshly starched cotton sari, as she blew on a mixture of basmati rice and soupy mung beans to cool it before spooning it into my mouth.
When I was a little older, I'd line up with my brothers and sisters in our Delhi kitchen as my mother made us cheelay—Indian mung bean pancakes griddled in a manner similar to the Korean bindaeduk, but with vegetarian seasonings: finely chopped ginger, green chiles, onions, turmeric, salt, and cilantro. The youngest child was always served first, so I'd have to make do with inhaling the rich aromas while my little sister walked off triumphantly with her thin, crisp, but wonderfully pliable pancake. When my cheela was finally ready, I'd fall upon it greedily, breaking off a piece and folding it around a little bit of mango pickle or cilantro-yogurt chutney. All I needed then was a cup of sweet, milky tea to wash it down.
Madhur Jaffrey is a SAVEUR contributing editor.