Recipes
Bindaeduk Cho Kanjang (Korean Mung Bean Pancakes with Dipping Sauce)
Serves

makes ABOUT 30 PANCAKES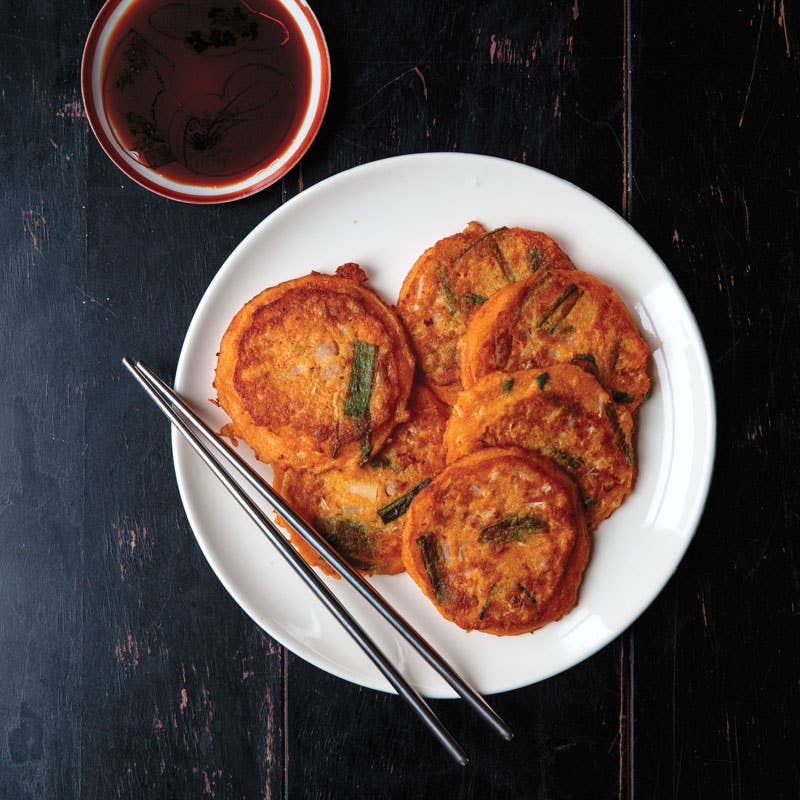 These savory Korean pancakes are made from a batter of ground mung beans flecked with pork, scallions, and pungent kimchi. Inspired by a recipe that first appeared in SAVEUR No. 68 (Aug/Sept 2003), they ran in our Jan/Feb 2014 SAVEUR 100 issue with the article 20 Years of SAVEUR: Mung Dynasty.
Ingredients
2 cups dried, peeled mung beans, soaked overnight and drained
4 oz. boneless pork loin, trimmed and finely chopped
4 oz. kimchi, rinsed, drained, and finely chopped (about 1/2 cup), plus 1/2 cup kimchi pickling liquid
1 1⁄2 cups mung bean sprouts, roughly chopped
1 tbsp. kosher salt
6 scallions, halved lengthwise and cut crosswise into 1" pieces
5 cloves garlic, finely chopped
1⁄2 cup canola oil
1⁄4 cup soy sauce
1 tbsp. white vinegar
Instructions
Step 1
Purée mung beans and 1 3⁄4 cups water in a food processor until smooth; transfer to a bowl. Add pork, kimchi and pickling liquid, sprouts, salt, scallions, and garlic; stir until combined.
Step 2
Heat 2 tbsp. oil in a 12" nonstick skillet over medium heat. Working in batches and adding more oil as needed, place 1⁄4-cup amounts of mixture in pan. Cook, flipping once, until golden, 8–10 minutes. Transfer to paper towels to drain briefly, then place on a serving platter. Stir soy sauce and vinegar in a bowl; serve on the side for dipping.