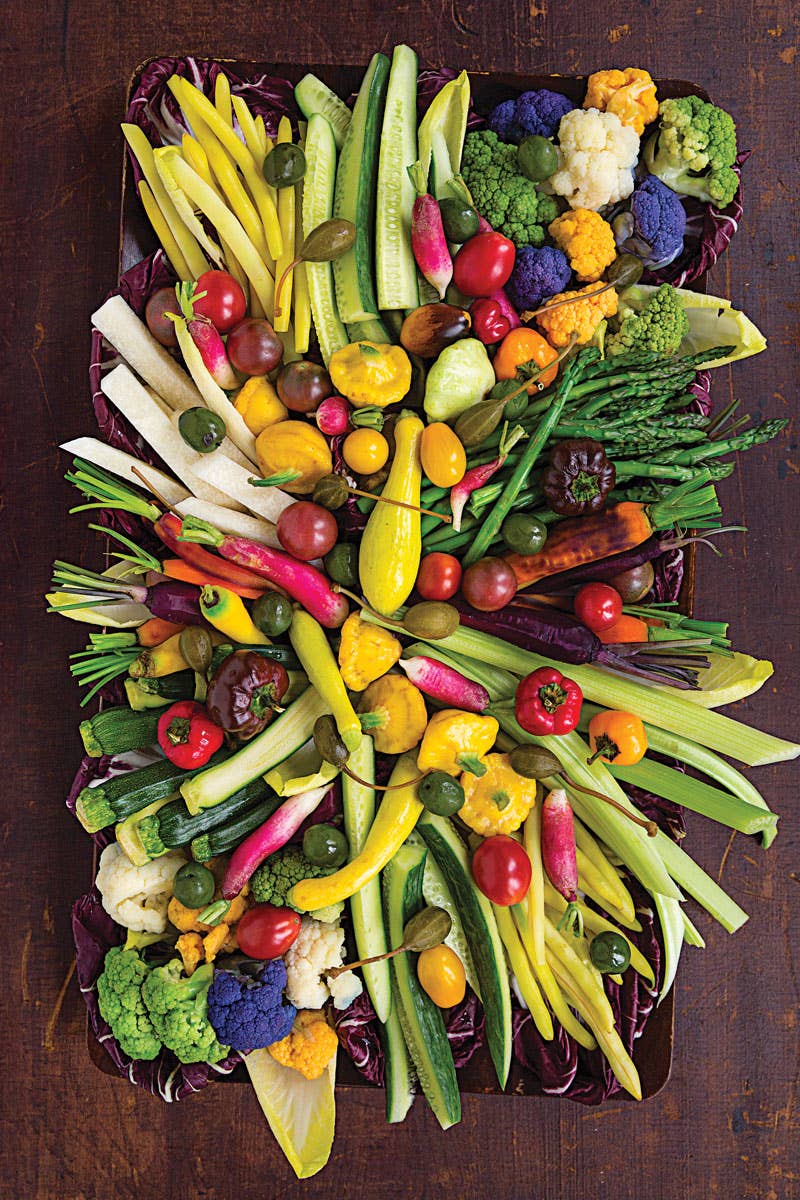 Culture
In the Raw
Crudités are a celebration of the bounty of the harvest
For me, the whole thing began with radishes. When I was seven, thanks to the spiral-bound 1965 edition of the Betty Crocker Boys and Girls Cookbook—my mother's childhood copy—I was introduced to the extraordinary notion that radishes could become roses. I learned to carve thin petals into them and drop them into ice water, where they would blossom. I'd savor them with a little sprinkle of salt.
There's nothing new about eating raw vegetables, but in the States it wasn't until the first half of the 20th century that an austere serving of celery sticks was recast as an opulent appetizer. The distinction is partly semantic: Fashionable French restaurants in America offered first-course relish plates of raw vegetables, referring to them in their native tongue (the word crudité itself is French for "rawness," though the presentation may include cooked or cured ingredients), and the term caught on. To me, the definition is also an aesthetic one: Crudités live or die by their composition, by their balance of colors, and the allure of the arrangement. Whether it's a single sliced carrot or a polychromatic cornucopia, it's meant to be admired.
Crudités' popularity has waxed and waned over the years. They never really went away at a certain type of gilded brasserie, but only very recently has the dish been showing up at the hipper sorts of restaurants. I'm proud not to have been a fair-weather fan—and I'm in good company. James Beard called crudités "the most appetizing dish imaginable," and artist Wayne Thiebaud immortalized them in his 1963 painting Plate of Hors d'Oeuvres. What accounts for their timeless appeal? For me they're the best demonstration of earthly abundance you can lay on a table. Broccoli is just a starting point; I might add wedges of raw fennel, pickled caperberries, or blanched green beans, and always several dips. I never make the same composition twice—but I always use radishes, and sometimes I even carve them into roses.