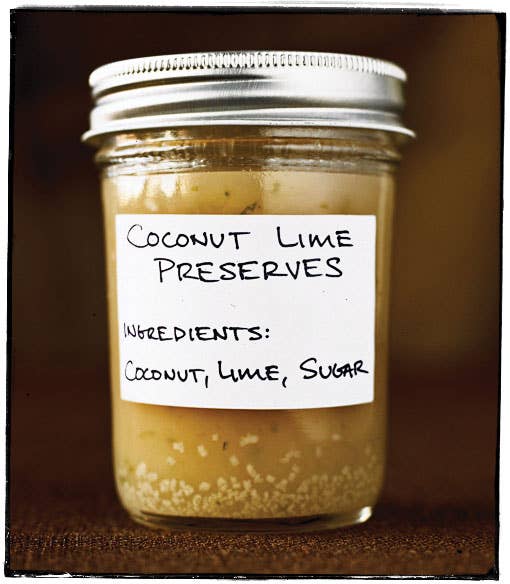 It wasn't the beaches that made me fall in love with the ritzy French Caribbean island of St. Barths. It wasn't the sultry nightclubs, the villa-studded green hills, or the sweeping ocean views. What did me in was breakfast.
Sunrise on any tropical island is a beautiful thing, but where I was staying, at Hotel Le Toiny on the southeastern shore—the côte sauvage, rocky and beachless with great, thundering waves—the early morning is particularly extraordinary. The ocean there is dotted with surfers who crest and crash in the pink and yellow light, and each morning I'd sit on the terrace with my breakfast and stare at them, mesmerized by the distant rhythms of the rising and falling bodies. On one particular day, while reaching for something to spread on my baguette, I picked up a small jar that was sitting on the table. It was filled with a pale-green condiment that smelled rich and bright—a simple jam of coconut milk, lime juice, and sugar, made fresh just a few hundred yards away in the hotel's kitchen.
The smooth, sweet jam—literally melting into my warm bread—turned out to be a revelation. With its multiple Hermès boutiques and yacht-filled harbor, one tends to forget that tiny St. Barths is in the West Indies, not the Côte d'Azure. But in that one bite of coconut jam on baguette, it all came together. St. Barths is an island that was colonized by the French in the 18th century. Its harsh soil meant it wasn't much good for agriculture, but its deep-water harbor made it a natural trade port, filling the markets with sugar cane, citrus, and plants imported from Pacific colonies, like coconut, which thrived under the Caribbean sun—not to mention wheat flour so that the French expatriates could bake loaves of the bread that reminded them of home.
This jam, with its unmistakably tropical flavors—tangy lime and rich coconut—spread generously on a chewy, crusty baguette crystallized the French Caribbean island's character. The confluence of cultures and flavors in my simple breakfast served as my own communion with the island's complex personality, no surfboard necessary.