Shopping & Reviews
The SAVEUR Bookshelf: New Irish Cookbooks
Go way beyond corned beef and cabbage with five cookbooks that celebrate Ireland's heritage of locavore-driven cuisine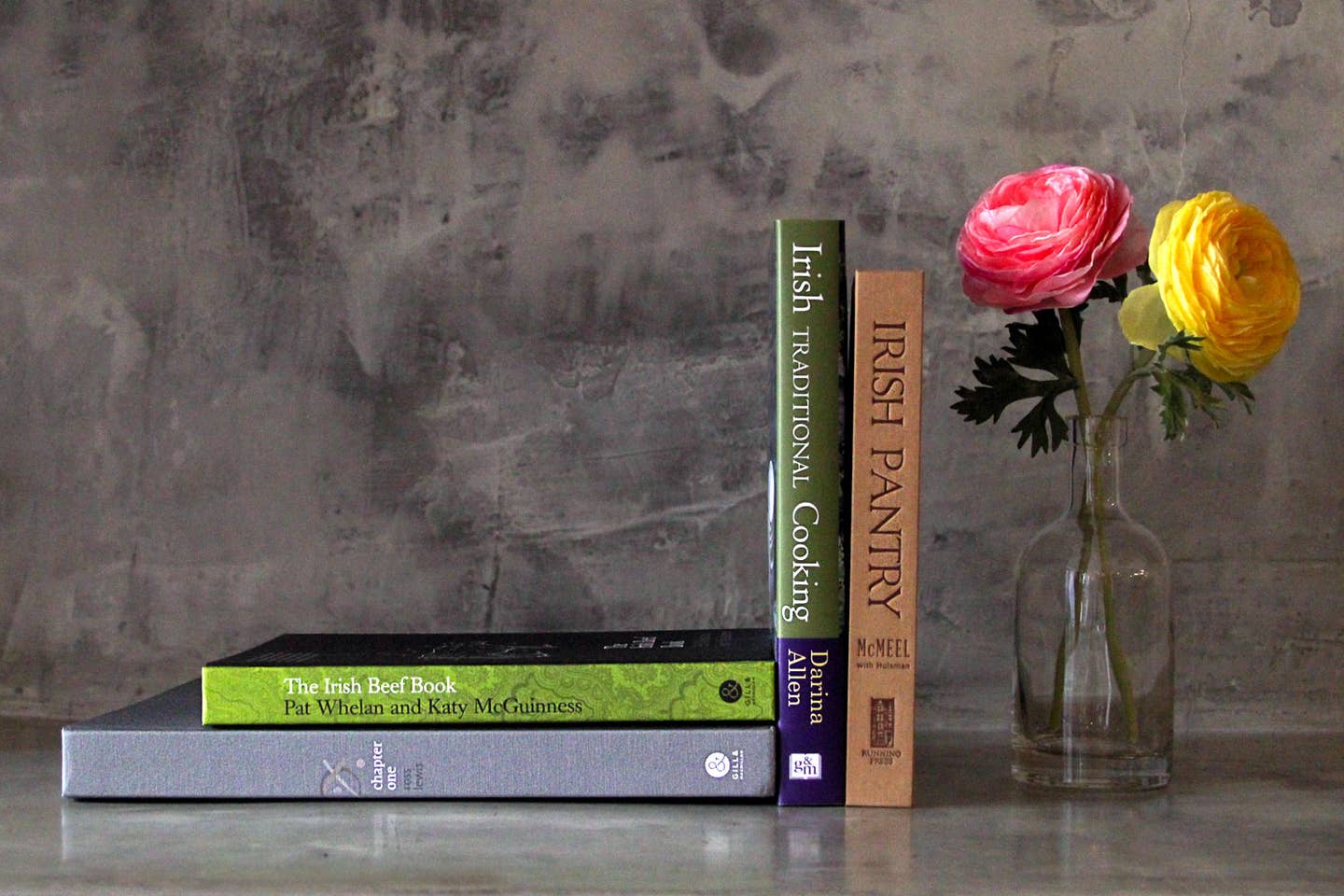 There's a long-running tendency on this side of the Atlantic to understand Irish cuisine as a limited set of over-boiled, unfashionable dishes like corned beef with cabbage and stodgy shepherd's pie. In reality, Irish cooking is rooted in many practices that have only recently gained widespread appreciation stateside, including locavorism, foraging, and whole-animal eating. Far from mere trends, in Ireland, such approaches to food are deep-seated functions of a culture which, despite the modern facelift wrought by a mid-90s economic boom, remains largely rural and closely connected to the land. Grounded in the past as it may be, Irish cuisine is no period piece; today, an enthusiastic generation of chefs, cheesemakers, bakers, bloggers, and others are marrying the country's traditional food philosophy and natural bounty (elements like grass-fed beef, bountiful seafood, and impossibly rich dairy) to a palette that's sophisticated, creative, and global. Nowhere is the dynamism of Ireland's current food scene more evident than in the spoil of cookbooks published in the last three years that run the gamut from humble home cooking to haute cuisine, but share an emphasis on the country's indigenous culinary riches. Here, five of our favorites.
As proprietors of County Cork institutions Ballymaloe House and Ballymaloe Cookery School, the Allen family have long championed the beauty of simple Irish food. In keeping with this mission, Darina Allen's recently-updated classic intersperses her versions of unpretentious traditional dishes like beef stew, boxty (a latke-like potato pancake), and barmbrack (a warmly-spice fruit cake) with vignettes exploring their evolution. It's at once a go-to compendium of rustic Irish standards and an exhaustively-researched history that manages to eschew academic dryness for warmth and humor.
by Noel McMeel with Lynn Marie Hulsman
So often, visitors to Ireland fall for the country's humble yet delicious breads. Northern Irish chef (and Chez Panisse alum) Noel McMeel's volume offers a number of takes on this national treasure, from classic brown soda bread to more unusual riffs, including a loaf studded with seaweed. And because a slice of good Irish bread needs just a smudge of jam or butter to make it sing, he includes a chapter on spreads, too.
by Pat Whelan and Katy McGuinness
Captained by cattle farmer, fifth-generation butcher, and passionate-but-not-preachy slow food advocate Pat Whelan, this book presents an abundance of inventive bovine recipes (think brisket and squash pot roast, bone marrow with Desmond cheese) accompanied by handsome photographs evoking a cozy farmhouse kitchen. For those looking to expand their repertoire beyond typical supermarket beef offerings, though, the book's most useful feature may be its illustrated guides to virtually every cut of meat the cow offers.
Initially, this book from the executive chef of Dublin's Michelin-starred Chapter One might seem more suited to the coffee table than the kitchen counter. It's a gorgeous object, oversized and beautifully photographed, and its sumptuous recipes, like rib of beef, ox cheek and tongue with smoked potato and fried cabbage, aren't exactly the stuff of speedy weeknight meals. But Lewis suggests a pick-and-mix approach to its offerings: Adopt a flavor palette here, a reduction there, and give your cooking a luxurious boost.
As in the US, self-taught bloggers have come to occupy a central place on Ireland's food scene. Among these do-it-yourselfers is affable, fresh-faced Donal Skehan, whose Good Mood Food blog led to a 2009 book of the same name, followed by a TV series and additional books. Kitchen Hero seeks to empower the busy or beginning home cook with straightforward recipes, like oat, blueberry, and rhubarb breakfast crumble and minty pea and lemon pasta, made special via quality ingredients.