Electric Shaved Ice Machine
An electric shaved ice machine creates feathery, snow-white fluff perfect for drenching with homemade fruit syrups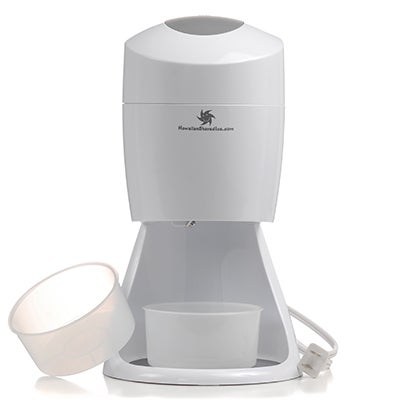 I had my first shave ice ever on a trip to Maui last October—a colorful, fluffy mound of fruit-flavored ice crystals atop a scoop of slowly melting, sweet coconut ice cream. That first taste was a gateway drug: Now I seek out all kinds of icy desserts—from Korean patbingsu to Mexican raspados—but the Hawaiian version is still my favorite. When attempting to recreate the dessert at home, texture is key: Most at-home snow cone machines produce granular, crunchy ice crystals, not the feathery, snow-like fluff I crave. That's why I was so excited to find this electric shaved ice machine from Hawaiian Shaved Ice: It solves the texture problem by using circular ice, not cubes, in its design—a wide surface area allows for the blade to spin across the ice, creating super-thin shavings. Just pop one of the frozen pucks into the machine and press down—it makes a lot of noise, but the piles of powdery snow that result are well worth the racket.
A tip: I eschew the bottled syrups offered by the company in favor of a drizzle of homemade fruit syrup, or a combination of simple syrup, gin, and lemonade when I'm in the mood for a summery, dessert-like cocktail.
Electric Shaved Ice Machine, $24.95 at hawaiianshavedice.com.