Macerated Strawberries Taste Better
Maceration softens fruit and imparts flavor to turn even less-than-perfect berries into something worthy of dessert.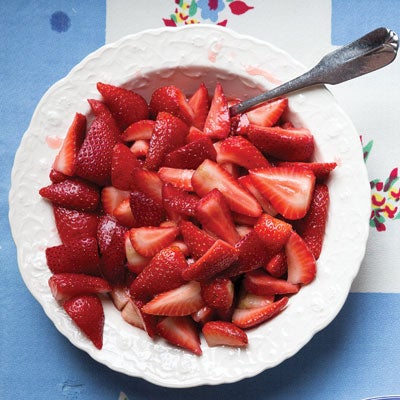 Have you ever tried macerated strawberries? They're absolutely delicious. The process called maceration softens fruit and imparts flavor, transforming even less-than-perfect berries and stone fruit into something worthy of dessert. Though macerating typically involves soaking fruit in an acidic liquid such as liqueur, lemon juice, or vinegar, the liquid is not always necessary, particularly in the case of water-dense strawberries. At 92 percent water by weight, strawberries need nothing more than a generous sprinkle of sugar to macerate. Sugar, which draws out the liquid from strawberries, forms a tight bond with the extracted water molecules. The result is a bowl of tender fruit swimming in a sweet syrup, the perfect accompaniment to a scoop of ice cream or a slice of cake, like the almond cheesecake in our Swedish Midsummer story. The sugar also enhances the strength of the strawberries' natural pectin, resulting in a near jamlike consistency. In fact, this is how the process of jam making begins. Of course, the macerated fruit is also delicious on its own. The longer the strawberries macerate, the richer and more intense their flavor becomes. The addition of herbs, zest, and other flavorings can enhance the mixture's aromas. In the case of the cheesecake, mint adds a refreshing herbal note. Other welcome additions include citrus zest, crushed green cardamom, star anise, and vanilla bean.
See the recipe for Ostkaka med Färska Jordgubbar och Mynta (Almond Cheesecake with Macerated Strawberries and Mint) »