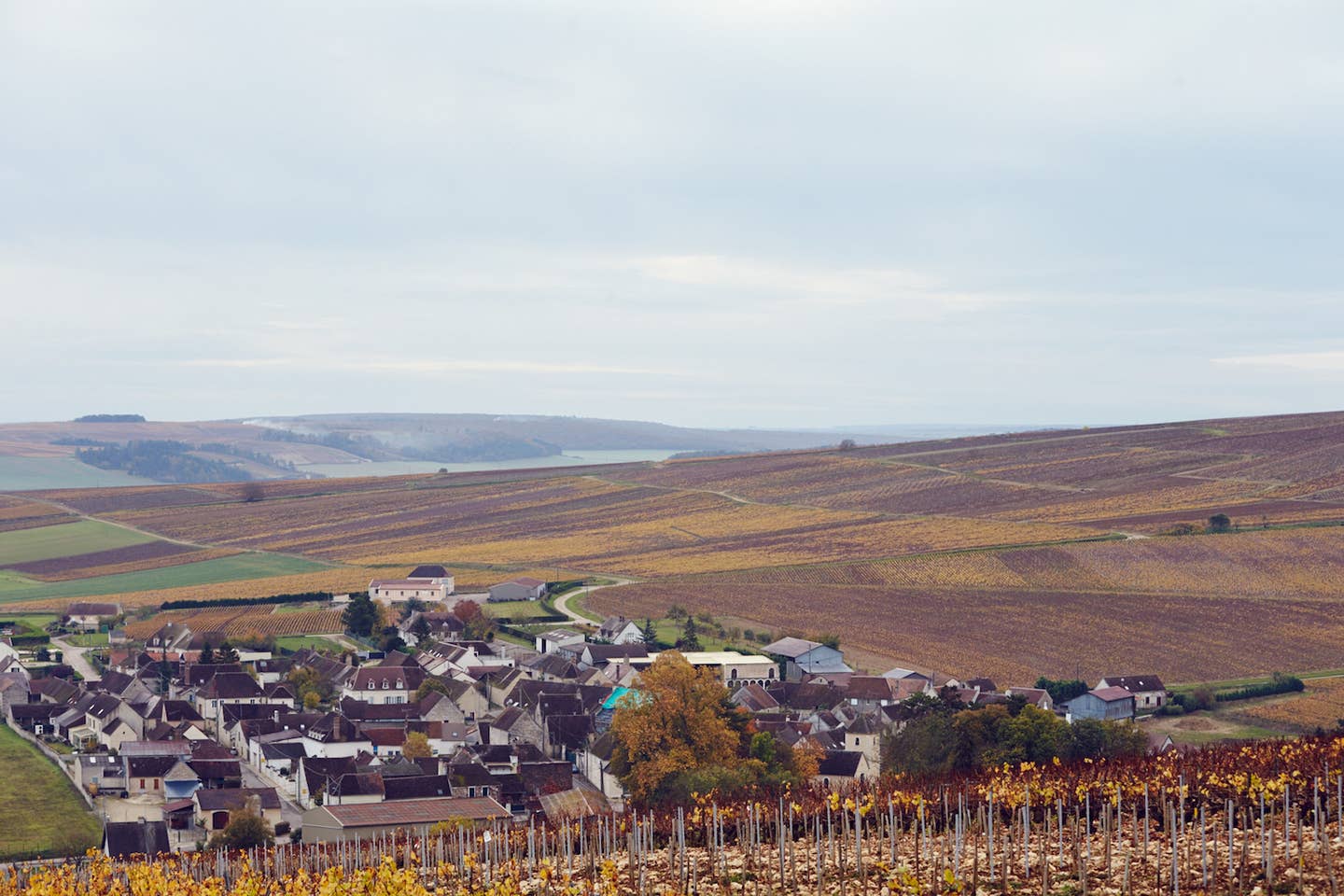 Travel
In Chablis It's Called "Rock Juice"
This flinty, austere, appetite-whetting wine is made by a group of stoic, attention-shy vintners. Here they offer a rare glimpse at the simple, sturdy foods they eat at home.
The truth is, I went to Chablis with an agenda in mind. I didn't just want to taste the world's most complex, bone-dry, vein-chillingly pure chardonnays at their source. Nor did I come simply to behold the Cistercian vines in their limestone element (though they are lovely to look at). Merely to plant myself among the slopes of my favorite climats, monts, côtes, vaus, and crus wouldn't cut it.
No, I wanted to commune with the people of Chablis (pop. 2,366). My objective was to really get to know these inhabitants of northern Burgundy—a rainy, cold, hardscrabble place where it often seems that villagers would prefer if outsiders stayed away and let them craft their finicky, terse wines in private.
To understand truly how they lived, I would need to enter their homes and eat home-cooked meals with the winemakers' families. That was my plan, anyway. And it worked. Sort of.
There is something mythical about the strange little cellar door of Domaine François Raveneau. Chest-high, it appears like a doorway from a fairy tale. To walk through it would require stooping over awkwardly—if, that is, someone would ever open it. And if, once they opened it, they didn't peer out and decide to shut it in my face.
Domaine Raveneau is legendary among wine lovers, so it seemed fitting to start here, by knocking on this door, introducing myself—and somehow finagling an invitation to dinner at their place.
Above the door hung an iron sign of a bent-over man taking a sharp pickax to a plant sprouting from the wavy earth. It suggested humanity not so much living in harmony with nature as waging constant war with it to obtain desired results. As I stood pondering its spooky gravedigger vibe, a guy finally came out of another door, some ten feet away. He had tousled hair and pants that were stylishly short, ending several inches above his ankles. I immediately recognized him as Jean-Marie Raveneau.
There's a photo of Jean-Marie and his father, François, from 1983 that captures their personalities well. It features the two of them standing in a vineyard filled with white lunar rocks beneath an ominous charcoal sky. François is scowling impatiently and Jean-Marie, wearing a striped black-and-white shirt under a mechanic's coveralls, looks like a new-wave punk rocker. Now here Jean-Marie was, still resembling an artsy misfit some 30 years later, staring at me quizzically.
Before I could say hello, he lifted up a finger for me to wait, and then disappeared back into the doorway he'd come from. Just when I thought I might actually be turned away, the small cave door opened and another man came out. It was Jean-Marie's brother Bernard, a balding, perspicacious gentleman with a wry smile. He beckoned for me to double over and walk in. We made our way down old stone stairs into a moldy, ancient cellar full of cobweb-encrusted bottles and aging barrels. I explained my mission. Bernard poured wine and spoke of its natural affinity for the classic chablis pairing, oysters.
Chablis' soil is inlaid with countless billions of tiny comma-shaped fossils of oysters that have been carpeting the region since the Upper Jurassic period, when this area was submerged beneath a prehistoric ocean. The fossilized marine sediments from the seabed combine with nutrients in the substratum bedrock to give chablis wines their finesse, their iodine salinity, and, most of all, their minerality. To understand minerality, you have to drink chablis. One sip is all it takes to realize that terrestrial constituents seem to have infused themselves into the wine like finely flavored microscopic particulate matter. Picture a sprinkling of moon dust in your glass. It's the opposite of ripe, oaky, in-your-face California chardonnays. Chablis carries the memory of glaciers. That oceanic stoniness is the ideal complement to raw oysters.
"Our forêt is very delicate this year," Raveneau said, swirling his glass of the premier cru around. It was supremely elegant, shot through with an overwhelming sensation of purity, more mineral water than wine. I could see why the French speak of chablis as "jus de pierre," or rock juice.
"This wine makes me hungry," I blurted out, perhaps too eagerly.
Bernard smiled. "Yes, chablis wines are appétant," he noted, succinctly.
"What would you cook at home to eat with it?" I inquired, cautiously.
"I could see it going well with coquilles St-Jacques," he answered. "Perhaps even a boeuf bourguignon made with white wine."
As we tasted another cru, Bernard's daughter Isabelle joined us. She started working at the domaine in 2010, after deciding that life in the big city wasn't for her. "When I was young, Chablis was just a boring village," she explained. "I didn't want to be a vigneronne—to bury myself alive in Chablis. So I did ten years of studies and travels, and then I realized life is better here. A family domaine is a special thing. Plus, I always like eating, and our wine goes very well with food."
I sensed an opportunity, and asked her to elaborate.
"We eat many things with chablis," she ventured. "Veal marengo, fish with mushrooms, fresh cheeses, like a Saint Florentin with salt and pepper…"
Bernard moved us on to the grands crus, which were much bigger, almost kaleidoscopic in flavor—some chalky and downright stern, others open and deeply perfumed. "With these wines, you can eat many things," Bernard said, unprompted now. "Turbot is the best, but hard to find. Smoked salmon with a younger vintage. Truffled poultry with older bottles."
"People don't get to try old chablis very often," Isabelle said, "so they aren't used to the aromas."
At this, Bernard wandered off to find an old bottle, returning with a 1998 Vaillons—"in the prime of its life," as he put it. That longevity is part of the reason for chablis' acclaim. The 1998 gave off mushroomy, truffled notes, its spine of acid framed within a beguiling florality. It was archetypal aged chablis.
As glorious as it was, I suspected it would be even better with food. Isabelle agreed. "Chablis wines are salant—they contain salts that make you salivate," she said. "Chablis makes you want to eat."
The time had come: I floated the idea of cooking together. Isabelle narrowed her eyes. Bernard looked at his feet. There was crossed-arm talk of perhaps meeting at the market and sharing a simple Saint Florentin, but, in the end, dining with the Raveneaus was not to be.
Laurent Tribut greeted me at his home wearing dusty green overalls. There was a rip in the fabric near the collar, and a knit sweater could be seen poking through the hole. His look was so utilitarian and unpretentious yet so powerfully stylish it felt like something Vivienne Westwood would have put together in the late 1970s.
He and his wife, Marie-Clotilde Dauvissat—daughter of legendary winemaker René Dauvissat—produce some of the steeliest wines of the region from a teensy seven-hectare property. Attached to their cellar is a rambling 19th-century farmhouse with exposed wooden beams. I tried to take my shoes off at the door, but Tribut insisted that I keep them on. He then proceeded to demonstrate the futility of removing them by tracking his mud-caked boots over the floor into the kitchen.
Tribut poured some of the couple's crystalline wines, which are lean, austere, and thrillingly alive. The finest chablis wines can taste of electricity, like a high-voltage charge of liquid energy; the Tributs are experts at capturing that raw life force. "Minerality comes from the ground," Dauvissat explained. "It's something you feel. It's the incisive quality that bestows freshness…"
"…and makes a wine droit [straight] and tendu [tightly wound]," Tribut finished. "Like this." As he spoke, he stood straight up, as tall and erect as could be, and flattened his arms at his side, as rigid as a ski jumper soaring through the air.
"We aren't much for words," she added. "On fait. We make. We don't like to describe the wines too much."
They may be taciturn, but they're also profoundly kind-hearted and close to the earth. I asked what they normally do on Friday evenings like this. "We go to sleep," Tribut replied, with a large sigh. "We're always exhausted at the end of the day."
Dauvissat brought out some gougères—Burgundian morsels of pâte à choux that, when baked, expand into gloriously light cheese puffs that go perfectly with chablis. They're said to have been invented in the neighboring village of Tonnerre. "I learned how to make gougères when I was very young," she told me. "I think my mom taught me, or maybe a cousin? Anyhow, it's simple."
I've tried gougères frequently, but none have ever come close to Maman Dauvissat's version. "Do you cook often?" I asked.
"Oh yes, she cooks all the time," Tribut replied.
"Well, one has to eat," she countered.
Gougères are her specialty, alongside another regional classic: jambon au chablis, or ham in a creamy sweet and sour sauce called saupiquet. Preparing a good meal, Dauvissat mentioned, isn't too different from making chablis: You mustn't add anything superfluous. "The spirit of this maison is not to intervene," she said. "We make wines like someone who goes out to a field and picks a pretty strawberry when it's ripe."
I looked at Tribut. He looked back. He was done talking about his wines, but he generously added a final thought: "Nature makes an offering to us, and we do with it what we can."
Take the premier cru Montmains from 2000. It was not a good year, he disclosed, but the wine was impeccable. It was so airy and precise it almost felt invisible. Dauvissat also liked the wine, and she smiled at Tribut admiringly. "They say the hallmark of a good winemaker is how he does in off years," she murmured.
"That's not my thing, though," he protested, looking away.
"I'm offering you flowers," she retorted, pointedly. "It doesn't happen often. You should take them."
I left the winemakers to their well-earned rest. I hadn't dined with a Chablisian family yet—but I'd snacked. It was a start.
The next morning, upon arriving at Domaine Jean-Paul et Benoît Droin, in the center of town, I learned more about just how odd my request to eat with winemakers had been perceived. "When you first asked me to do this, to prepare food, I said, 'No way am I doing it,'" Benoît revealed. "But then when you said it could be something very simple, I realized I knew the perfect thing."
We were standing in the domaine's backyard, just a block away from the town market. The air smelled like brioche and saucisson. On the table in front of us was a ceramic bowl filled with some unrecognizable white-and-black creamy thing he started spreading on pieces of baguette.
"Truffle butter," he explained, "made with my own Burgundy truffles from my truffière." It tasted unreal, like an edible moonbow, gossamer and pheromonal. It was, in French parlance, génial—superb.
As I sat there in a truffled stupor, Benoît told me he'd thought about my story's conceit and realized it made a lot of sense. "Winemakers do need to be more aware of what food goes with their wine," he conceded.
The Droins' scalpel-like Les Clos and premier cru Montée de Tonnerre get as close to the platonic ideal of a precise chablis as any. As with Tribut, making wine here is all about achieving transparency. And how extraordinary to discover that older stuff—like the 18-year-old magnum Benoît busted out—goes incredibly well with truffles.
Later I found out why when I met Thomas Pico, a handsome 33-year-old Serge Gainsbourg-esque vigneron who likes to go truffle hunting with his border collie Luna when he's not running his own domaine, Pattes Loup.
"It's not a coincidence that older chablis takes on the smell of truffles," Pico said. "You find them all over the place here, in and around certain premier cru vineyards."
To demonstrate, we went for a quick truffle hunt down the street from his home, in a small forest next to an open field. Within a matter of minutes, Luna had dug several golf-ball-sized truffles out of the ground. Back at his place, Pico taught me how to clean the knobby black orbs with a toothbrush. He also gave me a valuable lesson in how to truffle a wheel of Brillat-Savarin cheese (cut in half; fill with massive flurry of truffle shavings). He then cooked some truffle-infused scrambled eggs in a bain-marie. I hadn't quite had a sit-down dinner with any winemakers yet, but I'd definitely experienced colossal truffle overload.
On my fourth day in Chablis, I met Alice and Olivier de Moor, who make "natural" wines—totally organic and without any additives, other than a little sulfur—and finally had my first proper Chablisian meal. Olivier spoke about their approach to farming as Alice prepared butternut squash risotto and a salad with gésiers de canard (duck gizzards), Comté cheese, and walnuts from her father's tree. Their wines are quite different from those of mainstream Chablis—no filtering and fining, no artificial yeasts. "We wanted to make wines the way we wanted to drink them," Alice explained. "We gradually, gently made our way forward without looking back."
By that afternoon, word was out about my visit, and the invitations started pouring in. Olivier Savary and his wife, Francine, from Domaine Savary had me over for a taste of jambon au chablis. Julien Brocard's wife, Laurence, showed me how she makes pot-au-feu. And Margaux Laroche from Le Domaine d'Henri prepared a simple meal of scallops and steamed Brussels sprout leaves. "For me, wine can't go without food," Laroche explained, digging in. "They just go together, so I'm happy to do a tasting like this." She made a light sauce to go with the scallops—grated ginger slowly heated in a couple of tablespoons of butter, and then spiked with soy sauce. "My mother always taught me that soy sauce is a particularly well-suited match for chablis," she explained.
The persistence had paid off: I'd cracked some kind of code. Just as locals manage to squeeze wine from the stones, I'd broken through to inner-sanctum knowledge, like the pairability of soy sauce with chablis. (No wonder their wines are so good with sushi.) What's more, I was being granted glimpses of what life is genuinely like in the region, where tenderness isn't obvious to the outsider, but upon closer inspection is clearly palpable between husbands, wives, and generations of relations for whom work and family go hand in hand.
I have never done a tasting in the vines," said Didier Defaix, looking perplexed but amused on the slopes of Côte de Lechet in the backyard of Domaine Bernard Defaix. The sun was shining, so I'd suggested we ditch his tasting room. As we stood sipping his Côte de Lechet vielles vignes at the base of the grapevines themselves, I could almost taste the rocks in front of me. "It's good to de-sacralize the tasting," he added. "Most wine tasters today barely care to know where the wine is grown, let alone visit the place."
I started to explain that I wasn't looking to score wines on a scale of one to a hundred, that I was far more interested in the reality of Chablis. Just then we were interrupted by the ringing of Didier's mobile phone. It was his dad, Bernard, on the line. He'd been out hunting in the forest and had just killed a deer. Now he needed help skinning, cleaning, and butchering it.
"Dad!" Didier hollered, exasperated, "I'm with a writer, I can't just…"
"Wait, he's hunting nearby?" I interrupted. "Let's go!"
Next thing you know, we were driving on a grass path up past the high vines of petit chablis onto a mountainous hillside. A moment later, we turned into the woods themselves and coasted along some forest paths into the trees. I could see why the name Chablis stems from the Celtic words cab, meaning house, and leya, near the woods. We made a left turn, then a right, and another right—or was it a left? And then we found his father, standing in a blue butcher's robe next to a deer strung up by its hindquarters.
I won't attempt to compare the experience of tasting their wines in that setting to anything else. Doing so would be an affront to metaphor. Let's just say it helped me understand why chablis wines really do smell and taste of pierre à fusil (gunflint) and sous-bois (the mossy forest floor).
"What do you guys eat at home with chablis?" I wondered aloud.
"Well," Didier began hesitantly, "I love it with guacamole."
I considered my own pantheon of pairing perfection: volnay with wild pheasant; sancerre with crottin de Chavignol; aged barolo with buttered tagliolini and white Alba truffles. And now…chablis with guacamole?
"It's perfect with basic village chablis," Didier continued. "The fattiness of the avocados, the acidity of the lemon juice, the saltiness of the chips, the zing of the Tabasco."
Loading the deer into his father's truck, they both agreed that this had been one of the oddest and most fun wine tastings in memory. Best of all, I was invited back for lunch.
There was no sign at the table of Bernard's venison, but there was the promised guacamole to start, made simply, with salt and pepper, a few splashes of Tabasco, and lots of lemon. It was such a good pairing with the chablis that I almost couldn't stop laughing. Hélène, Didier's wife, prepared chicken risotto—made again with soy sauce.
"The thing is, chablis is good with everything, quoi," Hélène commented. "You can have it with fish, foie gras, poultry, pork, cheeses, shellfish, whatever. I braised a seven-hour lamb leg recently—it was made for old chablis."
Didier cracked open a mold-caked bottle of 1983 Côte de Lechet, still young, fresh and vibrant. It tasted like the spume from a humid sea breeze. "We're on the cusp of an ocean wave," Didier pronounced, dreamily, as he, Hélène, and their two children sat down to eat lunch with me.