Desk Lunch: Global Takeout
Around the world, typical lunchtime choices for the office worker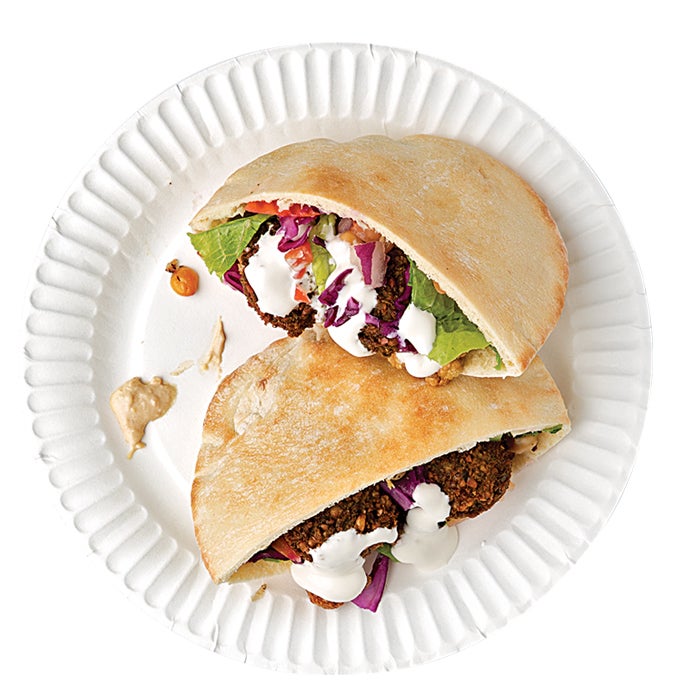 Kimbap
Seoul
This Korean version of maki rolls, adopted during the Japanese occupation in the early 20th century, features rice and vegetables rolled in seaweed with egg, spicy tuna (shown), even Spam.
Leon's Moroccan Meatballs
London
With boxed lunches like Moroccan meatballs drizzled in a creamy aïoli over fresh arugula, Leon has become the go-to takeaway chain for hungry Londoners. See the recipe for Leon's Moroccan Meatballs with Arugula »
Lemonade's Watermelon Radish Salad
Los Angeles
This salad of heirloom radishes, Ahi tuna, and snap peas dressed in a ginger vinaigrette is a top seller at Lemonade, a fast-casual L.A. chain. See the recipe for Lemonade's Watermelon Radish Salad with Ahi Tuna and Snap Peas »
Sukuma Wiki
Nairobi
This Kenyan lunch of collard greens, chile-flecked ground meat, and tomatoes, often served with cornmeal or mashed plantain, is such a fortifying part of the workweek that its name means "week pusher."
See the recipe for Sukuma Wiki (Beef Stew Served with Mashed Plantains) »
Toto Pizza
Auckland
These meter-long, narrow New Zealand pies come piled with everything from toasted pine nuts, truffle oil, and mushrooms to combinations like ham, rosemary, and mozzarella. See the recipe for Toto's Ham and Caramelized Onion Pizza »
Smørrebrød
Copenhagen
Dating back to the Middle Ages, when bread was used as a plate, Denmark's ubiquitous open-face sandwiches feature tangy rye bread loaded with toppings like shrimp, hard-boiled egg, cucumber, tomato, and dill.
Fish Ball Soup
Hong Kong
Savory fish balls and rice noodles in a light scallion broth is a lunchtime favorite of office workers, who order it from street vendors set up at the doorsteps of the city's towering skyscrapers.
Falafel Sandwich
Tel Aviv
Falafel stands hawk pita stuffed with deep-fried chickpea balls, highly customizable handheld sandwiches that can be topped with a vast range of fresh and pickled vegetables, tahini, and hot sauce.
Photos: Ingalls Photography