Moroccan Meatballs with Arugula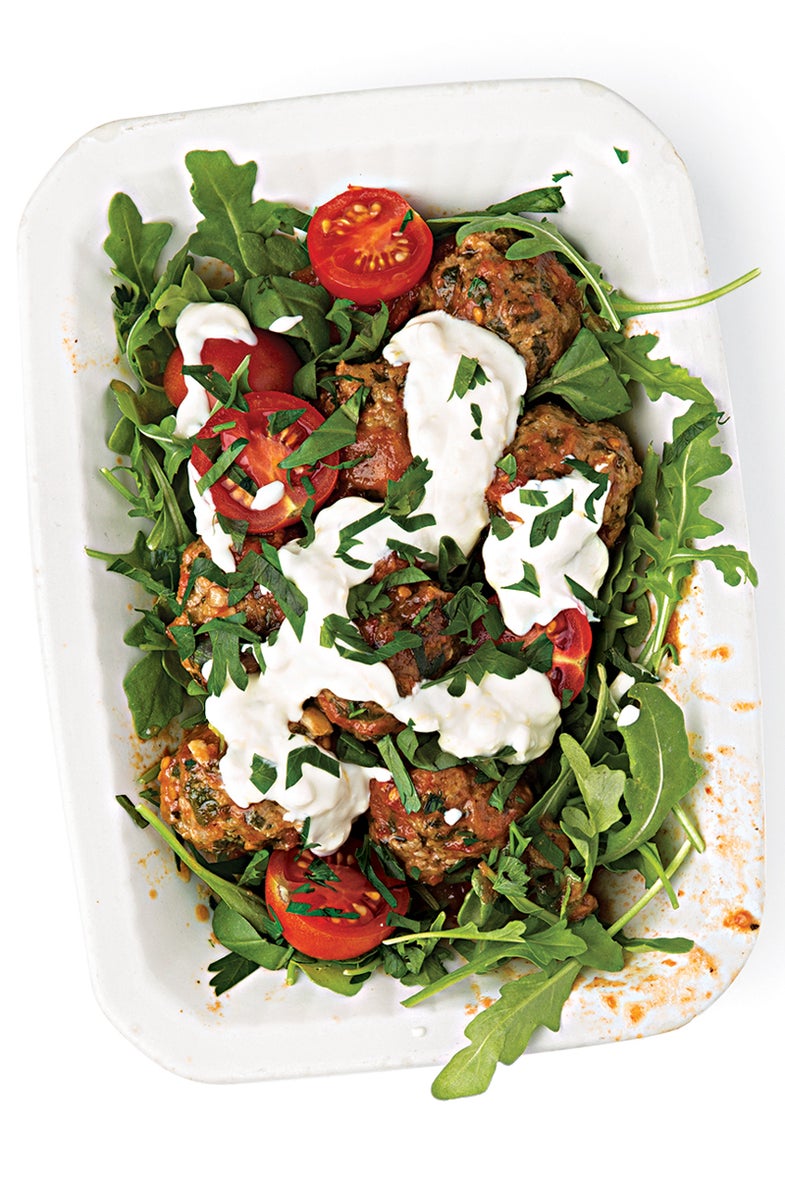 At the London takeaway restaurant Leon, lamb meatballs are simmered in a harissa-spiked tomato sauce, served over peppery arugula, and drizzled with bright yogurt-thickened aïoli. This recipe first appeared in our May 2014 issue with the story Desk Lunch: Global Takeout.
Moroccan Meatballs with Arugula
Simmer lamb meatballs in harissa-spiked tomato sauce, and serve over peppery arugula, drizzled with bright yogurt-thickened aïoli for an easy workday lunch.
Ingredients
1⁄2 cup milk
1 1⁄2 (8-inch) whole wheat pitas, torn into 1-inch pieces
2 lb. ground lamb
1 1⁄2 cups minced parsley
3⁄4 cup minced mint
1 tsp. dried oregano
9 cloves garlic, 6 minced, 3 peeled and crushed
Kosher salt and freshly ground black pepper, to taste
2 tbsp. olive oil
1 (28-oz.) can whole peeled tomatoes, crushed by hand
1 1⁄2 tbsp. harissa
2 egg yolks
1⁄2 cup canola oil
3⁄4 cup Greek yogurt
1 tbsp. fresh lemon juice
1⁄2 cup roughly chopped basil
8 cups baby arugula
16 cherry tomatoes, halved
Instructions
Combine milk and pita in a bowl; let sit until bread is soft, about 5 minutes. Add lamb, 1 cup of the parsley, the mint, oregano, 1⁄4 of the minced garlic, salt, and pepper; mix to combine and divide into thirty-six 1-oz. balls.
Heat half the olive oil in a 6-qt. saucepan over medium-high heat. Working in batches, cook meatballs until browned, 4–6 minutes. Transfer to a plate; set aside. Add remaining olive oil to pan; return to medium-high heat. Cook crushed garlic until golden, 1–2 minutes. Add tomatoes, harissa, salt, and pepper; simmer until sauce is slightly thickened, 5–7 minutes.
Add reserved meatballs; cook, covered, until meatballs are tender, about 15 minutes. Whisk remaining minced garlic, the egg yolks, salt, and pepper in a bowl; while whisking, drizzle in canola oil until aïoli is emulsified. Whisk in yogurt and lemon juice; drizzle aïoli over meatballs. Garnish with remaining parsley and the basil; serve with arugula and tomatoes.