Recipes
Moroccan-Style Meatballs with Arugula
Harissa, aïoli, and fresh herbs come together in one of our easiest and most popular recipes of all time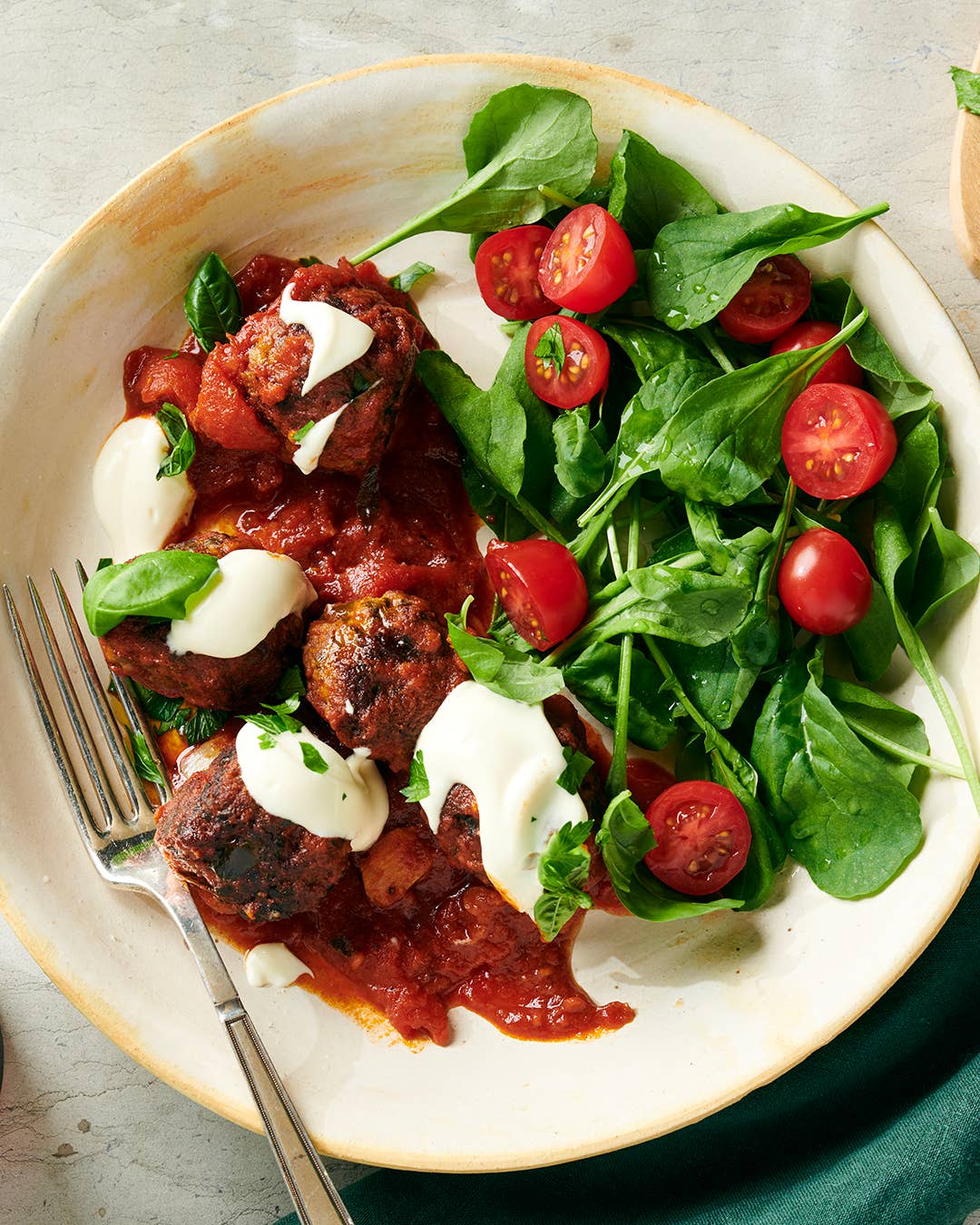 At the London takeaway restaurant Leon, Moroccan meatballs made from lamb were once simmered in a harissa-spiked tomato sauce, served over peppery arugula, and drizzled with bright yogurt-thickened aïoli.
This recipe first appeared in our May 2014 issue with the story "Desk Lunch: Global Takeout." If packing this dish for your own desk lunch, be sure to pack the greens and aïoli separately from the meatballs, which warm up nicely in the microwave. Since publication, Leon has adapted its original Moroccan meatball recipe to a meatless version. Check out our favorite vegan meatball recipe here.
Ingredients
½ cup whole milk
One 10-in. whole wheat pita, torn into 1-in. pieces
2 lb. ground lamb
1½ cups finely chopped parsley, divided
¾ cup finely chopped mint
1 tsp. dried oregano
9 cloves garlic; 6 finely chopped, 3 peeled and crushed, divided
Kosher salt and freshly ground black pepper, to taste
2 Tbsp. olive oil, divided
One 28-oz. can whole peeled tomatoes, crushed by hand
1½ Tbsp. harissa
2 large egg yolks
½ cup canola oil
¾ cup Greek yogurt
1 Tbsp. fresh lemon juice
8 cups baby arugula
16 cherry tomatoes, halved
½ cup coarsely chopped basil
Instructions
Step 1
In a large bowl, toss together the milk and pita in a bowl. Set aside until the bread is softened, about 5 minutes. Add lamb, 1 cup of the parsley, the mint, oregano, and a quarter of the chopped garlic. Season with salt, and black pepper, then mix well to combine. Divide the mixture into thirty-six 1-ounce balls.
Step 2
To a medium pot over medium-high heat, add 1 tablespoon olive oil. When the oil begins to shimmer, working in batches, cook the meatballs, turning occasionally, until browned all over, 4–6 minutes. Transfer to a plate and set aside.
Step 3
Add the remaining olive oil to the pot and return to medium-high heat. When the oil begins to shimmer, add the crushed garlic and cook, stirring frequently, until golden and fragrant, 1–2 minutes. Stir in the canned tomatoes and harissa, season lightly with salt and black pepper, bring to a simmer, then turn the heat down to medium and cook until the sauce is slightly thickened, 5–7 minutes. Return the reserved meatballs to the pot, cover, and cook, until the meatballs are tender and cooked through, about 15 minutes, then remove from the heat.
Step 4
Meanwhile, make the aïoli: In a medium bowl, whisk together the remaining chopped garlic, the egg yolks, and a pinch of salt and black pepper. While whisking, very slowly drizzle in the canola oil until the aïoli is emulsified, thick, and creamy. Whisk in the yogurt and lemon juice, then season to taste with more salt and black pepper as needed.
Step 5
Arrange the arugula and cherry tomatoes over a platter and top with the meatballs and some of their sauce. Drizzle the aïoli over the meatballs, and garnish with the remaining parsley and the basil. Serve hot, with additional tomato sauce on the side.