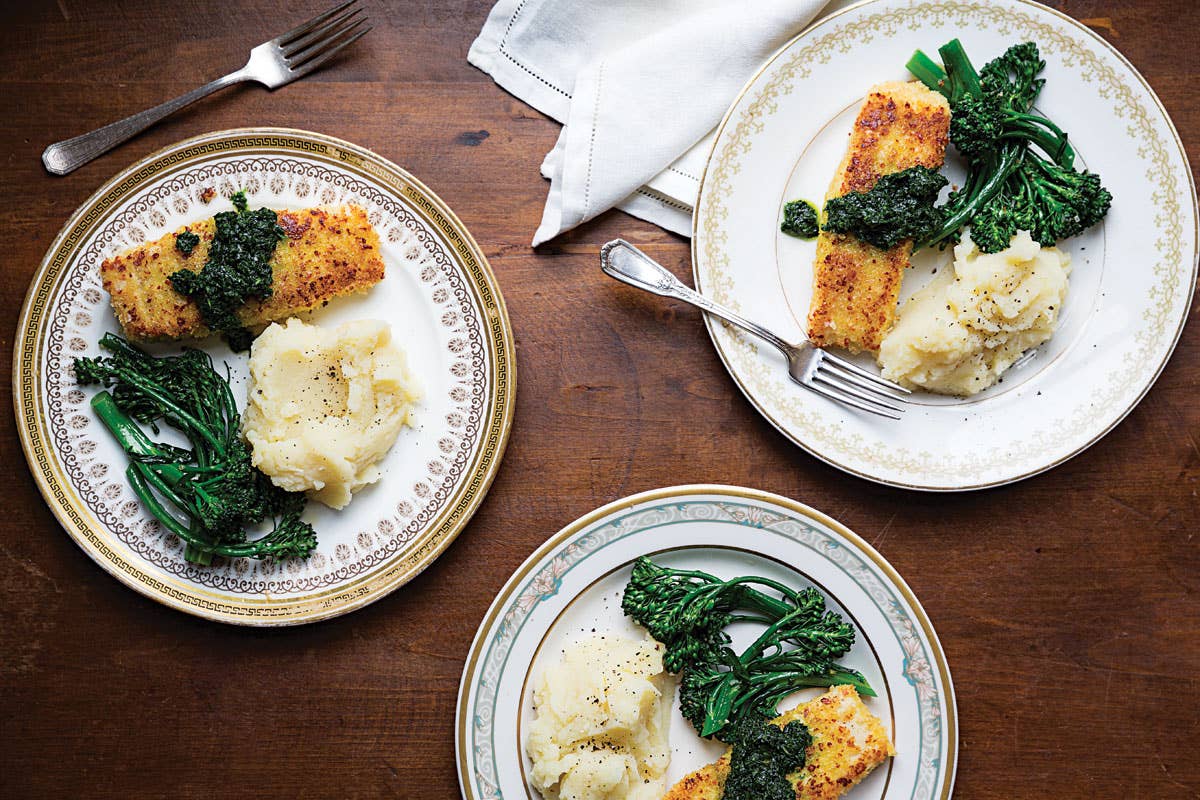 Travel
From Western Waters
Take a drive along Oregon's coast
U.S. 101—a two-lane road that snakes through California, Oregon, and Washington, nearly all of it along the Pacific—might be the most sublime drive in America, especially the 363-mile segment that runs along the Oregon coast, where we traveled last spring. As we traversed cliffside expanses, we spied pods of gray whales passing by in ocean waters. When the road dipped down to sea level, we stopped to ride horses between towering dunes and rocky shoreline on a broad beach studded by colossal basalt rock formations.
We had always wanted to visit this part of the country. We knew it as the place our dear friend the late James Beard loved so much. Long ago, the famed American culinarian regaled us with reminiscences of summer trips from his family's Portland home to a beach cabin in the oceanside town of Gearhart. It was there, he told us, that he learned to savor wild berries, hazelnuts, and salmon—silvery coho and the mighty Chinook, the Pacific's largest salmon species, caught in the ocean or in the region's rivers during their treacherous upstream migrations to spawn.
But salmon is just part of the state's seafood bounty. Oregon also offers halibut, albacore tuna, whiting, clams, oysters, shrimp, and, best of all, Dungeness crab. Though named after the town of Dungeness in Washington, this wide-bodied crustacean is found in abundance in Oregon. And, from an economic standpoint, it's the state's most important catch. Not even considered food until the late 19th century, Dungeness crabs are now trapped from December through mid-August, their sweet, tender meat served in everything from chowders to savory dips. We were eager to sample it all.
We concentrated our journey in the upper third of the state, driving from the mouth of the Yaquina River north to the great Columbia at Oregon's northern border; it's a portion of coastline that lies within an accessible two-hour drive from Portland. In South Beach, where the Yaquina spills into its bay, we gobbled lunch at South Beach Seafood, a fish market attached to a 24-hour convenience store selling an immense inventory of energy drinks and beer. The ultra-casual café on the premises serves impeccable Dungeness crab, cooked straight off the boat in cauldrons by the highway out front. Their shelled meat is sold in pearly lumps piled into a plastic cup, alongside a wedge of lemon and some optional horseradish-heavy hot sauce. Taking a seat at a picnic table, we enjoyed ours the way Beard once told us to—unadorned.
Like other outfits dotting the coast, South Beach Seafood uses hickory and alderwood to smoke salmon, tuna, sturgeon, sable, mussels, and oysters. Wild Chinook salmon is made into "candy" by glazing nuggets of its smoked pink flesh with pepper and brown sugar. Each firm, moist piece packs a provocative woods-meet-sea punch.
The following morning we headed over the Yaquina Bay Bridge to Newport, the self-proclaimed Dungeness Crab Capital of the World, and were immediately taken with the city's bustling harbor, which was filled with fishing boats unloading crabs, as well as salmon and halibut. It was here that Oregon's commercial seafood industry began in the mid-19th century, when prolific oyster beds became a source for restaurants in San Francisco. Oregon's coast is home to plenty of sustainable fishing operations, both small and large, that haul in, cure, can, and even cook their catches. Newport's main drag, Bay Boulevard, is lined with canneries, fish-packing plants, and a bounty of seafood restaurants and fishmongers. The best meals in town, we were told, could be had at opposite ends of the waterfront, at Local Ocean Seafoods and a place called Ocean Bleu @ Gino's, both seafood markets with adjacent eateries.
At Local Ocean Seafoods, we found each variety of fresh fish marked with a placard indicating which vessel had caught it and by which fishing technique: hook-and-line, purse seine, trawl, pots, longline. No farmed shrimp or salmon here! We perched at the counter facing a lively open kitchen and took in the aroma of a briny shrimp stock that sat bubbling in a great pot on the stovetop. As we watched the high-spirited staff compose beautiful plates of food, we were continually fed lagniappes: a sliver of grilled tuna, a seared scallop, a coconut prawn.
Local Ocean's house fish buyer, Amber Morris, a red-cheeked woman with an infectious smile who is known to regulars as the Fish Goddess, told us she keeps costs down and wares fresh by heading out to the docks each morning to buy directly from about 50 fishermen. As we downed cups of Dungeness crab soup glowing with roasted garlic and pulled hunks of snowy grilled halibut off wooden skewers that topped a brilliant panzanella salad, we sighed with pleasure, and the Fish Goddess beamed. There was just one dessert on the menu, and it was swoon-worthy: a "parfait" of lemon shortcake layered with berries, mangoes, and whipped cream.
Later that day we headed to Ocean Bleu @ Gino's. This modest little joint serves seafood sourced from boats berthed right across the street: tiny, sweet Yaquina oysters harvested just upriver; black cod, salmon, and sable, which are smoked in-house; Dungeness crabs delivered live to a seawater tank. We dug into Ocean Bleu's gooey warm dip of crab, sour cream, Monterrey Jack, and parmesan, followed by perfectly pan-fried crab cakes, their creamy filling leavened with whipped egg whites and bolstered by puréed scallops, and their golden crusts topped with spicy chipotle aïoli and cool pineapple salsa. Throwing caution to the wind, we ordered one more entrée: paprika-dusted grilled shrimp and whole Manila clams served in a creamy risotto infused with the mollusks' juice. Our shared food coma reaching its peak, we headed back to the hotel, beyond satiated but eager for the next day's journey: a two-hour drive to the village of Gearhart, James Beard's boyhood vacation spot.
Gearhart is home to about 1,500 people, a surprising number of whom crowd into a convivial coffee shop called Pacific Way Bakery & Cafe each morning. It's a tiny spot with a couple of chairs and counter stools, plus outdoor tables under which customers' dogs hunt for crumbs. We started the day here with pastries, coffee, and conversations with locals, who strongly suggested we come back for dinner. That evening we feasted on Pacific Way's hefty parmesan-crusted halibut fillets, the flavor of the flaky white fish punched up with a snappy parsley sauce. Served alongside sautéed broccoli rabe and mashed potatoes, their earthy, clean taste enhanced with roasted garlic and a touch of chicken stock, it was just the type of American comfort food Beard would have loved.
Our last stop, the city of Astoria, a mere 20 minutes away at the northernmost end of Oregon's coastal highway, lacks the dramatic natural charisma that defines so much of the state's oceanfront, but it has a gritty sea-town appeal all its own. A good example of this aesthetic is Bowpicker (the first syllable is pronounced like the front of a boat), a restaurant housed in a small dry-docked fishing vessel. As we shared our final meal of the trip, a simple order of fish and chips that turned out to consist of beer-battered hunks of albacore tuna coated in a crisp gossamer crust, we wondered aloud what made the batter so delicious. "It's a secret," said a waitress, "but we don't know what the secret is." We speculated that, perhaps like Ocean Bleu's crab cake, the batter was leavened by folding in egg whites. If the fried seafood of the Oregon coast shares this secret, we wouldn't be surprised; after all, it was a technique we learned ourselves years ago from an Oregon son named Beard.