Parmesan-Crusted Halibut with Broccoli Rabe and Mashed Potatoes
Coat your fillets in a mixture of parm and panko for the ultimate crispy fish-fry.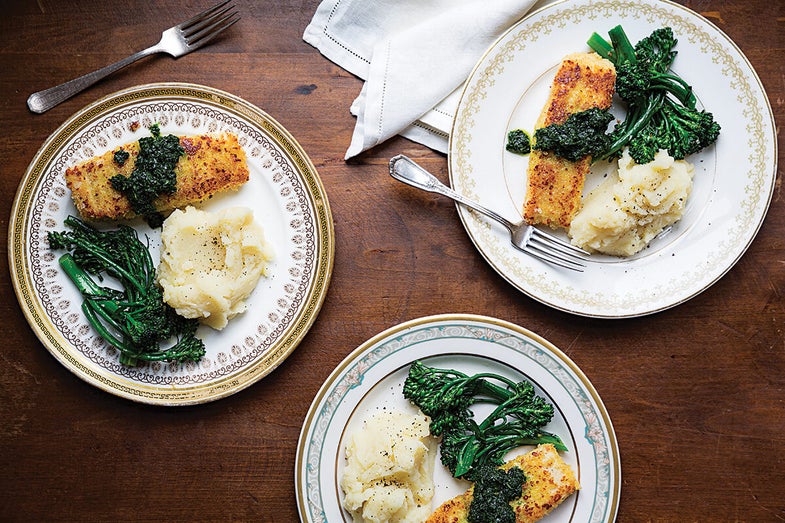 These halibut fillets are dredged in panko before pan frying, and then topped with a parsley pesto. Our recipe is adapted from the one served at the now-closed Pacific Way Bakery and Cafe in Gearhart, Oregon.
Featured in: "From Western Waters."
Parmesan-Crusted Halibut with Broccoli Rabe and Mashed Potatoes
These flaky cheese-crusted halibut fillets are topped with a bright parsley sauce and paired with pan-seared broccoli rabe and garlicky mashed potatoes.
Time: 1 hour
Ingredients
1 cup coarsely chopped parsley
1⁄2 cup plus 2 Tbsp. olive oil, divided
Kosher salt and freshly ground black pepper
1¼ lb. broccoli rabe, stems trimmed
1 lb. medium Yukon Gold potatoes, peeled and coarsely chopped
3⁄4 cup chicken stock
10 cloves garlic 6 confit, 4 finely chopped
Pinch crushed red chile flakes
1 medium shallot, finely chopped
3⁄4 cup all-purpose flour
2 large eggs, beaten
1 cup panko
1⁄2 cup grated parmesan
Four 6-oz. fillets boneless, skinless halibut, or other firm white fish, pin bones removed
Instructions
Using a small food processor or mortar and pestle, blend the parsley, ¼ cup of the oil, and salt and black pepper to taste into a smooth paste; set aside.
To a microwave-safe bowl, add the potatoes and ¼ cup of water. Cover tightly and microwave on high until tender when pierced with a fork, about 5 minutes. Drain, return to the bowl, and add the stock, confit garlic, and salt and black pepper to taste. Mash until smooth, cover tightly with foil, and set aside.
To a large cast-iron skillet set over medium-high heat, add 2 tablespoons of the oil, the finely chopped garlic, and the chile flakes and shallot and cook until softened, about 1 minute. Add the rabe and salt and black pepper to taste and cook, stirring occasionally, until tender and lightly browned in spots, 4–6 minutes. Transfer to a plate, cover tightly with foil, and set aside. Wipe out the skillet and return it to the stove.
In a shallow bowl or pie plate, place the flour. In another shallow bowl, beat the eggs. In a third shallow bowl, whisk together the panko and parmesan. Season the halibut with salt and black pepper, then dredge each fillet in the flour, dip in the egg, and coat in the panko mixture; transfer to a plate by the stove.
To the empty skillet, add the remaining oil and turn the heat to medium. When hot and shimmering, add the fish and cook, turning once, until golden brown and cooked through, 5–7 minutes.
To serve, divide the mashed potatoes, rabe, and halibut among 4 plates, then spoon the reserved parsley sauce over the fish.