The Guide: Nebraska
What to eat and where to stay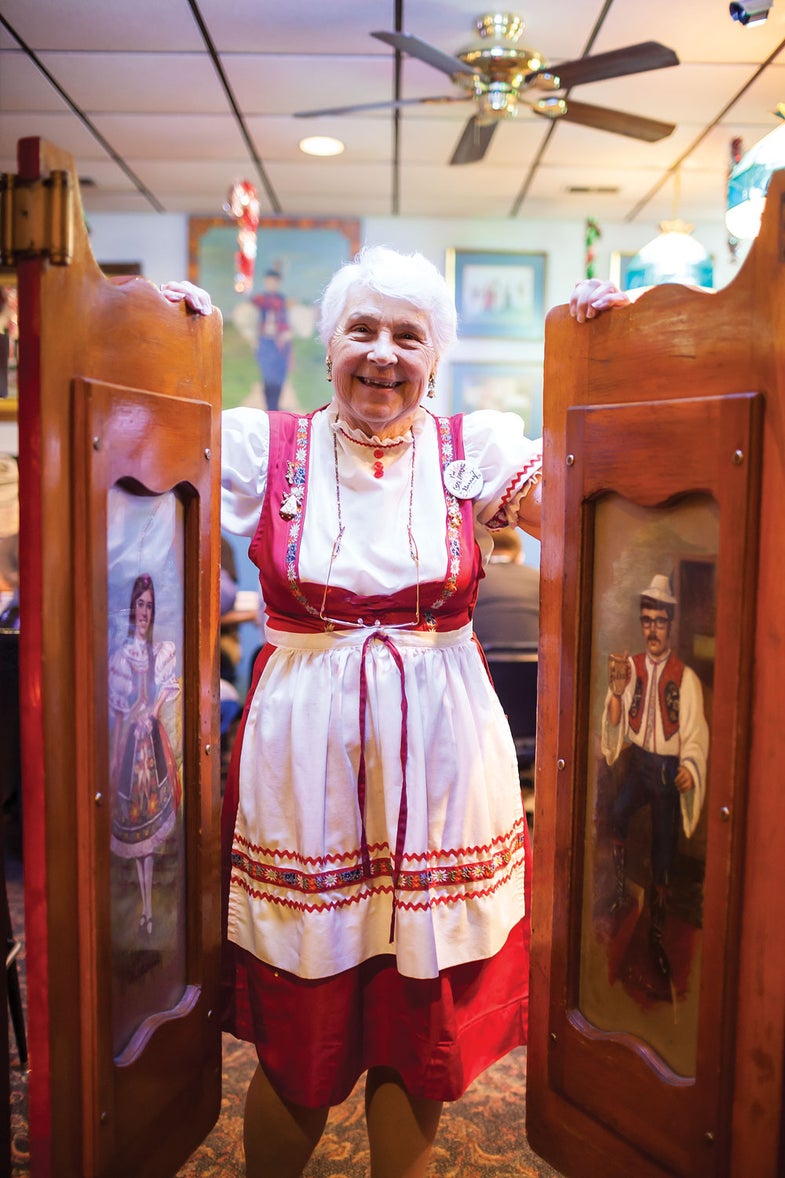 WHERE TO EAT
Anthony's Steakhouse
7220 F Street, Omaha (402/331-7575). Look for the giant replica of a black Angus steer just off I-80 to find this Italian steakhouse serving full-flavored dry-aged beef, eggplant parmigiana in meaty-tasting sauce, and the city's best onion rings.
Back Alley Bakery
609 West Second Street; Hastings (402/460-5056). This college town gem a 2.5 hour drive southwest from Omaha is best known for its winey, rustic sourdough breads made with organic grains and wild starter.
The Berry and Rye
1105 Howard Street, Omaha (402/613-1331). Reserve a seat at this lounge where bartenders mix housemade sodas, syrups, and bitters with farm-fresh ingredients like muddled peas. Go after dinner and try the Cornucopia: a cocktail of sherry, butter-washed bourbon, baked sweet potato purée, and homemade caramel that's topped with a homemade marshmallow toasted tableside.
Big Mama's Kitchen and Catering
3223 North 45th Street, Omaha (402/455-6262). It takes some work to find this soul food restaurant (it's located in the administrative building of an old school cafeteria) but the fried chicken, sweet potato pudding, and green tomato raisin pie will make you forget the trouble it took to get there.
Bohemian Café
1406 South 13th Street, Omaha (402/342-9838). For 89 years, this family-run restaurant has preserved the city's Czech immigrant legacy, with old-world décor, dancing, steins of beer, and traditional dishes like liver dumpling soup, goulash, and the fruit-filled pastries called kolaches.
The Boiler Room
1110 Jones Street, Omaha (402/916-9274). In a converted Old Market warehouse, chef-owner Paul Kulik uses local ingredients in French-inspired dishes like pork loin chops served with roasted beets, maitake mushrooms, and stinging nettle. Enjoy them with a fortified wine from one of the most comprehensive Madeira lists in the country.
Brother Sebastian's
1350 South 119th Street, Omaha (402/330-0300). The servers wear monks' robes, and the rooms are done up like a monastery at this '70s-era theme restaurant offering old-school fare like frog legs and ham-and-Swiss-stuffed chicken cordon bleu.
Cascio's
1620 South 10th Street, Omaha (402/345-8313). It's worth it to stop in early for a strip steak and a cocktail just to see how the hugest house in Omaha serves the masses at peak dinner hour; amid an endless warren of rooms, the meals come out like clockwork.
The Drover
2121 South 73rd Street, Omaha (402/391-7440). This small, dark, comfortable bar and grill is known for its Jack Daniels-marinated whiskey steak, salad bar, and camaraderie. Don't miss lunchtime's juicy prime rib Reuben.
Gorat's
4917 Center Street, Omaha (402/551-3733). A Warren Buffet favorite, this Space Age-looking classic steakhouse is gradually making a comeback under new owner Gene Dunn, who has restored the swooping mid-century décor. Go for a simple filet and a spin on the small dance floor to live music.
The Grey Plume
220 South 31st Ave, Suite 3101, Omaha (402/763-4447). Chef-owner Clayton Chapman runs the nation's greenest restaurant in a LEED Gold-certified space in a downtown business mall, where local and housemade ingredients yield exquisite dishes such as Blue Valley steelhead trout with crème fraîche, späeztle, and seasonal vegetables.
Johnny's Cafe
4702 South 27th Street, Omaha (402/731-4774). Omaha's most eye-popping restaurant décor includes T-bone-shaped pillar and beams, Naugahyde rolling swivel seats, and vintage snapshots of the old stockyards that once edged up against the restaurant. Tuck into the juicy prime rib.
The French Bulldog
5003 Underwood Avenue, Omaha (402/505-4633). This elevated sandwich shop serves house-cured meats and craft cocktails. Try the smoky pastrami on rye, with lingering flavors of black peppercorn, juniper, and coriander.
Le Quartier Baking Company
6900 O Street, Suite 132, Lincoln (402/464-0345). In Nebraska's second-largest city, less than an hour southwest from Omaha, this bakery offers sweet raspberry danoise, flaky croissants, and pan loaves of raisin honey cinnamon brioche so delicious you'll devour a whole one straight from the bag.
Orsi's
621 Pacific Street, Omaha (402/345-3438). Locals line up at this vintage bakery in Omaha's old Italian neighborhood for sheet-pan pizzas and Italian prepared foods, but the don't-miss hit is the hamburger goudarooni, an enormous thin-crust calzone stuffed with potatoes, onions, loads of ground beef, mozzarella, and a rich, thick tomato sauce.
Piccolo Pete's
2202 South 20th Street, Omaha (402/342-9038). Prime rib in garlic-herb jus; chicken parmigiana under a beef-infused tomato sauce; fluffy golden-crusted hash browns; and smoky ham and white bean soup are just some of the favorites at this 90-year-old Italian steakhouse in south Omaha.
Lot 2
6207 Maple Street, Omaha (402/504-4200). At this restaurant in emerging Benson in north-central Omaha, creative takes on seasonal dishes—pappardelle Bolognese made with pork cheeks and jowl and seitan pot pie with peas, potato and mushrooms—are served in an airy atmosphere.
WHERE TO STAY
Hotel Deco XV
1504 Harney St., Omaha (402-991-4981). $199 for a double. Built in 1930, this landmark skyscraper is a full-service hotel furnished in a sleek, neoclassical style, and the hotel's restaurant, the Zin Room, serves blackened sea bass with sweet orange tarragon glaze. Wash it down with a "Bourbon for Breakfast," one of the hotel's signature cocktails made with bacon-infused bourbon.