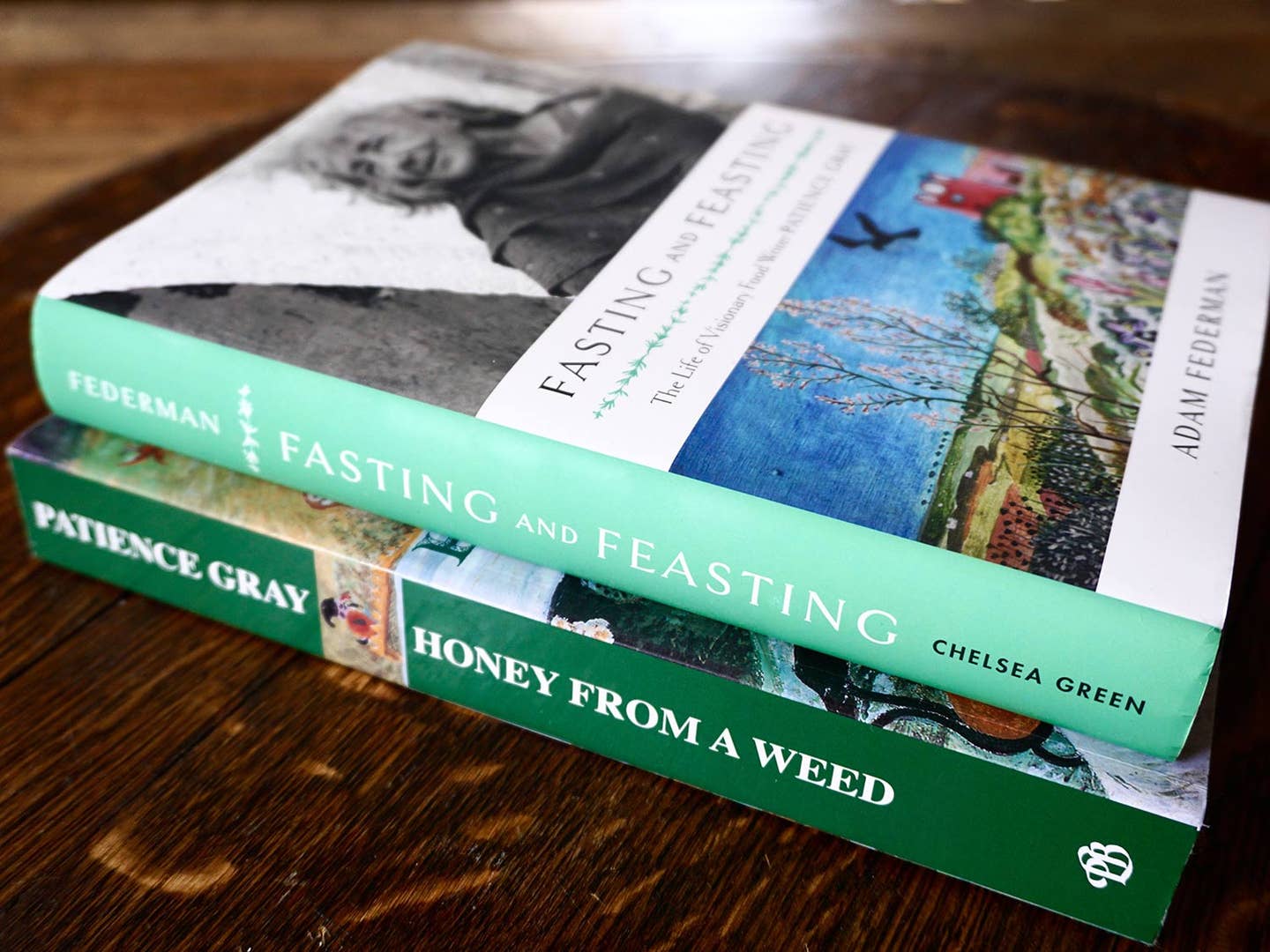 Culture
August Cookbook Club Double Feature: Honey From a Weed and Fasting and Feasting
Kate Hill dives deep into the Mediterranean feasts and adventures of Patience Gray
I am forever grateful for the many friendships that working with food generates as I cook, teach, and write about it. So when SAVEUR's test kitchen manager Kat Craddock asked me to guest moderate an installment of the SAVEUR Cookbook Club, I knew immediately she would be my friend. I also knew exactly which book I would choose to share with you all.
Honey From a Weed was written by Patience Gray in the 1970s and not published until 1986 by Prospect Books—that's sixteen years of looking for a home. I can't really remember exactly when it came into my life, surely long after I moved to France in 1987, but it was always present and reliable. Throughout the '90s, the book hovered around on the periphery of my kitchen as I relearned to cook and came to understand my new rural life in Gascony. Over the course of the next decade, I would consult the recipes for cultural information as I explored Tuscany, Catalonia, and Sicily. This year, I reread Honey from a Weed and discovered it a treasure trove of new inspiration and influence. No matter where you are on your own culinary journey, I think you too will find it a rich source of instruction, inspiration, and shared resources.
August is the perfect time to explore Patience Gray's storied life and Mediterranean summer feasts. The abundance of tomatoes, gathered greens, and other ripe vegetables is a call to douse them with good olive oil, dress them with a liberal amount of salt, and then eat with abandon with friends. This month I plan to take a little holiday on the Catalan coast, where I know I will find fresh calamari, great anchovies, and other treasures from that giving sea. A few friends will be joining me, including Kat and the July Cookbook Club moderator, photographer Matt Taylor-Gross; we'll be sharing our feasts and ingredient finds with you here on SAVEUR.com and in the SAVEUR Cookbook Club Facebook Group and I hope you'll cook along with us at home.
So how best to use this book: If you find yourself with an early edition, enjoy John Thorne's' excellent foreword—he so accurately describes the meandering way I found myself reading the book (I understand that this essay is sadly missing from the newest version, which is a pity). Then plunge into the beginning forty pages of Patience Gray's evocative prose as she sets the stage for the places she lived and loved with her sculptor husband Norman Mommens. Gray will lead you down a rocky goat path on the Greek island of Naxos, where you will find a simple recipe about cooking beans; then across the small market plaza in Carrara, Tuscany to discover delicious eggplant, tomatoes, okra, peppers, and other summertime food; finally, enter the simple kitchen of a Catalan cook as she prepares an ample paella feast. As Thorne suggests, let yourself be drawn into the recipes as they appear in the many essays and stories. They are conveniently annotated with the page numbers in the text. Written in a truly narrative style, Gray's recipes deliver a true understanding of the basic ingredients she used and her illustrated glossaries of herbs, spices, mushrooms, and fish will inform your choice of recipes as you finally select your own favorite dishes.
If you're still hungry to learn more about Gray's life, I recommend you also read the remarkable biography by Adam Federman, Fasting and Feasting: The Life of Visionary Food Writer Patience Gray. Federman fills in all those quizzical blanks in who this very interesting woman was. I hope you enjoy this Mediterranean Road Trip with Patience and me!