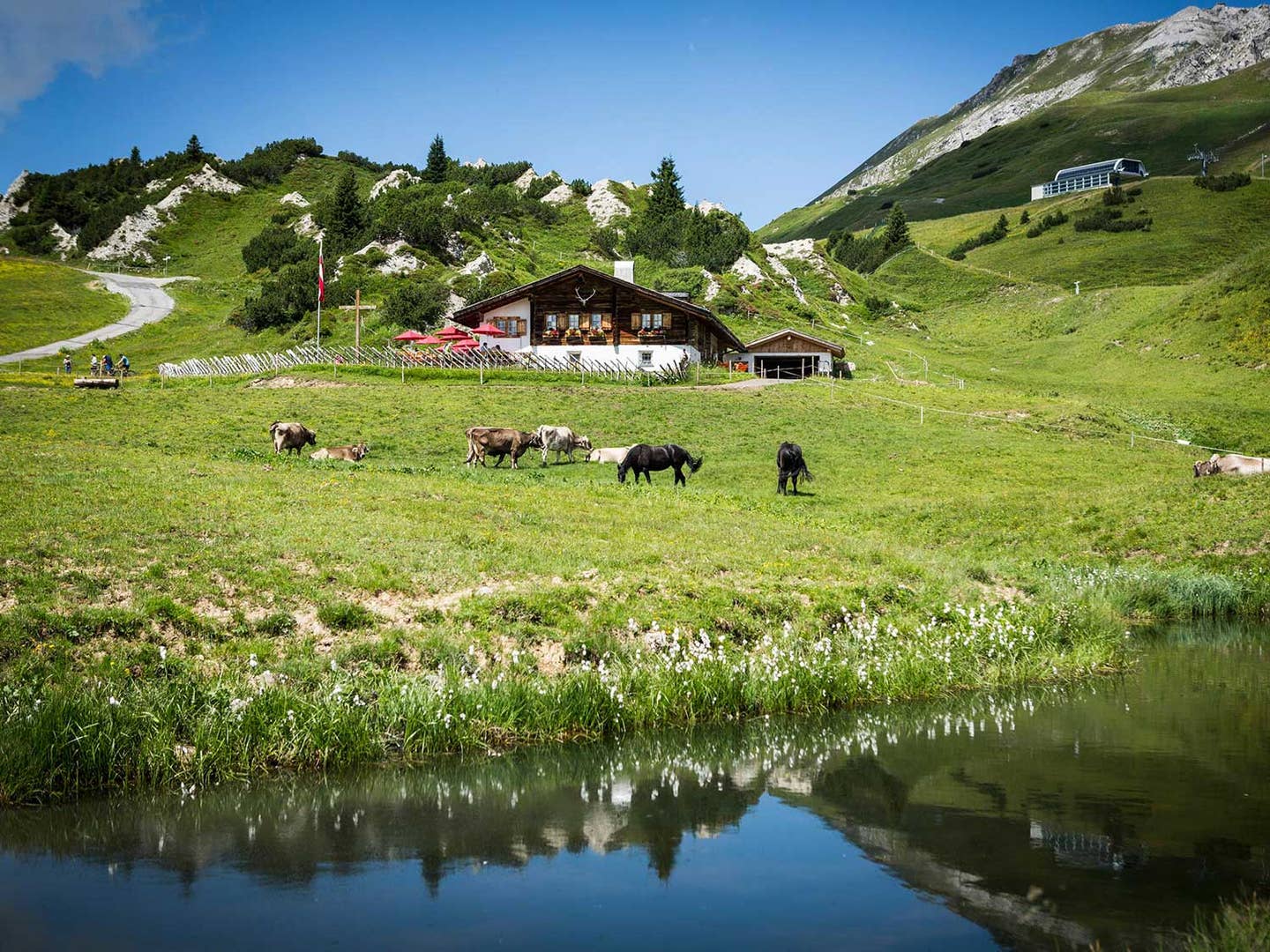 Culture
Meet the Village Cheesemakers of Austria's Alpine Cheese Trail
The best way to taste Bergkäse, the famous local cheese of western Austria, is to hike along the slopes of Vorarlberg, sampling as you go
Cheesemongers all over the world sing the praises of Italian Fontina, French Comté, and Swiss Gruyère, but in Austria, there's a version of these Alpine-style wheels that never leaves its hometown.
Bergkäse, literally "mountain cheese," is a longstanding tradition in the Austrian Alps, and the process for making it is virtually identical among the local cheesemakers, adhering strictly to the European Union's Protected Designation of Origin (PDO) standards. But the cheeses from each of these various cheesemakers are nonetheless unique; the subtle differences in flavor are a pure expression of the milk, influenced by the hearty mountain herbs and grasses in each cow's diet. Each year yields nuanced flavors and aromas, like vintages of wine.
Like its more famous counterparts, Austria's herbaceous, nutty style of mountain cheese can only be made two months of the year, in July and August, when the cows are grazing on Alpine herbs and grass at 6,000 feet above sea level. Everyone in Austria agrees that this is when their milk tastes best, and the resulting cheese—made with high butterfat milk that concentrates the complex earthy flavors—tastes best too. Since it isn't exported to the States, the best way to sample Austrian Bergkäse is directly at the source, hiking between the Alpine huts where the cheese is made. Trails are well-marked, and in Bregenzerwald, a region in Austria's westernmost state of Vorarlberg, you can even coordinate self-guided culinary hikes.
Here, there are approximately 20 small village dairies that produce cheese year-round, and in the summer, that number balloons to 130. Many cheesemakers do not have their own cows, but take care of cows from neighboring farmers for the summer, paying the farmers back with some of their precious cheese.
One of these dairies is run by Alpmeister Fridel Fritsche, who started making cheese when he was just 14 years old. He works his longest, hardest days during the summer months, producing cheese from 80 cows belonging to farmers in the Alpe Rona agricultural community in Brandnertal. "There's nothing that difficult about the technique or process," he says. "We simply follow the old craft traditions."
Fritsche's head cheesemaker first skims cooled milk, collected the evening before, then adds it to a copper kettle along with fresh milk from the morning. After heating the milk to 32°C (about 90°F), cultures and rennet are added, and 40 minutes later, when the mixture has become firm like jelly, it's cut with the harp—a large press of sorts that cuts the cheese with wires—and further heated to 52°C (about 126°F), before it's cooled with the addition of a little cold water. The cheese is then skimmed into molds and pressed, before resting for three days in a salt bath. Afterwards, it's off to the wooden racks for maturation.
Tina Feuerstein, another cheesemaker, closer to Lake Constance in Bregenzerwald's Alpe Schwarzenberger Platte, has been making Bergkäse in much the same fashion for 20 years. Feuerstein's three teenage children help with the cheese production and tend to the farm animals. In her cellar, Feuerstein carefully monitors the wheels while they matures, turning them and rubbing them with salt water every two days to prevent molding. She also keeps pigs, and pumps the leftover whey, which is full of vitamins and minerals, into the pigsty for them to drink. Although she farms year-round, the summers in seclusion on the mountain are so different from farming in the valley.
"My life becomes more exhausting [in the summer], but the way of life becomes easier," Feuerstein explains. "There's no Wi-Fi and no TV. You have to be very well-organized and then you can handle the work and enjoy the small things, like beautiful sunsets, the silence, the view, and the happy animals. I like being my own boss."
Gerhard Lucian, a cheesemaker at Kriegeralpe, east of Alpe Rona, grew up in a family of hoteliers; he's since taken up the hobby of cheesemaking in addition to his full-time duties running Burg Hotel Oberlech. "When I wake up in the morning at 2000 meters above sea level, that's a special feeling" he says. "I can just switch off mentally. Yes, I have a lot to do at the hotel but to make cheese is not a stress. It's a gift." Lucian's mountain hut is an easy hike from his hotel, so guests and locals often stop by for a wine and cheese pairing.
Lucian's production is relatively tiny—just 30 wheels of cheese from 11 cows—and he serves it only at the hut and his family's hotels in Oberlech and Salzburg. "We let it mature at least six to eight months," he says. "But it is best after 12 months—pleasantly spicy." They also produce Frischkäse (fresh cheese) and Topfen (curd cheese) which is excellent folded into cakes and strudels.
Younger Bergkäse is typically eaten at breakfast and the more mature cheeses for dinner. It's delicious on its own, or sliced or melted onto hearty dark bread, and is a versatile cooking cheese too. After a long solo hike on a hot summer day, a massive bucket of Käsespätzle (a hearty, Austrian version of macaroni and cheese) topped with crispy onions at Jagdgasthaus Egender in Schönenbach is in order.
The southernmost valley in Vorarlberg, Montafon, is also famous for its Sura Kees, which translates to "sour cheese" in the local dialect. This fresh tangy cheese, a separate category from semi-hard Bergkäse, has been a regional specialty since the 12th century, and is made by adding a yogurt culture to skimmed milk overnight until it turns thick and sour. The following morning, the cauldron is heated so that the still soft cheese separates from the whey. The cheese is filled into two-kilogram molds and seasoned with coarse salt and pepper, ready to enjoy after resting for just a couple days in the cellar.
Andrea and Andreas Wieser of Alpe Nova in Montafon have been making Sura Kees this way for 16 years. Most of the year, Andrea works at a butchery and Andreas as a piste-basher driver at the Silvretta Montafon ski resort. From June to mid-September, the couple moves with their daughter, son, and a herd of 68 cows to their small cottage on the Alps. Their 13-year-old son is a big help, driving cattle to pasture, cleaning out the stable, milking cows, and mending fences.
Ultimately, the secret behind Austrian Alpine cheese is actually quite simple. It all comes down to the fragrant and flavorful summer milk. Local herbalists use the same Alpine plants the cows enjoy to make tinctures, balms and schnapps, believing that the mountain flora—with their shorter life cycles and durability against harsh mountain conditions—are more potent than their lower elevation cousins.
"It is a very precious time for me and my family," Andrea says. "These are long days of strenuous physical labor and there's not a single day off, but each year I notice how calm and content I am here. I don't need fancy clothes or beautiful shoes, and we don't have time to miss technology because our days are so busy. My love for the Alps and passion for working here in the mountains makes me happy."