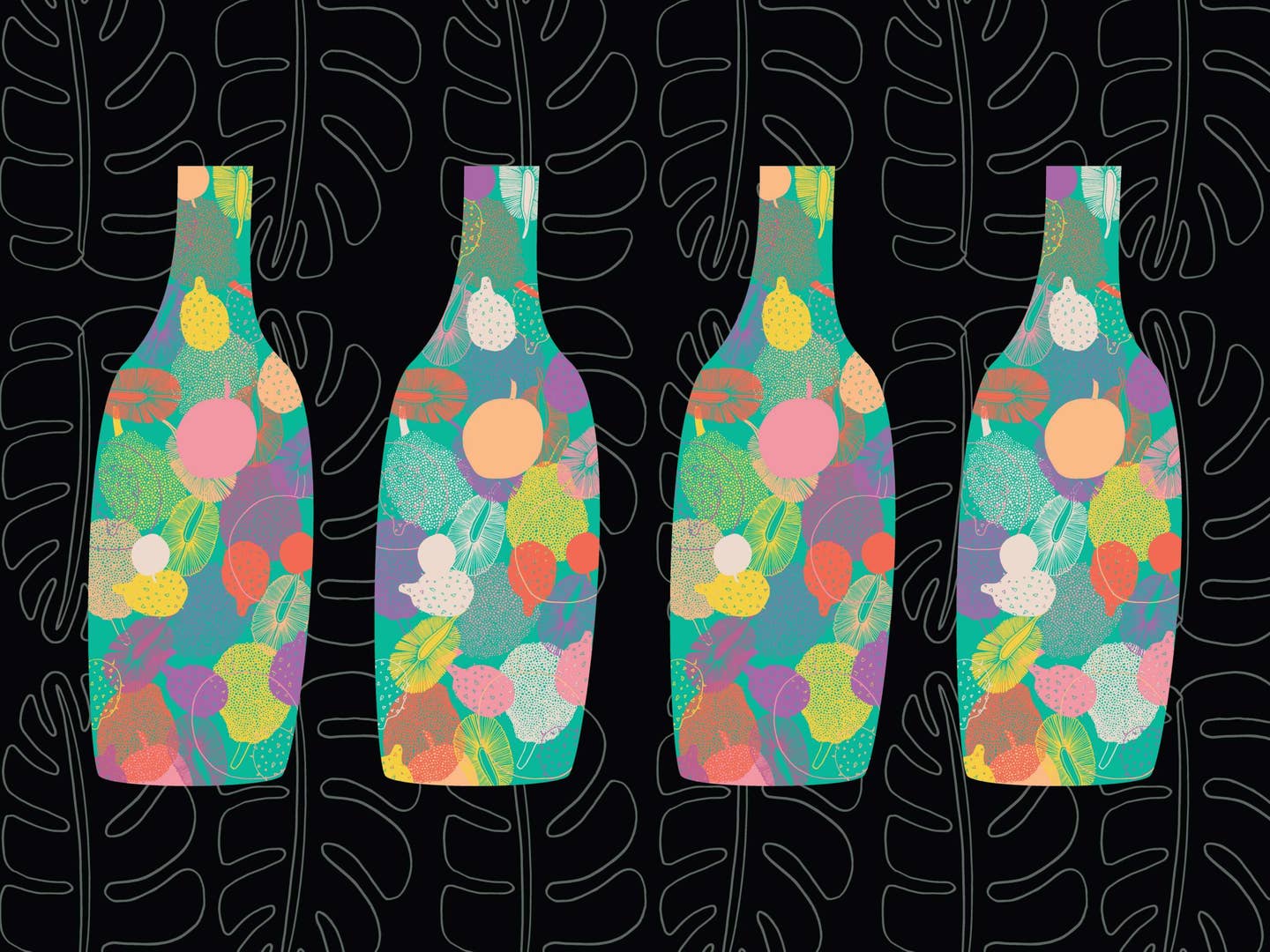 Drinks
The Real Way to Drink the Caribbean
It's not rum; it's an enticing local fruit wine that's all about the islands' incredible produce
After a spice-heavy dinner in Barbados last winter, thick with caraway and scotch bonnet peppers, I was served a miniature, tulip-shaped glass filled with a sunny nectar. My taste buds still reeling from the chile's spice, I took a tentative sip, almost expecting a cayenne kick at the bottom of the vessel. Not so.
The liquid—banana wine—was honeyed and floral but not cloying, and it soothed the five-alarm-fire behind my lips without the Laffy Taffy aftertaste I feared.
It was my first sip of Bajan fruit wine, and I was intrigued.
It's easy for those of us stateside to dismiss fruit wine as syrupy swill, a la a 1980s ad for Boone's Farm wine coolers. But making fruit wine is a deep-rooted pastime across the Caribbean, and one that has been written about for centuries. Grapes for traditional winemaking don't grow well in such a steamy tropical climate (though Cuba has attempted to experiment with them for the better part of a decade). Instead, islanders from Jamaica to St. John take their embarrassment of fruity riches and put them to work for a wine that tastes undeniably of the tropics. Who needs grapes, anyway, when fat, juicy mangos dangle above your head?
For most foreigners, rum is the boozy bread-and-butter of the Caribbean, but fruit wine reflects a more localized—and incredibly unique—type of tippling. The tradition especially thrives in Barbados, where fruit wine is often the best vehicle for sampling produce that's either altogether unfamiliar to an American tongue or largely unavailable for day-to-day consumption. There's wine made from fat porks, a magenta-orbed berry which is found only on an island-specific tree that grows in gullies. A favorite roadside fruit, the dunk, produces a fruit wine that's deep orange ombre when poured into a glass and full of candied citrus notes. Even soursop and aloe—both of which are valued for their stomach-settling and medicinal properties—get the fermentation treatment, perfect after an overly indulgent meal.
"I started making wine with jamun," said Kenrick Boucher, founder of Shalana's Natural Wines. "You can't get [jamun fruit] in America. It's a Barbados fruit [similar to a small plum]. Then I started doing golden apples. Then I started doing breadfruit. I started small scale," said Boucher, who now produces over 25 flavors of fruit wine, ranging from cashew to gooseberry.
Such a diverse range of flavors means that there's a wine for almost every drinking occasion, and perhaps even further reaching applications that have yet to be fully embraced. Sure, the fruit wines are not only perfectly suited for post-dinner imbibing and as a steady-sipping, pleasant-and-refreshing way to day drink. (Move over, rosé.) But they might just be the next great cocktail ingredient, with tart, citrusy shaddock wine likely to shine in a spritz preparation and Bajan cherry wine just waiting to make a Kir Royale palm tree-approved.
It's also easy to see the wine as a symbol of national pride, especially in 2016 as Barbados celebrates 50 years of independence from British rule. For the better part of that half-century, most people made homespun fruit wine for private drinking, with recipes passed down from one generation to the next. Today, the small-but-mighty contingency of entrepreneurs selling a ROYGBIV of colorful fruit wines on a (slightly) larger scale speaks to an ever-burgeoning sense of excitement about Barbados' culinary heritage.
You can get and drink rum anywhere, but for something more transporting, do Barbados proud and raise a glass of fat pork (or my choice, soursop) for an intimate, one-of-a-kind toast to a place with enough agricultural bounty to fill bottle after bottle for centuries to come.
Where to Get Your Island Wine
Finding these fruit wines isn't quite as easy as typing them into Wine Searcher; instead, contact producers directly for the best ordering options.
And if you're visiting Barbados, drink them here:
Barbadiana
Sky Mall, Haggatt Hall, St Michael
(1) 246-622-1933
Carmetas
Princess Alice Highway, Bridgetown, St. Michael
(1) 246-427-5250