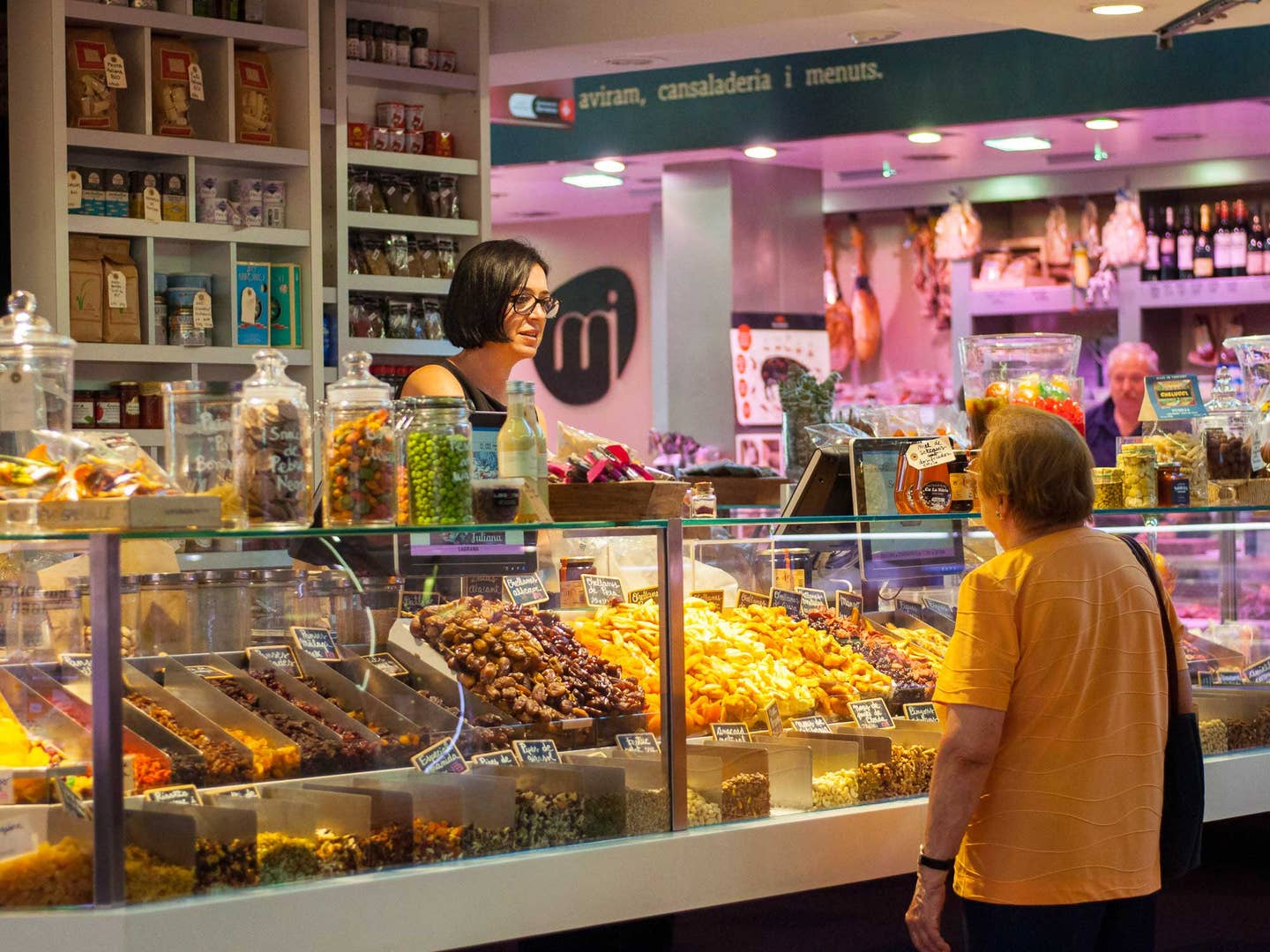 Travel
Barcelona's Famous Boqueria Market is Just the Beginning
The sprawling public market is one of the largest tourist attractions of its kind in the world, but in this Catalan city of markets, there are plenty of other places to shop and soak up local culture
Plan a trip to Barcelona and chances are you'll receive a short list of recommendations about places you have to see: the Picasso museum, Gaudi's epic Sagrada Familia, a walk on Las Ramblas, and of course the Boqueria market—the Mercat de Sant Josep de la Boqueria, to be precise. For the food-obsessed, the sprawling Boqueria is a more than worthy destination, with centuries of history and lane after lane of stalls selling virtually everything you can eat in Spain. And as one of the most tourist-trafficked markets in the world, it's almost perpetually mobbed. As we set out on a local market excursion, chef Mauro Ciccarelli of Arola at the Hotel Arts admits that many chefs stop there to load up when their suppliers fall short, too.
The same isn't the case with Barcelona's 40 or so other public markets, which date back to the late 19th and early 20th centuries. In truth, Barcelona is a city of markets, and compared to the impressive-if-forbidding Boqueria, many of the smaller ones are steeped in even more local charm.
In the middle and late 20th century, many of Barcelona's public markets fell into disuse as mass-produced food and supermarkets became the norm. But with the greater demand for organic produce at the turn of the 21st century, Spain progressively set aside what is now the largest area dedicated to organic farming in the European Union, spawning a renewed pride overall in fresh, local ingredients. With a big economic push from city officials to revitalize the aging structures, many markets underwent facelifts to become renewed and vital neighborhood centers. Ciccarelli guides us toward one such market—Mercat Del Ninot—where locals shop lazily on a quiet Monday morning. As we casually wander, he points out commonalities in the market scene today.
Each market has several fish and meat stalls, where products are labeled with area of origin. Astounding varieties of dry beans and lentils sit in massive bags and baskets, ready to be weighed out by the pound. Legs of jamon Iberico hang from hooks or await slicing at many a stall, where links of spicy, smoked sausage lay alongside in abundance (all in the chorizo vein).
There's cheese aplenty, too. And stands of fresh melon, plums, tiny pears, peaches, and tomate de ramallet—the small, grainy tomatoes used only for pa amb tomaquet (Catalan tomato toast)—are particularly hearty in the late summer months.
But each market contains its own gems as well, be it a particular stand or an experience of Catalonian culture that has survived modernization. And while it may be hard to determine whether the first language spoken will be Catalan or Spanish, most vendors open up to friendly inquiry or, at worst, give you the space to flounder until you finish your order.
Word to the wise: Some of these markets close for a few hours mid-afternoon, and seasonal hours vary, so make sure you have your watch synchronized. Bring cloth bags—you won't be offered plastic. And don't expect whole-bean coffee stalls or a quick iced coffee to be found anywhere; for a country with a rich coffee culture, most people use mass-produced grounds, and if requesting something cold you'll be given a cup with an ice cube alongside your espresso or latte.
Here are five great local markets to visit for a taste of Barcelona beyond the Boqueria.
Built in 1933 on land used as a market since the late 19th century, the Mercat del Ninot underwent a massive and stunning revitalization in 2015. Though it looks completely modern, it still retains some of its original purveyors like the xarcuteria Alonso Andres. Stop at Ous de Calaf for an impressive collection of eggs from quail, ostrich, turkey, and many breeds of chicken, all sitting out in their non-refrigerated, happy glory. At Porta Novau, find a colorful variety of dry goods like dehydrated fruit or roasted nuts for snacking, along with beans, pastas, and oils.
While many markets are flanked by small restaurants and bars that serve market fare, Ninot was rebuilt with these spaces in mind, so come hungry and grab a bite at Restaurant la Cuina del Ninot, Bar Jyp, Bar David del Ninot, and more. Eating at one of them exceptional way to meet locals, scope out what they're eating, and then order the same.
Mercat de L'Abaceria Central
Built in 1892, the L'Abaceria Central is one of the city's oldest markets and, as it hasn't been restored, retains a more roughshod look in a working-class neighborhood passed over by most tourists. All stalls bustle during busy hours, selling slabs of dried cod, fresh meat, dried mushrooms, and canned fish. But locals visit on quiet mornings, too, taking a break for a sip of coffee or breakfast at Bar Parera before wandering outside for clothing, books, tchotchkes, and inexpensive electronics. Take in the market's relaxed energy and pretend you live nearby.
Travessera de Gracia, 186
Opened in 1888 and now completely modernized, the Mercat de la Llibertat sits in the Vila de Gracia, surrounded by stalls selling clothes, books, and flowers. Inside, stock up on thin slices of meat and cheese at xarcuteria Bragulat, then jars of cured olives, hearts of palm, and artichokes at Helbig, where the patient purveyor takes his time with you. Then run like a kid in a candy store to La Grana, a third-generation family stall that sells a dizzyingly colorful variety of candied and dried fruit, wood-roasted hazelnuts and almonds, Catalonian nuts, and high-end chocolates.
Set within the Modernist-style buildings of the upscale La Dreta de l'Eixample neighborhood, built in 1888 and stunningly revitalized in the late 1990's, Concepció is such a community staple that it's hard to find meat or good produce in any major supermarket nearby. But meat this market has aplenty, with several xarcuterias offering a plethora of sliced cured meats to order, prepared packages of jamon, salsitxa, and chorico, and stalls that specialize only in fresh cuts of chicken, beef, pork, or lamb. Once outside, wander through the flower stalls to lunch at Sopa de Pedres where, for around 15 Euro, you can get a daily three-course prix-fixe meal of fresh market finds.
Nestled in the Old Town part of the city, Santa Caterina (named after the Dominican convent that once stood there) was the first covered market in the city and has been continually revitalized, with Guadi-esque mosaic roof tiles and a vaulting interior of warm wood beams set high in the ceiling. Inside, there are five stalls selling eggs alone, three reserved for olives and canned vegetables, and endless options for fish, meat, and produce. There's also a modern supermercat inside for household items, and a pharmacy.
Avenue de Francesc Cambó, 16