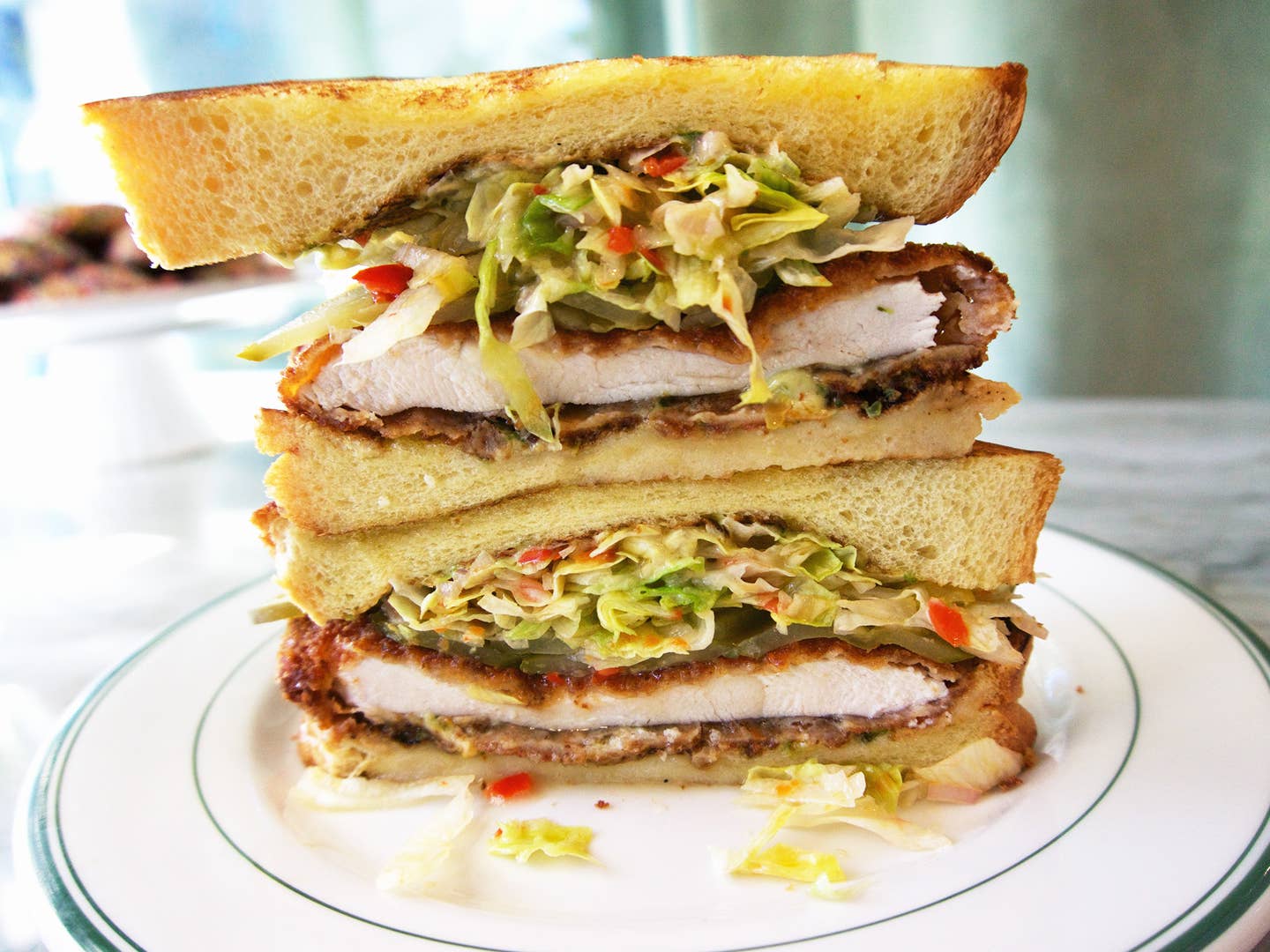 Travel
This Over-the-Top Fried Chicken Sandwich From Montreal Will Steal Your Heart
And maybe stop it, but the schnitzel at Arthur's Nosh Bar is a good way to go
There should be certain dishes on one's must-eat list when going to Montreal. Among them: a mile-high smoked meat sandwich at Schwartz's, a chewy wood-fired bagel at Fairmount Bagel (or one of its Mile End neighbors), and a steaming, gravy-covered mound of poutine at any and every casse-croute. Never before would I have envisioned putting schnitzel on that list.
That was until I met Alex Cohen and Raegan Steinberg, co-owners of Montreal's new Arthur's Nosh Bar, and their phenomenal schnitzel sandwich.
Drawing from Ashkenazi and Sephardic cuisines, the pair do, in their words, "Jewish classics with a twist." After cooking and working at spots like Joe Beef and Liverpool House, they claim owning their own restaurant was more or less a mistake. "We needed headquarters for a catering company we were running," Steinberg says, "and ended up finding such a great location that we opened our dream restaurant in it." That location, on the increasingly buzzing Notre Dame Ouest in Montreal's suddenly hip St. Henri neighborhood, quickly found its following—and reliably long weekend brunch lines to follow.
Cohen, the head chef who cooks and eats like a guy with a permanent case of the munchies, ups the ante on old-school dishes like matzo ball soup, borscht, and blintzes with unexpected touches like Moroccan spices (Cohen's parents are Moroccan) and nostalgic childhood flavor combinations (jam and cheese). Case in point: he uses honey and pickles on his chicken schnitzel sandwich to evoke the sweet-sour quality of a McDonald's burger, and calls it The McArthur's Sandwich. It's the schnitzel sandwich to end all schnitzel sandwiches.
The details are these: A gargantuan, buttermilk-soaked breast of tender pounded chicken is battered in a genius combination of breadcrumbs and instant mashed potatoes to give it both heartiness and crunch, then mounded with chile-flecked iceberg slaw, kosher dill pickles, honey, and a shallot vinaigrette. It's all served on buttery toasted challah that squishes—but doesn't buckle—under the sandwich's weight.
On their challah French toast listed on the brunch menu, Cohen and Steinberg run a disclaimer about that dish's playful, ever-changing preparation, but it pretty much sums up the schnitzel as well, not to mention Cohen and Steinberg themselves:
"Wherever the wind blows!"