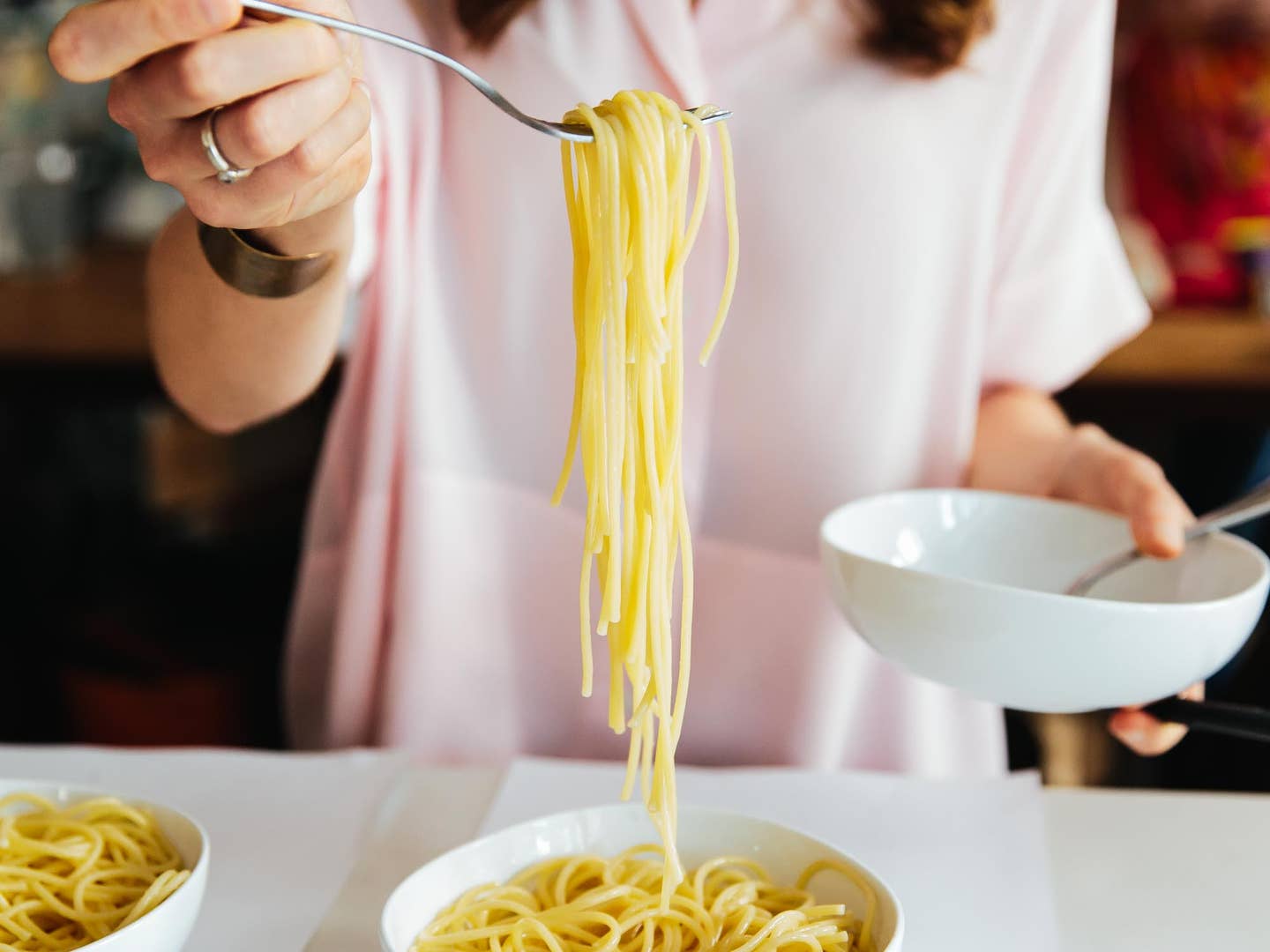 Culture
Is Any Pasta Worth $11 a pound?
We blind tasted 16 dried spaghetti brands to find out
During the making of our pasta issue, we asked the hard questions: is it ever appropriate to serve a shape besides bucatini with all'amatriciana? Are dried lasagna sheets cheating? But the big question, the one we kept coming back to, was much more foundational: is fancy (and expensive) imported Italian dried pasta really that much better for your plate?
There are lots of reasons why it would, if you talk to an Italian pasta maker. They'll tell you all about how it's the mountain water, or extrusion through bronze dies, or the slow drying that makes all the difference. There's no denying that there's plenty of passion and romance behind imported dried pasta: the entire economy of Gragnano, a town outside of Naples, revolves around producing the stuff. Even the staunchest haters would have to admit that the packaging is pretty appealing.
But we wanted to see for ourselves. To do so, we rounded up 16 brands, ranging from a spendy Tuscan pasta with an untranslated label to the cheapest box at the local grocery store. Then, in a case of extreme overkill, we brought pasta genius Nick Anderer to our test kitchen to prepare them. He was the opening chef of New York's Maialino and Marta and is now the executive chef at Anton's. When he was opening Maialino, he tested different brands and settled on Mancini, a high-end brand in Le Marche that controls their own wheat production.
For our test, Anderer suggested we stick to a single shape and have in sauce in only unsalted butter. (This test was for knowledge, not pleasure.) We settled on spaghetti and decided to rate each pasta in three dimensions on a scale of 1-10: flavor, texture, and how well a sauce adhered to the noodle. Anderer kept track of which pasta was which, so the staff could taste blind.
The results were extremely interesting, but we're not ready to declare a single greatest spaghetti just yet.
Of the expensive imported artisanal brands, Martelli was a clear standout. It received the highest score in the flavor category, and tasting notes were uniformly raves: "clear winner," "really nice bite," "nearly perfect." And speaking completely subjectively, their bright yellow bag was far and away the coolest packaging. Rigarosa, which was new to Anderer, was also an interesting contender. The noodle was hyper dense and chewy—it needed 14 minutes to cook, the longest of any spaghetti.
These brands are not cheap (about $10 and $5, respectively), nor are they likely to be available at your local grocery store, but they are easily available online.
The overall victor, however, was as middle-of-the-road as it gets: De Cecco. Neither hyper-artisanal nor base-level commodity, it's the kind of pasta that's the often fanciest at a normal grocery store or the most-pedestrian at a gourmet market. Probably not coincidentally, it's what a lot of SAVEUR staffers use at home. One tester described it as tasting simply more pasta-y than the rest, and he meant that in a good way.
When organizing this taste test, I was afraid that we wouldn't be able to tell one unseasoned buttered pasta form another. But testers found plenty to differentiate each brand: overall scores ranged from 8.1 to 5, and the comments reflected clear preferences in flavor, texture, and interaction with the sauce. But the results were pretty idiosyncratic; nothing was a unanimous winner, and if our test showed anything, it's just how personal a person's favorite noodle can be.
Anderer pointed out some of the finer textural variations our test revealed. Some spaghetti cook completely even, with the same doneness on the outside as in the core of the noodle. Others developed a mushy, starchy exterior while remaining firm on the inside. In Anderer's thinking, a soft outside and chewy inside help sauce adhere and add to the pleasure of the bite, but much of our staff (myself included) preferred a more homogeneous noodle.
For me, the biggest takeaway is that no brand of pasta is going to keep you from making a good bowl of spaghetti. Ronzoni, probably the most budget-oriented contender, and the only noodle made in America, was solidly middle of the pack. I know I'm going to splurge on Martelli from time to time, particularly for a dish that relies on the flavor and starch of the noodle, like cacio e pepe. But after this taste test, I know I would rather have any old noodles carefully cooked with a delicious sauce.
You'll often hear that American cooks are too devoted to their sauces. In Italy, the criticism goes, sauce is merely a condiment for the flavor of the noodle. But after this test, I'm convinced that's wrong: most noodles you can buy at the grocery store are pretty good, and the sauce and cooking technique matter much more. But that's probably an argument best left for another time.