Everything You Need to Make Iranian Rice Tahdig
Test-kitchen-approved necessities for mastering the art of bottom-of-the-pot crispy rice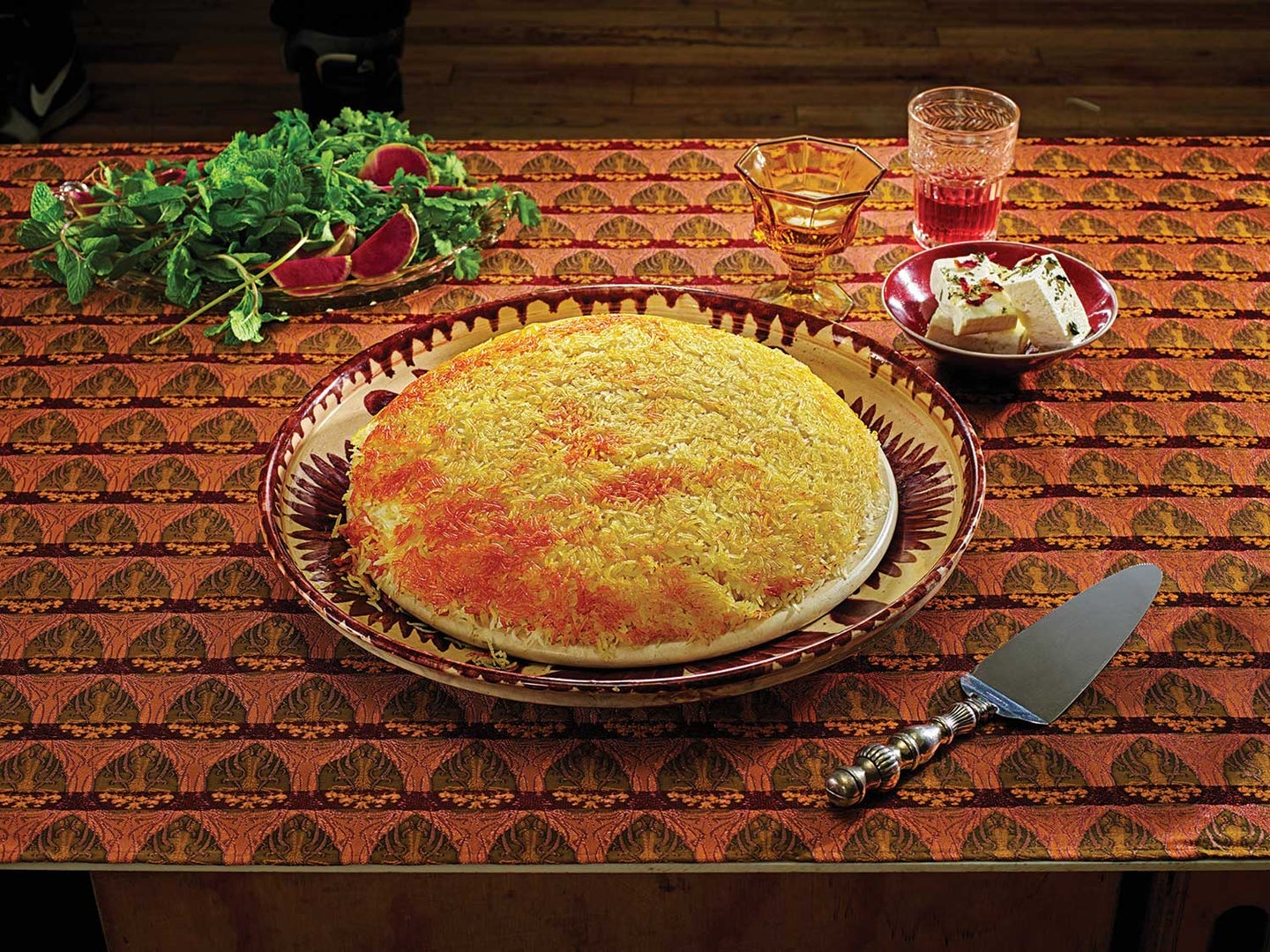 We may earn revenue from the products available on this page and participate in affiliate programs.
For Iranian cookbook author Naz Deravian, tahdig—the golden layer of rice that crisps up at the bottom of the pot—recalls a sense of hope, satisfaction, and nostalgia. It's a humble preparation, sometimes involving nothing more than rice and butter, but the cooking process is precise and calculated, typically involving parboiling the rice until its exterior is tender but interior maintains a bite. The rice is then drained, the pot cleaned and replaced on the stove with a pool of butter melting in the bottom. In Deravian's home, the rice is tossed with a splash of saffron-infused water before it's packed down into the bottom of the pan, and steamed until it's fully cooked. The prized crust is only revealed when the pot is upturned onto a serving plate—only then can you see whether or not you've succeeded.
When she was only eight years old, in 1979, Deravian's family fled Iran in the midst of the Iranian Revolution and hostage crisis. At the time, they hadn't realized that they would never again return. The next decade was spent traversing the world in search of a new home, as Deravian recalls, "always, with the scent of saffron and a perfectly steamed pot of rice trailing us across oceans and borders." From Iran, they immigrated to Rome before ultimately settling in Vancouver. After leaving Vancouver to pursue an acting career in L.A., Deravian says, "I quickly found myself hungry. Not because of an actual lack of food, but because I was starved for a home-cooked Persian meal, for a taste of home." Deravian called her mother and frantically took notes on her verbal "recipes." To Deravian, tahdig is more than a pot of rice with a carefully formed crust; it's the physical representation of the hope that lingers in the air around her family meals.
While Deravian says even an imperfect tahdig is still worth celebrating, mastering the art requires careful attention, the right equipment, and a little hope. If you pull it off, you'll hear the "swish of the release as the rice drops from pot to dish," says Deravian, revealing, "golden and regal—the tahdig herself."