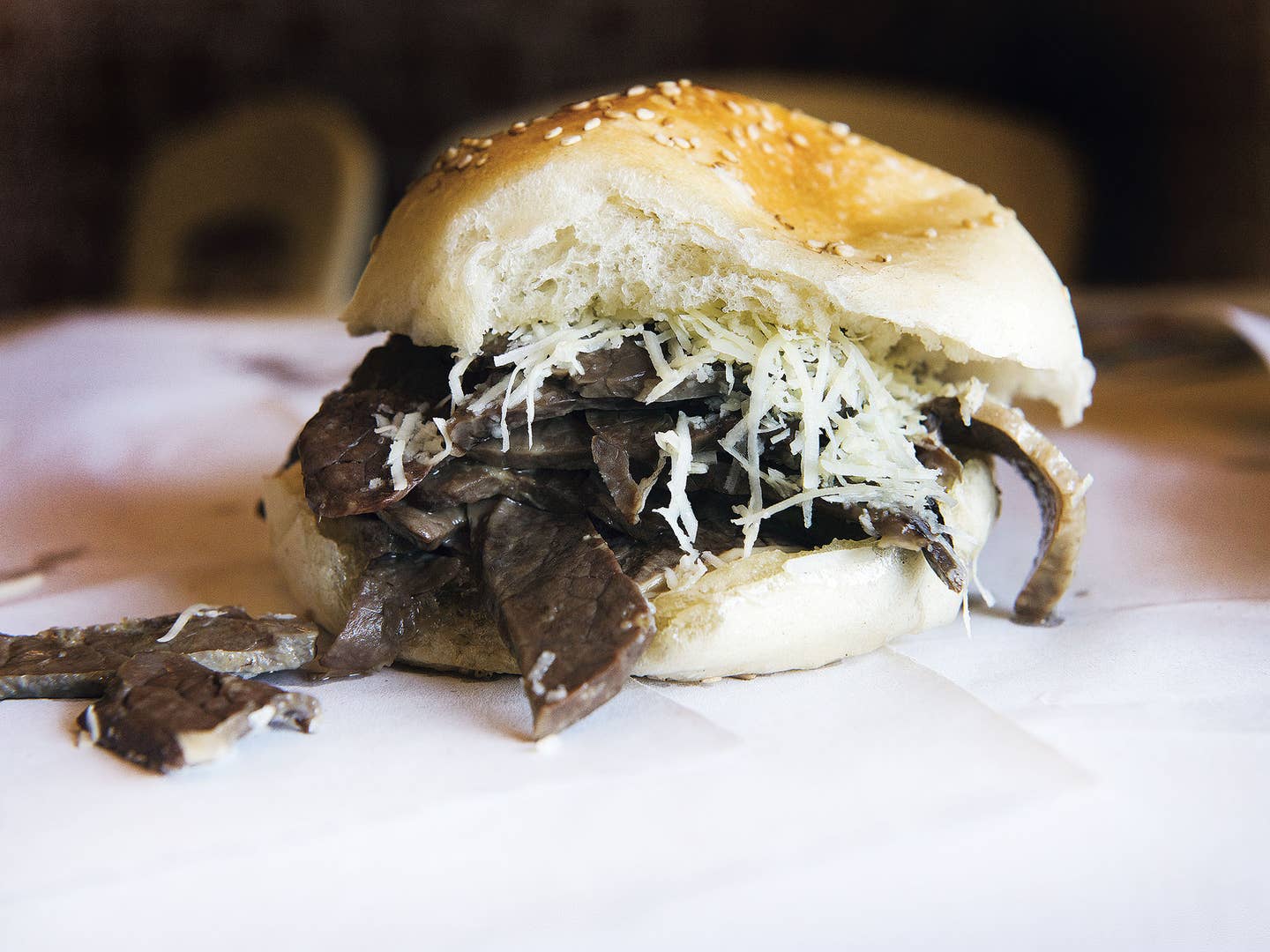 Travel
Why We're Crazy About Sicily's Gutsiest Sandwich
Pani ca' Meusa, AKA Pane con Milza, is full of unspeakable bits that are improbably tasty
Lard bubbles in shallow vats. Outside, the sun is punishingly hot. In a narrow shop facing the port, the Favata family scrambles to keep up with the lunch crowd. Domenico and Gieuseppe slice offal to order. Gaetano pulls meat off drying hooks. Rosario shouts the orders as they come in. Everyone's here for what's in those gurgling vats, for the only thing served here: pani ca' meusa, the glorious grease bomb, classic street snack of this city, consisting of a soft sesame roll hollowed out and piled with a bounty of meusa (spleen) and lung, sometimes trachea. The sandwich, whose fame has not spread to mainland Italy, traces its origins to the 15th century, when the city's butchers were paid for their services in scraps by Kosher-keeping customers.
"Un otro maritatu!" cries Rosario. Maritatu (married), meaning the meat is topped with shredded caciocavallo cheese. A sandwich with no cheese is called schettu (single), for which a squeeze of lemon may be allowed. There are no other versions.
"Nothing is thrown away by the poor of Palermo," Rosario says, heaping a tangle of hot entrails onto a bun, wrapping it all in butcher paper.
Pani Ca' Meusa Porta Carbone has been run by his family since 1943. (A young PT boat captain named John F. Kennedy, stationed here briefly, is said to have been an early fan.) There are plenty of other vendors of pani ca' meusa in the city, but the Favatas are known for their curing technique, and the juiciness of their meat, which is never left to congeal in cool oil.
The sandwich is an indelicate affair, a literal hot mess. The flavor: overwhelmingly gutsy, like foie gras with an attitude problem, possibly even a criminal record, the molten cheese a willing accessory. Bite into it and any squeamishness over unlovely animal organs is washed away in the torrent of that flavor. You're sweating lard now—and thinking about getting back in line for seconds. It's that good.