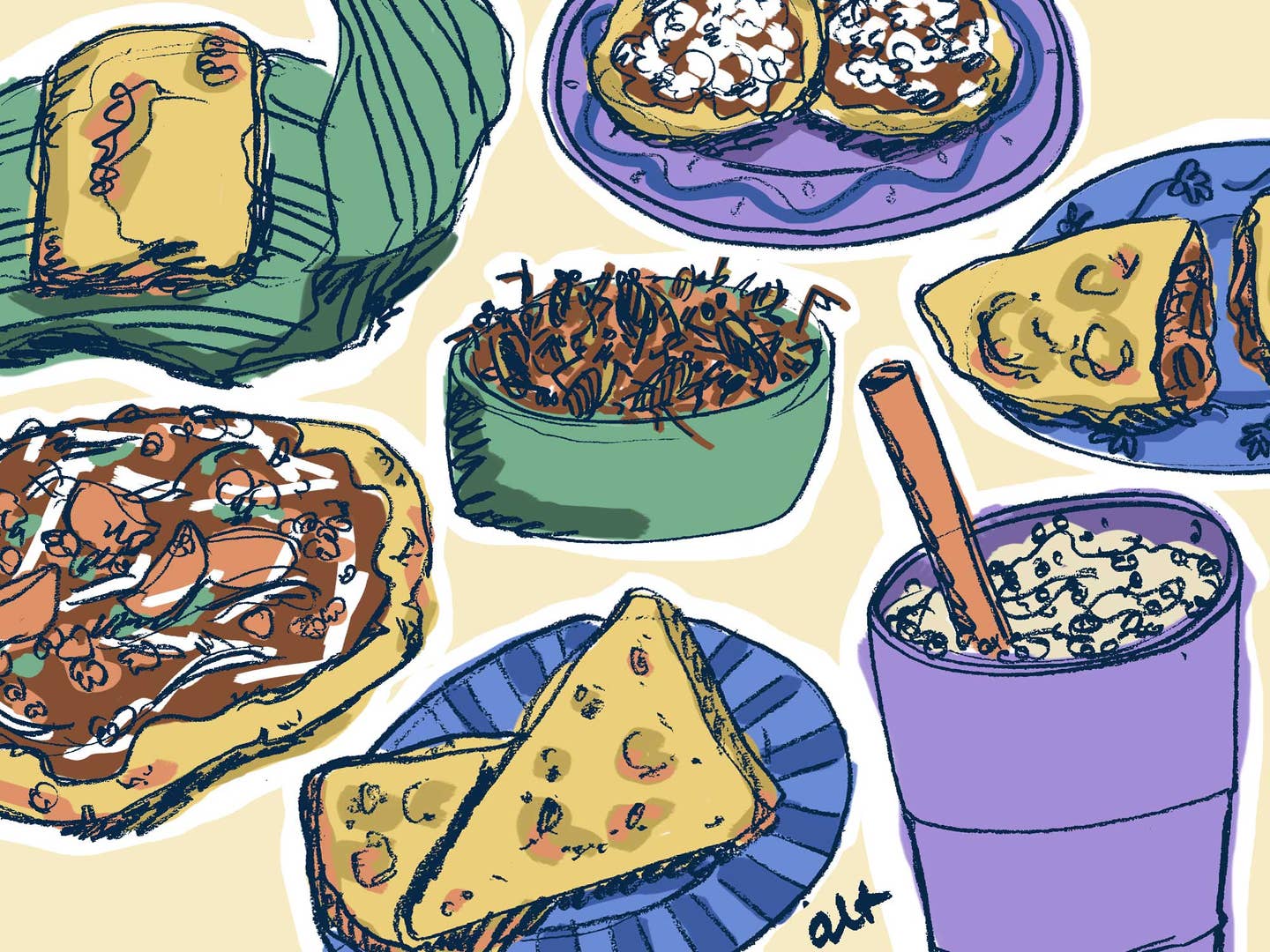 Travel
7 Essential Street Foods to Inhale in Oaxaca
In one of Mexico's richest food regions, some of the best eating is right on the street
Often referred to as the Land of Seven Moles, Oaxaca's food culture is famously rich and diverse. But it's even more varied than most travelers realize: incredible heirloom varieties of corn that get ground up into some of the country's the best masa, pre-Hispanic drinks that drink like a meal, exceptional small-batch smoky mezcals, and also way more than seven types of mole. In the the first country that UNESCO honored on its Representative List of the Intangible Cultural Heritage of Humanity solely for its food, Oaxaca state in southern Mexico stands out. Which is why when you're there, you need to have a game plan that will allow you to eat as much as possible—which means snacking.
With a number of fine-dining establishments in the state's capital of Oaxaca City, like Casa Oaxaca and Pitiona, the state's restaurant scene is growing. But if you're looking to get the best taste of Oaxaca's culinary history, with its Zapotec and Mixtec influences, stick to the antojitos (snacks) that you can find sold all over the city. And while you may be tempted to pick up familiar tacos or elote, seek out these seven specialties for the truest taste of the Land of the Best Foods:
Similar to the sopes you may find in other parts of Mexico, memelas are thick, toasted masa cakes that are often eaten earlier in the day (some households will even serve them for breakfast). Grilled on a comal just long enough to crisp up the edges but before they become crunchy, the masa cakes are then topped with refried black beans and queso fresco, though you can also find them layered with shredded cabbage, salsa, mole negro, tinga (shredded and stewed chicken), potatoes, etc. If you see a comal and it's earlier in the day, you've likely stumbled upon memelas. For some of the best in the city, head to Itanoní Antojeria y Tortilleria, a restaurant that resurrects and cooks with heirloom corn varieties in traditional Oaxacan foods.
For those who like a little more filling/topping to carb ratio, skip memelas and go for the snack with the equally fun name: tetelas. Here's the formula: Heat up a large corn tortilla on a comal, fill it with refried black beans and crema and queso fresco and whatever else you may desire, get it hot enough to turn the crema from solid to liquid, and then fold it into a neat little triangle. While their shape may fool you into thinking these can be easily while walking, pause—remember that hot liquid crema? You might want to sit (and grab a plate) for these. The best also come from Itanoní Antojeria y Tortilleria, where you should get one with licorice-y, sarsaparilla-y hoja santa—the fragrant herb perfectly balances the richness of the cheese and crema.
Often compared to a pizza, tlayuda refers to both the base of this street food, a crispy corn tortilla the size of a steering wheel, and everything that goes on top of it to transform it into a behemoth snack. While the toppings vary from vendor to vendor, it's almost always smothered with asiento (unrefined pork lard), refried beans, strings of queso Oaxaca, shredded lettuce, and tomato. Then comes the meat, with options like chorizo, tasajo (thinly sliced grilled beef), shredded chicken, chicharron—the list goes on. Opt for one with tasajo, which is easily one of the more popular options. These are best at markets, like Mercado 20 de Noviembre, but if you want the best, drive 30 minutes outside the city on a Sunday to grab one from the Tlacolula market, which is one of the oldest in the Americas.
South America's recognizable empanadas are typically fried or baked doughs stuffed with anything from ground beef to olives to cheese. But if you ask for an empanada in Oaxaca you'll get something that more closely resembles an American quesadilla. In the southern Mexican state, an empanada refers to a small, oval corn tortilla that's heated over a comal, layered with your fillings of choice (any variety of mole, quesillo cheese, meats, etc.), and then folded in half. Common orders include empanada de amarillo (with super-spicy yellow mole) and empanada con flor de calabaza y quesillo (with squash blossoms and quesillo cheese)—you can't go wrong with either. If you see a street vendor with a comal, you'll likely be able to pick up an empanada or two.
Crunchy, salty, spicy, and garlicky, chapulines are like the potato chips of Oaxaca—except the fried component is not potatoes, but instead grasshoppers. Sold in big red bowls by street vendors, chapulines are a great eat-as-you-walk snack, but if you can't get past the idea of raising a handful of bugs to your mouth, pick up some corn tortillas, toss in the chapulines, add a squeeze of lime, and a pour of hot sauce, and you've got yourself some makeshift tacos de chapulines.
The word 'tamal' likely conjures up images of steamers packed with corn husk-wrapped packets of dense masa, stuffed with pork or chicken, which you'll likely see in Oaxaca. But skip them. Instead, look for tamales Oaxaqueños, which feature that same brick of masa, but instead of being steamed in corn husks, they're steamed in banana leaves. You'll also want pick out one that's filled with what is perhaps Oaxaca's greatest culinary claim to fame: mole, the sweet-spicy-bitter-salty sauce that has countless iterations often paired with chicken, turkey, pork, and rabbit (though can also be served with beef, or alone). Find the pride of Oaxacan tamales at Mercado 20 de Noviembre or El Pochote, the organic market in the Xochimilco neighborhood.
Drinks are not snacks—that is, until said drink is as filling as milkshake and the size of your head. Tejate is both. Made by mixing water with a ground-up paste of toasted maize flour, cacao beans, mamey fruit pits, and flor de cacao (a white flower you'll likely see growing around the state), the frothy drink dates back to the indigenous Mixtec and Zapotec peoples in pre-Hispanic Mexico, and is something you won't find fresh outside of Oaxaca. Don't expect to see this concoction on restaurant menus; instead, look for the women at street food markets and in the zocalo, dipping their entire arm into big clay bowls full of a beige liquid with a frothy white layer on top. No, the drink doesn't look appetizing, but get past its appearance: it's slightly nutty, floral, and rich, and surprisingly filling and delicious. Ask to drink it out of one of the painted gourd bowls every vendor has, but don't forget to return it (though if you want one to keep, keep an eye out for them at souvenir shops around the city).