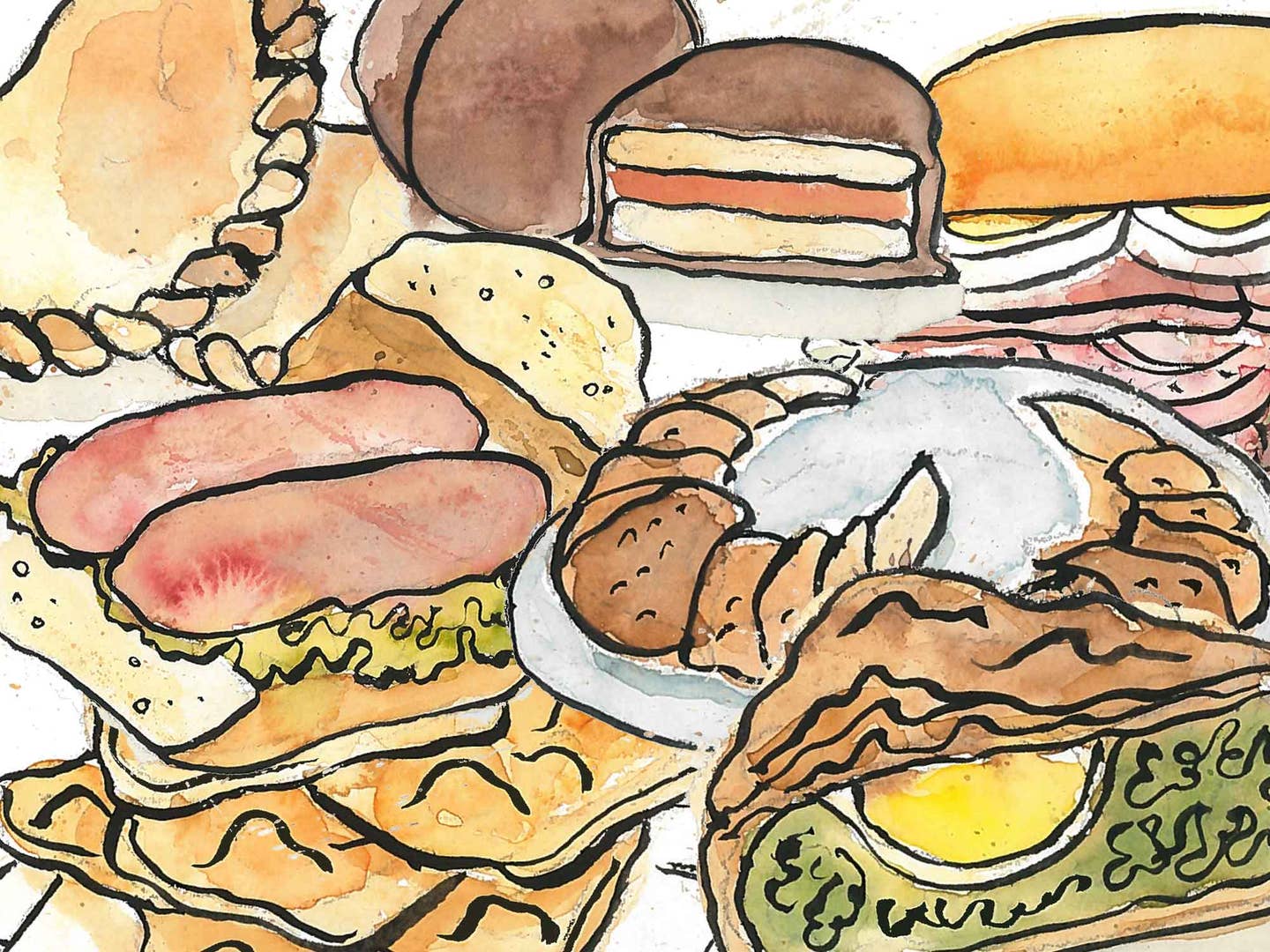 Recipes
7 Essential Street Snacks in Montevideo, Uruguay
Come hungry for spinach pie, dulce de leche on everything, and steak sandwiches topped with ham AND eggs
Uruguay's cuisine leans heavily on its Italian-influenced culture and its abundance of cows (12 million, in a country with a human population a quarter of that). Steaks, pasta, and pizza are the most common meal fare, usually supplemented by a steady stream of tooth-achingly sweet treats as mid-day snacks or at the halfway-between-lunch-and-dinner merienda, or afternoon tea. This diet of carbs, sugar, and red meat can make the country somewhat unhealthy place to live…but a delightful place to visit. If you're in the capital, Montevideo, dig into some of the best street snacks around: steak sandwiches topped with ham AND bacon, cookies oozing dulce de leche, and a pizza appetizer before a pizza main course.
The chivito (get our recipe here) is the ultimate Uruguayan dish: a hot steak sandwich on a roll, topped with ham, cheese, egg, tomato, lettuce, mayo, bacon, and often a million other things like olives or hearts of palm. Pro tip: Order it with a fried egg instead of the oft-served slices of hard-boiled egg for an even oozier treat.
Where to eat it: Bar Arocena, a bare bones, old-school bar that serves the best chivitos in the city and, probably, the world. 1564 Avenida Arocena.
It's often the first thing you'll see (and smell) at a soccer match or a street fair: an angled metal rack crowded with dozens of fat sausages, all sizzling over a wood-stoked fire. The choripan—the name is a combo of the words for chorizo (sausage) and pan (bread)—is like a better version of the hotdog. This is neither the dry-cured Spanish chorizo nor the loose Mexican kind; instead, it's a juicy, fatty, mildly spiced pork sausage that gets stuffed into a fluffy white roll. Top with chimichurri for best results.
Where to eat it: These are a staple at soccer games, rodeos, and any other public gathering.
Dulce de leche, made by cooking down milk and sugar for hours (or, as a shortcut, condensed milk) until it forms a deep, rich caramel, is the Uruguayan standby when it comes to dessert. It's slathered between halves of cake or served in heaping dollops with flan, or in the case of the alfajor, two cookies sandwich a fat spoonful of the stuff. A million varieties of this hefty treat exist: sprinkled with coconut, slathered in chocolate…there's even an Oreo version. Try them all.
Where to eat it: Available in every corner store and supermarket. If you're looking for the freshest and least preservative-filled, try the de las Sierras de Minas brand, which come wrapped, old school style, in paper. They have to be eaten within a week or two, but that shouldn't be a problem.
In Uruguay, torta frita—puffy fried bread—is what abuelas traditionally make when it's raining, but you'll sometimes find a small cart parked on the Rambla (the boardwalk that stretches the length of Montevideo) selling piping hot, round, and very thin tortas fritas to passersby, who eat as they stroll. Made from flour and lard, they're stuffed with cheese, dusted with sugar, or, if you're really going for it, spread with dulce de leche. In true local style, this snack should be accompanied by yerba mate, the earthy tea drunk everywhere in the country.
Where to eat it: The food truck painted with the words, "Me Llamo Pepe, El Rey de la Torta Frita!" (translation: "my name is Pepe, the king of fried bread!"). It's parked on Rambla Pte. Charles de Galle at the corner of Avenida Prof. Dr. Euclides Peluffo.
Uruguayans have a habit of pairing main courses with appetizers that are very similar. Rather than kick off a meal of steak with, say, a salad, they might have a plate of sausage. It's the same with pizza. This cheesy, bready treat is usually preceded by another cheesy, bready treat: fainá. This is a thin bread made from chickpea flour, cooked in the oven until crispy, and topped with melted mozzarella or eaten solo.
Where to eat it: Anywhere that serves pizza serves fainá. Try Scosería, at 2853 Scosería. The pizza here is also excellent.
This hearty spinach and egg tart makes the perfect lunch option if you're looking to incorporate some vegetables into your day. Two sheets of thin, flaky pastry are stuffed with cooked, chopped spinach and pieces of hard-boiled eggs; then the tart is cut into rectangles. It's sold in bakeries all over town, where staff will also heat up a slice for you to take on the go.
Where to eat it: Most bakeries in Montevideo sell these tarts, along with other lunch options. Confitería y Panadería Americana, 1088 Juan Benito Blanco has a good, generously sized version.
A Uruguayan breakfast consists of a coffee and a couple of medialunas. These local, bready variations on the croissant are about the size of your palm: soft and fluffy but not flaky, and glazed with sugar syrup. Eaten by themselves or as the outer layer of a mini ham and cheese sandwich, these are served hot or cold and are extremely moreish. Get them fresh from the oven if at all possible.
Where to eat it: Medialunas Calentitas is a very popular chain with outposts in Brazil and Paraguay, as well as around Uruguay. Try the location at 2982 21 de Setiembre, which has outdoor seating.