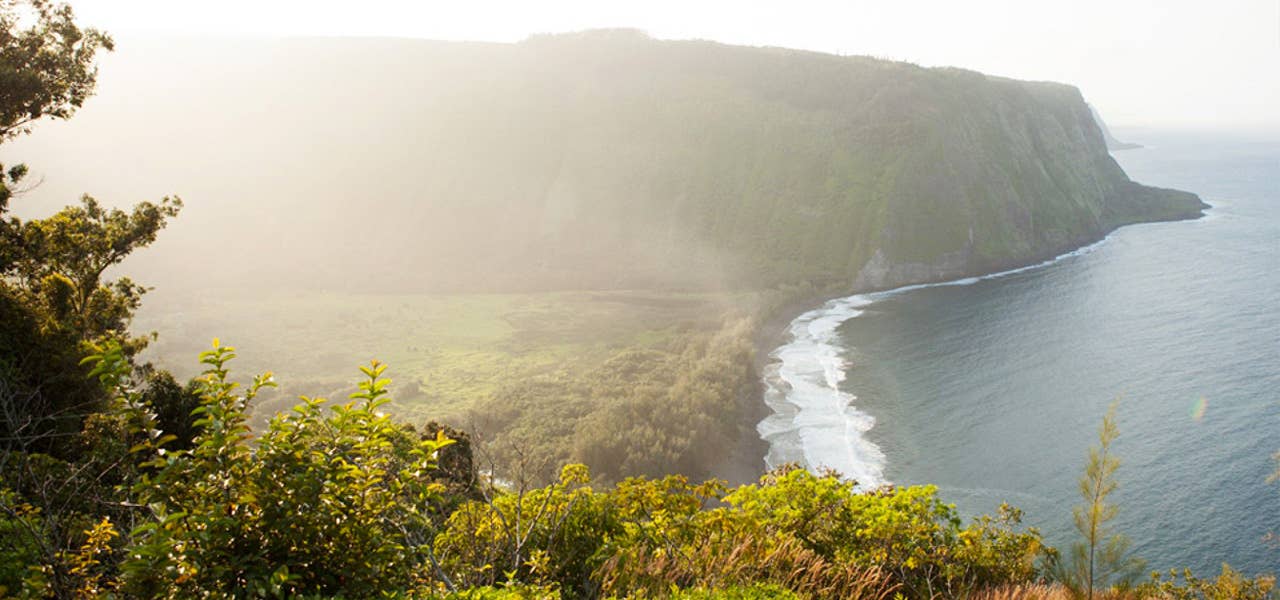 Travel
A Hawaiian Family Meal
One family shares a potluck feast at an annual get-together on the Big Island
I shift my Jeep into four-wheel-drive and inch my way down the narrow, roughly paved road that skims the edge of the Kohala mountain range on the windward side of Hawaii's Big Island. The steep descent is treacherous at the best of times, one side plummeting 2,000 feet to a black-sand beach. I drive past tsunami evacuation signs and the occasional pickup truck roaring around a blind switchback in the opposite direction. Guardrails? Who said anything about guardrails? And then I ford the streams that run off Hi'ilawe Falls. It's a hell of a journey for a party.
I'm heading to an annual gathering hosted by Jayson and Alberta Mock Chew, taro farmers in the Waipi'o Valley, also known as the Valley of the Kings for the many Hawaiian rulers who called it home. Far from the tiki bars and surf shops on the island's resort side, these Hawaiians know how to celebrate their culture without the clichés. The Mock Chews gather every year under a grove of monkey pod trees beyond the farm's taro plots, and one integral ingredient is on full display: 'ohana. It's the term for family (the root word, 'ohā, refers to the corm—or tuberous stem—of the taro plant, considered the sacred "staff of life" in the South Pacific), and the Mock Chews have a large one. In Hawaiian, 'ohana can extend to distant cousins, adoptees, stray cats, and even, in certain circumstances, friends from distant shores.
When I arrive, the Mock Chews have set up picnic tables, camp chairs, propane-fired woks, and ice chests filled with Longboard Lagers. Children cling dizzily to tire swings, while teenagers splash in a clear stream. A herd of wild horses appears beyond the farm's paddock gates. Dogs bark, happily free of their leashes.
Alberta Mock Chew is one of those "green thumbs" who can grow a mature tree from a mango pit. Her tropical cultivars are scattered throughout her property: mangosteen, cacao, banana, grapefruit, lilikoi. As I take a handful of ripe white guava, her daughter Kahea, whose taro tattoo peeks out from beneath a tank top, unloads plastic bags filled with poi, a lilac-hued mash made from taro, freshly ground in their kitchen the day before.
Under a tarpaulin, a Mock Chew cousin, Tishia Spencer, who lives a 30-minute drive away in Waimea, chops salmon cured with coarse Hawaiian salt. She tosses the fish with ho'i'o fern fronds that her daughters have gathered from along the stream's edges to make her version of a traditional fern salad. "If you're starving in this valley, you're lazy," she tells me. "There's food everywhere."
My dear friend, Danny Akaka Jr.—who originally introduced me to the Mock Chews, his cousins on his mother's side—is flash-frying local reef fish with vegetable oil in a wok nearby. By early afternoon, others have arrived with more homey island favorites—shredded kalua pork (a slow-cooked pork butt often made in an imu, or underground oven), wild boar sausages, fresh bamboo and Hamakua mushrooms, ahi tuna poke, and pineapple pie.
We gather in a large circle, holding hands, as Akaka, a respected spiritual elder, welcomes everyone to the feast.
"Blessings coming down," he murmurs as a misty squall blows through from the ocean. Nobody runs for cover. Hungry guests turn their attention to the food: I favor the cold noodles with smoky char siu—style pork slices and the wild fern salad. The fronds retain a bright flavor and texture similar to asparagus, and the salted salmon adds depth and richness to the dish inspired by the valley itself. The Mock Chews' poi takes pride of place on my plate. Paired with these salty treats, it's the perfect tangy foil.
As I'm finishing the last of my chewy noodles, some boys rush up with aluminum throwing spears, eager to share the native river shrimp they've caught in the swift channels that tumble over volcanic rock nearby. Tossed in a wok until pink and juicy and served on a banana leaf, these large clawed 'opae taste sweeter than ocean species; no wonder they were a favorite snack of ancient Hawaiians.
Cracking shrimp shells with greasy fingers, I ask how all the guests are connected.
"Almost everyone on this island is related," Jayson Mock Chew replies. "Everyone is 'ohana."
"The Polynesians were great seafarers," Akaka adds with a grin, "so hey, everyone might be a touch Hawaiian."
Someone is tuning a guitar. A ukulele and washtub bass join in. Coqui frogs begin to chirp as the sun fades over the escarpment. Surf rumbles on the beach at the end of the valley. A little girl has glow sticks woven into her hair, and more children dash around waving flashlights in the dark.
Alberta Mock Chew calls for livelier music. "Hey, we want to dance over here!"
Someone passes around Solo cups brimming with swipe, the potent hooch plantation workers once fermented on the sly in pineapple fields. It's still not sold legally, but if you know the right home brewers, it shows up at parties anyway.
I watch as a woman starts to do an impromptu hula. No leis, no fire dancers, no grass skirts. Just caught up in the moment.
Happily wrapped in the carefree embrace of this isolated valley gathering, I take a sip of my swipe and catch the lyrics to "Molokai Slide" as the 'ohana croons under the stars:
"I say-a won't you come along, we'll have a luau by the sea / We'll cook a little pig and all the coconuts are free / And what you see is what you get, in a little grass shack / I know you're gonna like it and I hope that you come back."
Scenes from Hawaii's Big Island
Travel Guide: Hawaii's Big Island
Ulu Ocean Grill + Sushi Lounge at the Four Seasons Resort Hualalai
72-100 Ka'upulehu Drive, Kailua-Kona
Head here for one of the most spectacular oceanfront dining spots on the Kona-Kohala coast. Try the ahi tuna poke, prepared tableside, or the passionfruit-glazed wild boar barbecue in steamed bao buns. At breakfast, have the shellfish moco: crab cakes and fried eggs over shrimp fried rice.
Lava Lava Beach Club
69-1081 Ku'uali'i Place, Waikoloa
Sit on the sand with a "Big Boy" mai tai and watch the sun set at this laid-back joint on Anaeho'omalu Bay.
Gramma's Kitchen
45-3625 Mamane St., Honoka'a
808-775-9943
Located southeast of Waimea on the way to the Waipi'o Valley, where the Mock Chew farm is located, this Portuguese-Hawaiian café serves hearty Hawaiian paniolo (cowboy) dishes like oxtail soup and kalbi short ribs.
Tex Drive-In
45-690 Pakalana St., Highway 19, Honoka'a
Hawaii might be the last bastion of the classic drive-in eatery. The plate lunch specials here include kalua pork with cabbage, but Tex is really famous for its hot, sugar-dusted malasadas, or Portuguese donuts.
Mauna Kea Beach Hotel
62-100 Mauna Kea Beach Drive, Kohala Coast
Founded by Laurance Rockefeller in 1965, this classically understated hotel has an exceptional pan-Asian art collection and faces the island of Hawaii's best white-sand beach. The hotel hosts oceanfront luaus every Tuesday and Friday and beachside clambakes Saturday evenings.
Puakea Ranch
56-2864 Akoni Pule Highway, Hawi A cluster of restored Hawaiian bungalows sits on this secluded ranch with sweeping views of the Maui Channel. Each has a fully equipped kitchen for guests, who are invited to pick vegetables and greens in the garden or gather fresh-laid eggs at the chicken coop.